Electric carmaker Nio bags 10 billion yuan investment for R&D, new plant
Share - WeChat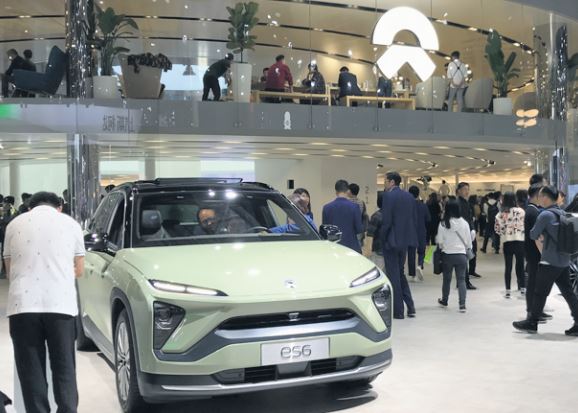 Chinese electric vehicle maker Nio is to receive an investment of up to 10 billion yuan ($1.45 billion) from a State-owned fund in Beijing, which will help to further boost its competitiveness as one of the most prominent automotive startups in the country.
The New York-listed company said last week it has entered into a framework agreement with Beijing E-Town Capital to establish a new entity, Nio China, in the capital city.
The 10 billion yuan investment will be used primarily to support research and development efforts and user network improvement.
E-Town Capital is also expected to help build a new manufacturing facility in the development zone to build vehicles on Nio's next-generation platform.
Currently, the startup is building its cars at a jointly operated plant co-built with JAC Motors, a State-owned vehicle manufacturer in East China's Anhui province.
"The JAC plant has a production capacity of 100,000 units a year. Obviously, we need more. I don't think it will be enough for us to sell 100,000 cars a year," said Nio founder William Li in an interview with the 21st Century Business Herald newspaper.
The startup had planned to build its own plant in Shanghai, according to framework agreements with the Shanghai government, but it announced in March that the plan had been scrapped.
E-Town Capital has listed new energy smart cars as one of four industries it is aiming to promote.
Besides Nio, it has also invested in projects including a joint facility with electric vehicle manufacturing capabilities between Daimler and BAIC Group, as well as BAIC BJEV, the electric vehicle subsidiary of BAIC Group.
The deal with E-Town Capital comes as Nio is confronted with a slew of challenges including cuts in government subsidies and immense pressure to improve its sales.
The company reported a net loss in the first quarter of $390 million, a 70 percent increase from a year ago, according to its financial statement. Nio sold 3,989 cars in the first quarter of 2019, less than half of what it sold in the fourth quarter of last year.
In the first three months, total deliveries of electric vehicles and plug-in hybrids totaled 299,000 in China, up 109.7 percent year-on-year, according to the China Association of Automobile Manufacturers.
The government subsidy cuts have played a role in these losses.
Subsidies for the ES8 were cut by 40 percent to 67,500 yuan per vehicle last year and will be cut further to 11,250 yuan beginning June 26, said Nio.
Its ES6 SUV, which is smaller than the ES8, has rolled off the assembly line, but some analysts believe it may attract customers away from the ES8 itself.
"Looking ahead to the second quarter, we expect an even more challenging sales environment and anticipate overall sequential demand and deliveries to decrease as competition continues to accelerate and the general automobile market in China remains muted," Louis T. Hsieh, Nio's chief financial officer, said in a statement.
The Chinese car market began slowing from July 2018 and the situation is not expected to improve soon.
Although sales of new energy vehicles have been growing, the rate of growth has reduced over the past months, according to the China Association of Automobile Manufacturers.
Statistics show that Nio has delivered a total of 16,461 vehicles since its establishment in November 2014.