Chalk manufacturer sees innovation as key to industry upgrade
Share - WeChat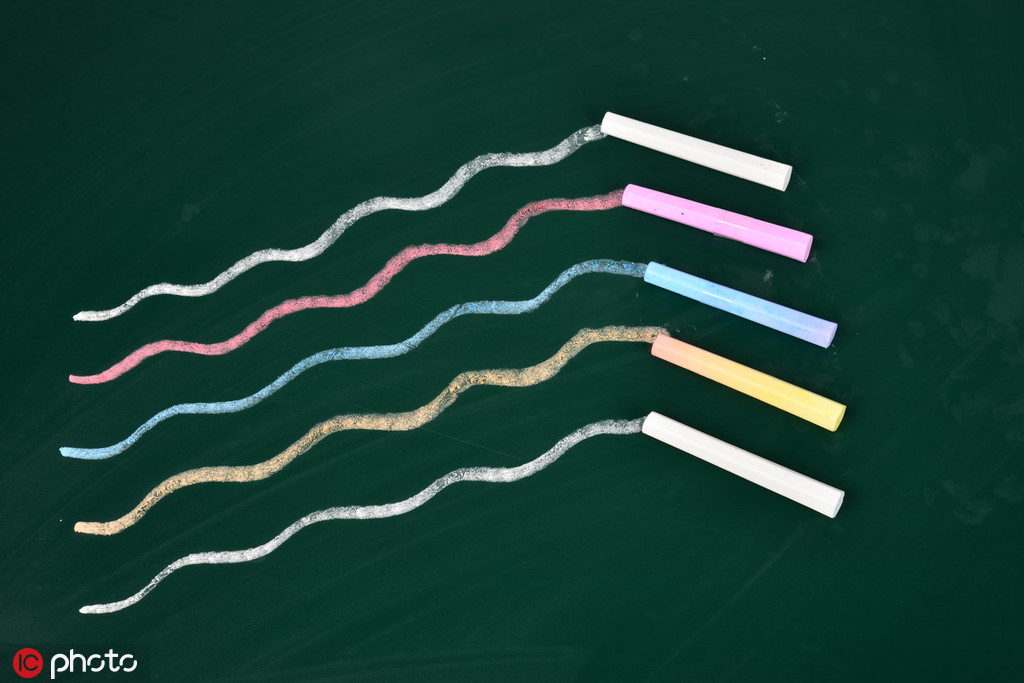 As Chinese classrooms turn digital, chalk seems out of the picture.
But for Liu Dafeng, the largest chalk manufacturer in Liuyuan village, in Hubei province, where 80 percent of chalk in China is produced, it's just another chance to move up the industrial value chain and generate more profit. Liu's business has a current annual output of 20 million yuan ($2.89 million).
"There are high-tech embedded products that are becoming popular in today's classrooms. Chalk used on projection cloth in multimedia classrooms is powder-free and environmentally friendly," Liu said, adding that "chalk products can be used in other industries like clothing and machinery." To him, alternative uses for chalk like hair dyeing and toys are no longer something new.
"We are working on types of products that better suit multimedia classrooms. You don't have to erase it, it dissolves in the air automatically and it's environmentally friendly," Liu said.
According to Liu, sales of innovative high-tech products are contributing to some 80 percent of his annual revenue, but he did not disclose the exact amount.
Ye Xueping, director at the Institute of Economics under Hubei Academy of Social Sciences, said product innovation not only helps generate more profit for businesses, it's also the likely key to an industrial upgrade.
"With new embedded tech and design, value-enhanced products allow Liu's business to access a wider market with different industries involved, schools, clothing and equipment manufacturing," Ye said.
To date, Liu's company manufactures over 300 types of chalk and produces 15 billion units per year on average, with 80 percent exported to other countries. Clients from South Korea, Singapore, and Japan are at the top of the list.
Talking about his plans, Liu said he will turn Liuyuan village from the home of chalk manufacturers to a chalk-themed tourism destination. Currently 90 percent of local residents are working in the industry. Its workshops and companies create 180 million yuan annual output on average. The history of chalk manufacturing in Liuyuan village dates back to the 1980s when the village was discovered to have an abundance of calcium carbonate, the then major ingredient of chalk.
Liu's plan is supported by the local government. He said there is likely to be a museum, and workshops in the village for children where they can make cartoon statues out of chalk.
"Developing tourism out of resources from leading local industries is an emerging trend with rapid growth in China, but few have received market success," Ye said. "The outlook seems promising but they may face challenges in the future."
Despite his success, Liu said few people, including his parents, were supportive when he started the business.
"I was one of a few colleague graduates in my village, and almost all the people around me expected me to work in a big company in a fancy megacity," he said. "Especially in the 1990s, when the industry struggled and people fled the village."
When he quit his job with tech giant Baidu Inc in 2003, he said no one understood why. "People thought I was crazy to leave a decent job in a big city to go back to selling chalk in a small, remote village, where my parents had worked hard to pay for my tuition so that I could leave," he laughed.
"Back in 2003, e-commerce was quite a new concept. I planned to sell chalk online and set up a broader sales network through the internet." he added.
Liu worked 20 hours a day to promote his brand and products. His first order, worth 100,000 yuan, came a month later. In 2006, Liu received an order from Walmart worth nearly $2 million. In 2010, he received an order from the United Nations worth $1.6 million.
Liu also talked to people in the village to work with him and created a synergistic effect.
"I grasped the opportunity of online selling, which appeared to be a turning point in my career and the chalk manufacturing industry in my village. I believe now is another chance to see an industry upgrade and products with more added benefits. Innovation and technology are the keys," Liu said.