Breaking down boundaries through music
Share - WeChat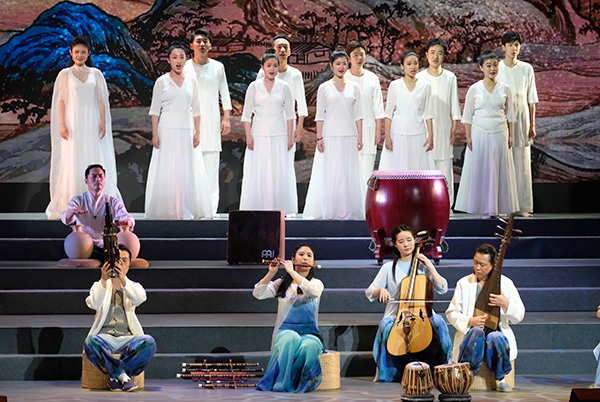 In a bid to promote Chinese culture overseas and develop deeper ties, orchestras from Shanghai have been actively taking their productions abroad, Zhang Kun reports in Shanghai.
From the traditional bamboo flute of Japan and the drums of South Asia to the domra from Russia, the Shanghai Chinese Orchestra presented a world music concert featuring more than 60 musical instruments from around the world at the Conference on Dialogue of Asian Civilizations on May 18.
The concert Our Common Homeland took place at Peking University as one of the projects showcasing Asian culture during the conference. It was the latest example of the orchestra's effort in breaking the traditional concept of Chinese folk music, and "taking it to the context of world music", according to Luo Xiaoci, head of the SHCO.
Featuring an unprecedented collaboration between Chinese and foreign musical instruments, such as the Spanish guitar and Chinese pipa, the Russian balalaika and Chinese ruan, the concert first premiered in Shanghai in November.
Such inclusiveness is the greatest characteristic of Shanghai-style Chinese music, said Luo, who is also a national-award winning guzheng (Chinese zither) player and composer.
Rong Yueming, director of Literature Institute of Shanghai Academy of Social Sciences, says that this mash-up of musical instruments also reflects Shanghai's long-standing tradition of embracing diversity to sustain its cultural vitality.
"Inclusiveness has long been a key feature of Shanghai culture," says Rong, who also served as chief editor of the 2019 Shanghai Cultural Development Report compiled by SASS.
The report, which reviews the cultural development of Shanghai over the past year, says that the city has been an epicenter in China for the convergence of Chinese and Western cultures.
"For more than one century, the city has demonstrated great resilience in assimilating diverse cultures, which in itself has become a distinctive characteristic of what Shanghai culture is today," Rong says in the report.
He Jianhua, chief of the Shanghai Culture Research Center and former vice-director of the Shanghai Academy of Social Sciences, shared a similar insight.
"In comparison with Beijing, which has concentrated on presenting the essence of traditional Chinese culture, Shanghai serves more like a platform for international cultural exchange. As a result, Shanghai culture has two facets - it is both Chinese and international," says He.
In a three-year action plan aimed at turning the city into an international cultural metropolis, authorities have encouraged industry players to create more original Shanghai productions and pave the way for more cultural products to be displayed and promoted across China and around the world.
As the birthplace of the Communist Party of China and one of the country's first five ports to open to international trade, Shanghai has a rich past to tap into to create original productions with an international reach, says the report.
SHCO's latest production of Our Common Homeland is just one of the many examples of productions that have flourished in recent years.