Sharing economy reaches Chinese art
Share - WeChat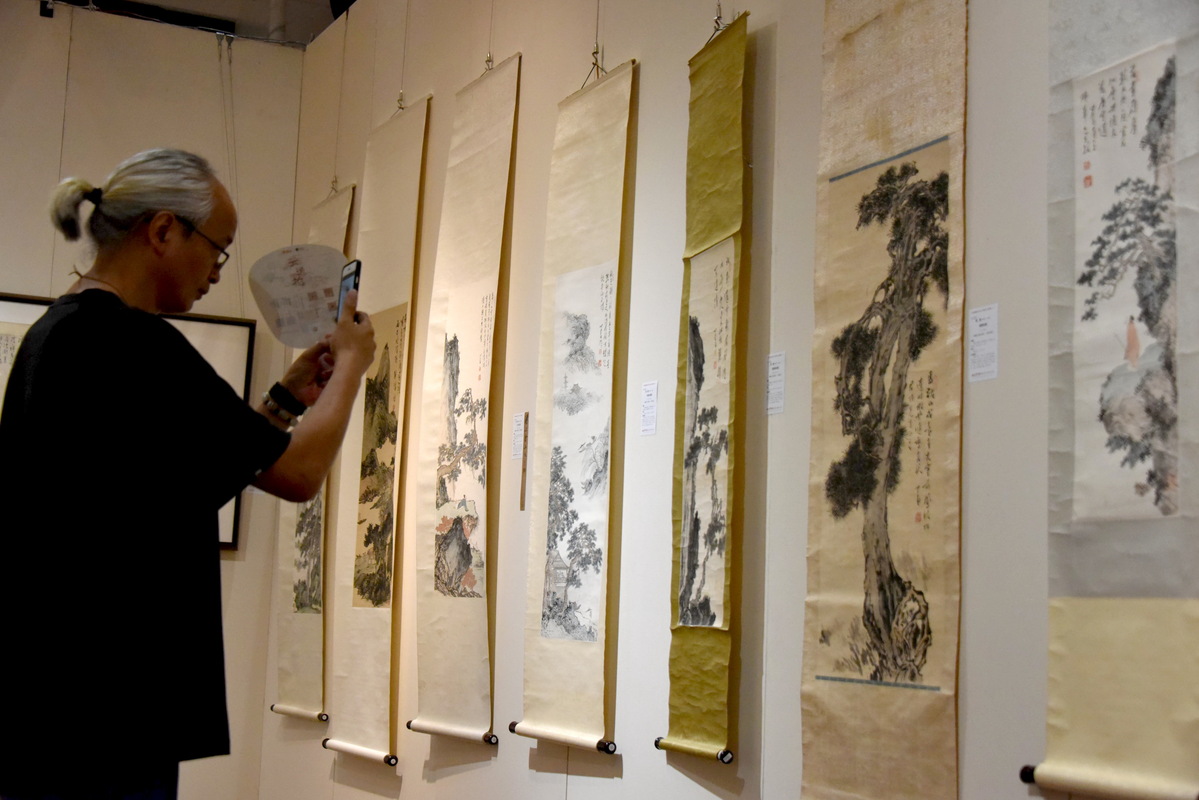 The try-then-buy model targets every empty wall in metropolitan areas and promises to spawn big market
Shanghai-based culture startup Art Revolver launched a pilot project over the weekend to help mass-market Chinese consumers access "affordable and stress-busting art" using the sharing economy concept.
The try-before-you-buy business model will seek to ride China's ongoing consumption upgrade, and is expected to transform the domestic art scene eventually, creating a market worth hundreds of millions of dollars, said Eric Reithler-Barros, CEO of Art Revolver.
He said the firm will provide rental art on a subscription basis. It will curate, deliver and install artwork to match the customer's environment and budget, and then periodically rotate the artwork with something new to keep the space fresh.
"Everyone, not just art connoisseurs, can now incorporate transient reminders of beauty and color into their hectic daily lives."
The firm will adapt the West's wine club model and supply "many forms of hangable" artwork - paintings, photographs, lithographs, posters, mixed-media pieces, machine-generated art, and calligraphy - to the consumer's doorstep. It will seek to integrate sharing economy, augmented reality, art education, e-commerce, and digital payments.
A subscription will entitle the consumer to receive curation and contextual information from experts, to select art from e-catalogues and try out online using AR, and see how existing ambient space - bedroom, living room, washroom, staircase, workspace, store, lounge, hospital ward, atrium, waiting area, dormitory, and so on - would look after it is installed.
Upon placing the order, art piece (s) will be installed at the specified location. Consumers can try out different pieces without worrying about selections, as they can change art at regular intervals throughout the subscription period. They can also buy the art they like.
Citing global management consultant McKinsey's estimates of consumption, Reithler-Barros said the sharing art economy in major Chinese cities could be worth around $435 million annually, or a fraction of the $175 billion that Chinese households spend annually on "recreation and culture services".
"In China, galleries are crowded, art exhibitions are opening to long queues. The younger generation are enrolling into fine arts courses overseas. China has replaced the UK as the world's No 2 art market after the US," he said.
Art Revolver will offer four-tiered pricing that will cater to a wide range of consumers spanning high net worth individuals to young professionals living in small flats and university students living in hostels. The market is huge because "every empty wall" in metropolitan China is a target, he said.
Guangzhou, Guangdong province-based Jiali Zhang, founder of L1ng Network & Production, a communications agency, said: "Sharing art could prove to be fun and fashionable. But I won't pay a lot for this service. Compared to my parents, we the millennial generation have more purchasing power and more taste, and are picky, so a good selection of artists, not necessarily big-name artists, and artworks, will persuade me to spend more on art, because wall posters of music stars, sporting icons, landscapes or mean machines can get boring after a while. An app that allows me to replace them with changeable art would be welcome."
But Yasser, an Indian student at the University of International Business and Economics in Beijing, disagreed. "I'm not an art lover, so it's unlikely I'll use online art-sharing services. I'm not sure if they would really be affordable or prove an extra expense. I might still consider subscribing to them though if the concept catches on, or if any particular art piece really impresses me."
Reithler-Barros said tech-driven art business will have enormous implications for artists, curators, and consumers in China, a land that has consumed artwork since the Yangshao culture (5000-3000 BC).
Logistics, insurance, and legal firms specializing in intellectual property rights, will likely also benefit from the sharing art economy, he said.
The sharing economy will give wings to art that may be gathering dust in Chinese artists' studios, art galleries, exhibitions, and museums for want of viewers or buyers.
Just as most artists are not good at marketing their own works, consumers are not well-informed about art or ignorant about how it could activate higher brain regions associated with a fulfilling life. Some people do not know how to buy art either. Art Revolver will seek to bridge artists, experts and consumers, Reithler-Barros said.
Philipp Grefer, founder of Wise, an international festival that brings together influencers from the fields of culture, business, science and technology, said: "We invited Art Revolver to make a presentation at our festival in Beijing recently because it promises to make art affordable to everyone. It integrates the sharing economy with consuming art, combining a creative business with the startup mentality of the tech world."
Veteran Chinese artist Ren Jian, who exhibited his latest works at Beijing's 798 Art Zone two weeks ago, said: "Tech-based popularization of art is timely, and will provide a big push to traditional Chinese art. With online access, the artist can now hope every idea will find a viewer or a buyer. The artist will no longer have to struggle to reach the recipient's wallet, and will be free to focus on his art, thus improving its quality and enriching society."
Danae Li, sales manager at the Ullens Center for Contemporary Arts in Beijing agreed. "In China, art education is offered only in primary schools. Adults haven't had much opportunity to experience and appreciate art, unlike in Europe and the US.
"Beijing, Shanghai, Shenzhen and Guangzhou have been hosting big art exhibitions of late. This is generating a lot of interest among ordinary people, and creating opportunities for art exchanges. Art is part of people's spiritual needs, which are pursued as soon as material needs are fulfilled."
Reithler-Barros said: "We expect investors to back more art-world startups in China, especially those that are tech-driven and propose new modes of consuming art. As for us, we'll start with a broad base of artwork on offer, from Chinese traditional to contemporary to modern to impressionist, in various mediums."