Gestamp sees clear road ahead
Share - WeChat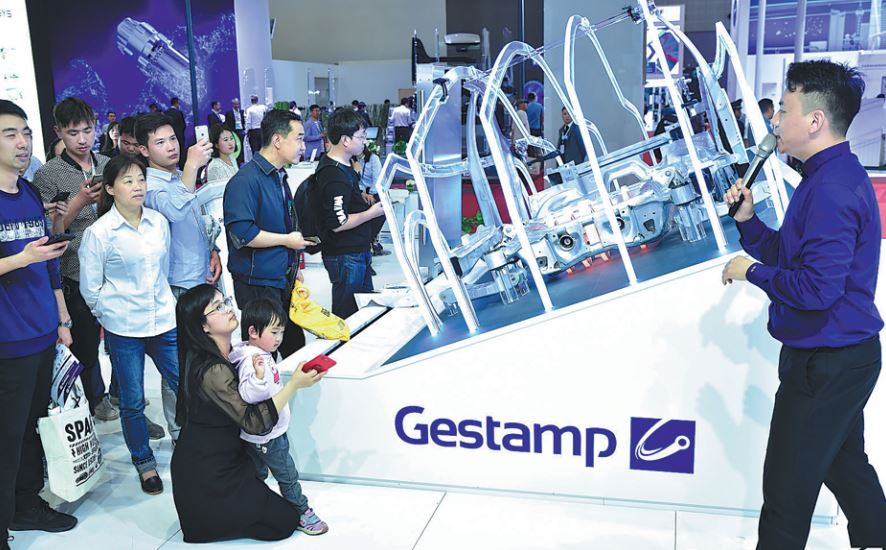 Company envisions good prospects for vehicle components sector in China
Gestamp, a multinational vehicle components company based in Spain, will step up its efforts to consolidate growth in China, with priority given to electric vehicles, said the company's Executive Chairman Francisco J. Riberas.
Though falling automobile sales have rippled through the entire value chain, Riberas envisioned good prospects for his company's performance in China.
He is convinced about the long-term prospects in China, saying the slowdown in auto sales was just "a bump in the road" for the company.
Gestamp is a global leader in lightweight solutions, which are a major trend for car manufacturers and are becoming even more relevant in the electric vehicle sector due to the extra weight of batteries.
In an interview with China Daily, Riberas shared his views on the company's strategic priorities in the market and the industry's future trends.
How do you see the role of the China market in your global business strategy and layout?
When we started in China in 2007, our focus was to give new technologies to Chinese original equipment manufacturers. Gestamp is a global leader in China for hot stamping and solutions around bodywork parts.
China's need for lightweight technologies will grow in the future. If they are to produce more electric vehicles, Chinese OEMs need to further reduce the weight of the cars in order to increase battery range.
Gestamp's presence at the Auto Shanghai 2019 exhibition underpins our commitment to China, the group's fourth-largest market by revenue, and where the company has experienced significant growth since its establishment in the market.
China is playing a key role in the future of the automotive industry, leading the development of electric vehicles and other related trends, and it is an important country for Gestamp's strategy.
Our target is trying to grow much more in China than anywhere else. In the future, China will probably be Gestamp's largest market.
Do you plan to increase investment or expand your presence in the Chinese market this year?
This year we are investing a lot, but not opening new facilities. We're trying to double our capacity in some of the existing factories.
The automobile market in the second half of last year and in the beginning of this year did not growing as much as it did in the past. But there are some customers performing well. We are pursuing new business opportunities in order to grow further in the market. There will be an important growth opportunity in the next few years.
Globally, there will be a need for more hot stamping lines in the next few years.
Auto sales in China continued to fall in March, but the contraction was smaller than the previous month. How have falling sales affected your business?
It's been a little bit more difficult because sales have been depressed. But we are convinced about the long-term prospects in China. For us, the slowdown is just a bump in the road. It's not going to change our strategies to grow, even though now we need to adapt ourselves a bit to an environment of falling sales.
The net reduction of passenger vehicle sales in China in the first quarter was close to 12 percent (year-on-year), which is a lot. But at the end of the year, the market is predicted to remain flat or deliver a mild increase. It's a transition year for China, but I'm sure the growth will keep going in the years to come.
The electric vehicle market is one of Gestamp's priorities in China. But the Chinese authorities have announced plans to scale back subsidies in the new energy vehicle industry. How will the subsidy cuts affect Gestamp's strategy?
One priority of the Chinese government is to improve the environment and the health of the population. Pollution, right now, is a challenge that China is facing like many other countries in the world.
New energy vehicles are important for China to reduce air pollution. Even though there could be some reduction of subsidies, the clear target of the Chinese government is trying to improve air quality by making vehicles cleaner.
So no matter whether there are subsidies or not, the long-term trend is clear: we will see more new energy vehicles.
Gestamp's leadership in hot stamping technology enables it to supply lower-weight steel body structures that help car manufacturers meet stringent emissions regulations in the case of internal combustion engines and counteract the increase in weight from the batteries in the case of electric vehicles, leading to an increase in autonomy.
What business opportunities do you see as China keeps opening up the market? What do you think of the Belt and Road Initiative?
China has achieved huge development and there are many companies that are eager to be global leaders. The market is growing. For us, it's a natural step that all the companies that want to be important in the world, also need to be important in China. And the Chinese companies also want to be global players.
I think the Belt and Road Initiative, which the Chinese government proposed, is significant. It clearly shows the Chinese government's commitment to open up everything and to increase connections with other areas.
What is your business philosophy and leadership style?
It's important to mention that Gestamp started as a family-owned business. The company has grown a lot in the past 20 years. It came from a project initiated by my father 60 years ago.
We want to have a project that is attractive for all employees working at Gestamp, and also for customers and stakeholders. It is important for us because we think that the key part of our strategy is our values and our principles.
We can have a range of technologies, programs and plants, but without correct values, we are not going to be leaders in the future. For us, values are that we always have customers at the center of our strategy. We want to help our customers to be excellent players. And in order to achieve this goal, we need an excellent team, skillful and motivated.
In addition, innovation is key to attracting customers and always thinking about the long term. I don't care too much about the profit of the next quarter. I am always thinking about adding value for the group in the long run. That's why we have a motivated team and earn the trust of our customers.