Adidas eyes China expansion
Share - WeChat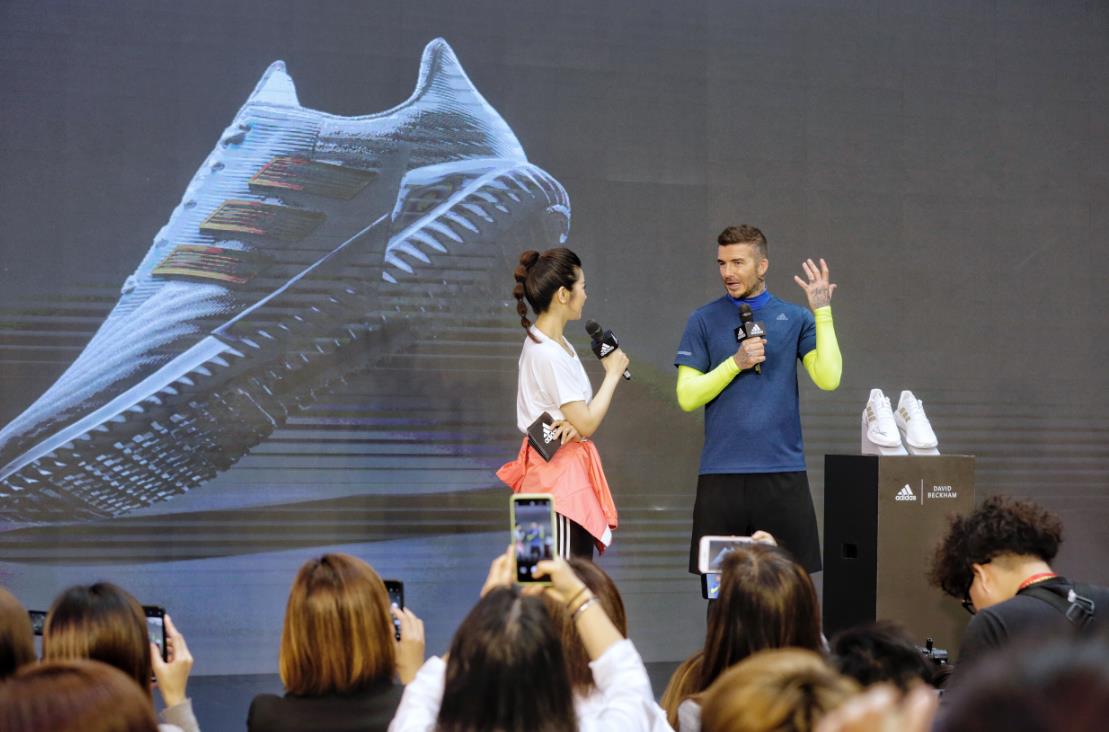 Sportswear giant plans to open 1,000 new stores this year, gear up digital growth
Adidas, which unveiled a new Asia-Pacific and China headquarters in Shanghai earlier this year, plans to open 1,000 new retail outlets by the end of this year and gear up its digital growth momentum in the country.
Adidas CEO Kasper Rorsted said, during a visit to the Shanghai headquarters, that the China, North America and digital markets were three pillars of the company's success.
"We cannot have long and steady growth if we don't win in these three markets," said Rorsted. The Chinese market and the North American market combined are half of the global sports market.
The Asia-Pacific region is one of the company's strategic growth drivers and critical to Adidas' success, said Rorsted. The opening of the new office building, named Homecourt, comes after a year of record performance for Adidas in China.
Full-year earnings results realized earlier this month saw Adidas' Chinese market business grow by 23 percent in 2018, buoyed by new product releases, locally relevant campaigns and the launch of new store formats. The number was 29 percent in 2017.
Colin Currie, Adidas Asia-Pacific managing director, said Adidas is one of the fastest-growing international brands in China.
In China, Adidas - whose core brands include Adidas and Reebok - now operates about 12,000 stores in 1,200 cities and expects to accelerate its expansion to 2,400 cities. Last year, the company opened more than 1,000 stores, including large-scale ones in higher-tier cities, and it will continue to expand its presence this year with the opening of another 1,000 stores, Currie said.
"There are great growth opportunities in China. We are optimistic about the future," he said.
Key-Solution sports marketing and consulting agency founder Adam Zhang said Adidas has accelerated its growth in China with a strong marketing approach and the right mix of product design between sport and fashion, without weakening its professional competitiveness, attracting a large group of younger consumers.
Zhang said e-commerce and online sports communities have become a must-do for sports brands, allowing them to interact deeply with their consumers in China.
Digital operations are also a priority for Adidas in China, growing 50 percent in the 2018 fiscal year. The company operates its own website and cooperates with third-party platforms such as Alibaba and Tencent.
"Consumers go to our physical store. They also purchase through mobile phones and other digital devices. About 90 percent of Chinese consumers touch digital points before they visit physical stores," said Rorsted.
Adidas launched its digital hub in Shanghai to build an ecosystem with its physical products. In the future, when consumers walk into its stores, facial recognition will enable the recommendation of relevant products based on personal preferences and shopping history, said Currie.
Sportswear, fueled by the all-in fitness policy promoted by the government and improved health-consciousness among consumers, is performing well in China, according to analysis from Euromonitor International.
Data from the research organization show that sportswear retail value in China is forecast to reach 286 billion yuan ($41.7 billion) this year, a major surge from 148 billion yuan in 2014. The number will rise to 383 billion yuan in 2023.
"The rise in sports culture is bringing fitness and lifestyle together. Therefore, sportswear brands are now growing their business to encompass lifestyle, and brands now are building an affinity with consumers by becoming part of the lifestyle trend and motivating consumers to be more active," the research organization said on its website.
Moreover, the rise in popularity of sports clubs and gyms is helping to reinforce the idea of sportswear as a key component of any training program.
Despite the market boom, international companies are being challenged by local rivals. According to Euromonitor, Adidas takes up 19.5 percent of the total market retail value, followed by Nike at 19.0 percent, Anta at 11.1 percent and Li Ning at 6.1 percent.
Local brands, which were priced more competitively than international top brands and gained strength from consumers in lower-tier cities, are now rivaling their foreign peers in terms of medium- and high-end products and prices, said Zhang. Li Ning became the highlight of the New York Fashion Show and Anta joined forces with NASA and Coca-Cola to woo younger consumers in showcasing the narrowing gap between local brands and their international peers in terms of marketing. But local brands need to invest more in research and development, said Zhang.
Anta Sports' rise came after a series of mergers and acquisitions of leading international sports brands. A consortium led by Anta Sports completed the purchase of Finnish sporting goods company Amer Sports on April 11.
The deal makes Anta the world's third-largest sportswear maker by market value after Adidas and Nike. The Xiamen-headquartered company now owns world famous sports brands such as Wilson, Arc'teryx, Atomic and Salomon, adding to its existing brand portfolio including Anta, Fila, and Kolon Sport. The group has 11,316 stores, covered by its single-focus, multiple brand strategy, positioning its brands across the mass market to a high-end market spectrum.
Li Ning's comeback story is a result of its turnaround strategy to target younger consumers and become a trendsetter in the sportswear industry, highlighted by its Chinese-element themed designs and enhanced communication with younger consumers through hot topics generated on social media.
In 2018, the company's strategy of "single brand, multi-category, diversified channels" boosted its revenue to 10.5 billion yuan, representing an increase of 18.4 percent compared to that of 2017. Profit attributable to equity holders amounted to 715 million yuan, up 38.8 percent from 515 million yuan in 2017.