Forum on sustainable rural development kicks off at BNU
Share - WeChat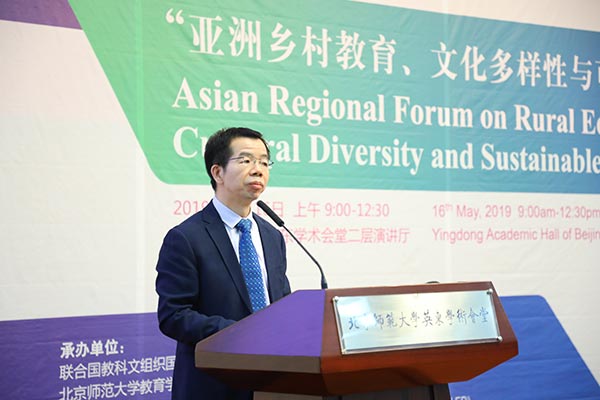 The Asian Regional Forum on Rural Education, Cultural Diversity and Sustainable Development held by Beijing Normal University kicked off on May 16. The event, supported by UNESCO International Research and Training Centre for Rural Education aims to provide a platform for scholars, experts and other practitioners in the education sector to learn from each other and develop ways to vitalize rural education in Asia.
Chen Guangju, vice-director of the University Council of BNU says that the development of rural education and economies is now facing the challenge of urbanization and globalization. In this sense, to approach its sustainable development goals, BNU has played an active role in protecting cultural diversity and ensuring equal opportunities for rural residents to enjoy a high-quality education.
Wen Tiejun, executive Dean of the Institute for Advanced Studies of Sustainable Development gave a keynote speech on knowledge localization for eco-civilization created by socialized rural revolution. In it, he pointed out that today's rural regeneration should be based on a combination of indigenous culture and various local natural resources.
Most Popular