Conference lauds creativity old and new
Share - WeChat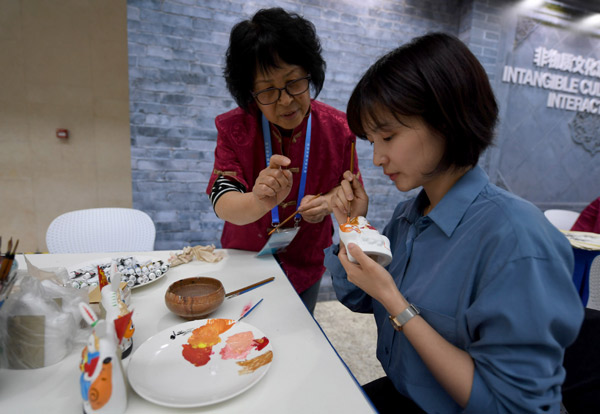 Intangible cultural heritage on show alongside latest technology at summit
Colored clay toys, porcelain and jade flower arrangements from ancient palaces next to virtual reality devices, 3D-printed sneaker soles and Buddha statues are ready to dazzle participants at the Conference on Dialogue of Asian Civilizations.
The conference, which runs May 15-22, focuses on cultural diversity, exchanges and mutual learning. It is expected to attract more than 2,000 government officials and representatives of various circles from 47 Asian countries and outside the region.
Using 3D printing, Beijing-based Qingfeng tech company can produce a pair of sneaker soles in an hour.
Partnering with the leading Chinese sneaker brands such as Li-Ning and Anta, the company said it is confident of mass-production of the innovative sneakers by the end of this year.
With good elasticity and corrosion resistance, the 3D-printed shoes won't be inferior to sneakers made of other materials, the company said.
Fine crafts
Unlike cutting-edge 3D-printing technology, which relies on data models to finish crafts at high speeds, traditional handicrafts, including jade flowers, can take hours of manual work.
The making of the jade flowers tests the patience and skills of technicians. They have to pick five petal-shaped jade pieces of the same color and tightly wrap threads around a thin wire acting as the flower's branch, according to Dong Xuexia, an employee at the intangible cultural heritage interactive area.
Participants gathered around tables to learn from the inheritors of these cultural heritage crafts.
Despite the precision and speed brought by modern technology, traditional crafts still hold an appeal through engaging experiences.
Part of China's intangible cultural heritage, Beijing colored porcelain has a century-long history and has been passed down to the fifth generation. The craft's museum receives visitors from China and abroad every day. Some foreigners come four times a year. The jade flower arrangement is among the museum's innovations, which aims to attract ordinary consumers.
Most Popular