Chinese ballet troupe impresses at recent Tokyo performances
Share - WeChat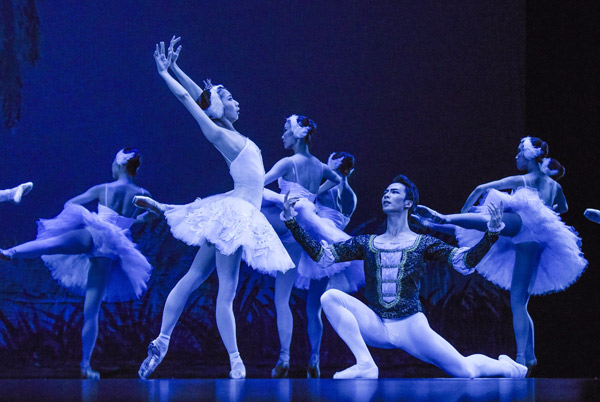 When dancers from the National Ballet of China depicted scenes from Raise the Red Lantern, audiences in Tokyo, Japan were left thrilled by the performance.
In order to illustrate the classic story in an artistic form, the performers were dressed in exquisite traditional Chinese costumes of bright colors for the performance on Friday. Their equally delicate dance moves also won the appreciation of the audience.
According to Feng Ying, director of the National Ballet of China, a troupe of 120 performers came to Tokyo to put on shows of Raise the Red Lantern and Swan Lake, the largest-scale performance in Japan since the ballet company was established 60 years ago.
Adapted from renowned Chinese director Zhang Yimou's film, Raise the Red Lantern tells the tragic tale of women struggling in a traditional feudal family.
"The play tells the powerful story in a similar way to films and dramas-its plot is unveiled in a theatrical way-breaking away from traditional ballet forms," says Feng, who was herself once a dancer with the National Ballet of China.
Unlike classical ballet, Raise the Red Lantern incorporated various traditional Chinese elements such as Peking Opera, folk music and traditional instruments to deliver a creative form of performance imbued with Chinese culture. The music was performed by the Tokyo Philharmonic and conducted by Zhang Yi, head of the China National Symphony Orchestra.
Because of the unique aspects of the show, performers had to employ a clever use of dance and props, such as square tables and specially-developed moves to illustrate people playing mahjong, for instance.
The dancers swirled around the tables, sometimes hopping on top of them and ducking underneath, vividly depicting the relationships of the characters. The clattering sound of mahjong tiles impacting one another was produced by using several abacuses.
To depict the oppression of the heroine by her male master, shadows of the two characters dancing together were cast on a large paper screen with the male shadow evidently larger than that of the heroine. The two shadows writhed and twisted around each other, against a tense musical backdrop, with the whole sequence reminiscent of Chinese shadow puppetry.