Meet China's ancient crafts, modern tech
Share - WeChat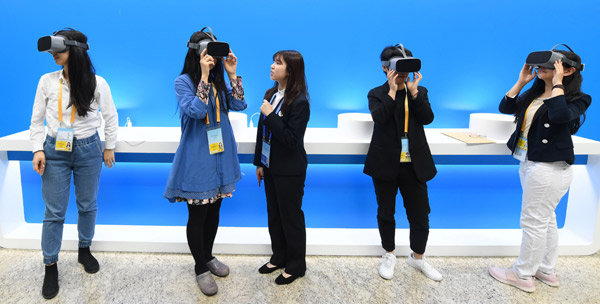 Colored clay toys, porcelains, and jade flower arrangements from ancient palaces, next to virtual reality (VR) devices and the 3D-printed sneaker soles and Buddha statues, are ready to dazzle participants at the Conference on Dialogue of Asian Civilizations (CDAC) with China's past and future.
Slated for May 15 to 22, the conference will focus on cultural diversity, exchanges and mutual learning. It is expected to gather more than 2,000 government officials and representatives of various circles from 47 Asian countries, and countries outside the region.
Using 3D printing technology, Beijing-based Qingfeng technology company can produce a pair of sneaker soles in just an hour. Partnering with the leading Chinese sneaker brands such as Li-Ning and Anta, the company is confident of mass-production of the innovative sneakers by the end of this year.
With good elasticity and corrosion resistance, the 3D-printed shoes won't be inferior to the sneakers made of any other material, the company said.
Slow but fine art works
Unlike the cutting-edge 3D-printing technology, which relies on data models to finish crafts at high speeds, the traditional handcrafts, including jade flowers, may take hours of manual work.
The making of the jade flowers especially tests the patience and skills of technicians. They have to pick five petal-shaped jade pieces of the same color and then wrap the threads around a thin wire tightly as the flower's branch, according to Dong Xuexia, an employee at the intangible cultural heritage interactive area.
Participants gather around tables to learn about crafts from the inheritors of these cultural heritages. Despite the precision and speed brought by modern technology, traditional crafts still appeal to them through engaging experiences.
As one of China's intangible cultural heritages, Beijing colored porcelain has a century-long history and has been passed down to the fifth generation. The art's museum receives visitors from home and abroad every day, and some foreigners even come four times a year. The jade flower arrangement is among the museum's innovations, which aims to attract ordinary consumers.
"Porcelain is one of China's cultural name-cards. As a unique handcraft skill of China, the art joins in communications with civilizations in the world, hoping to gain resonance," said Shi Qin, the curator of the museum.
"As the successor of traditional crafts, we also seek innovation constantly. We believe that communication between different cultures can help us better innovate, which is the reason why
we actively participate in CDAC."
Most Popular