Memorandum signed to promote medical cooperation between China and Belarus
Share - WeChat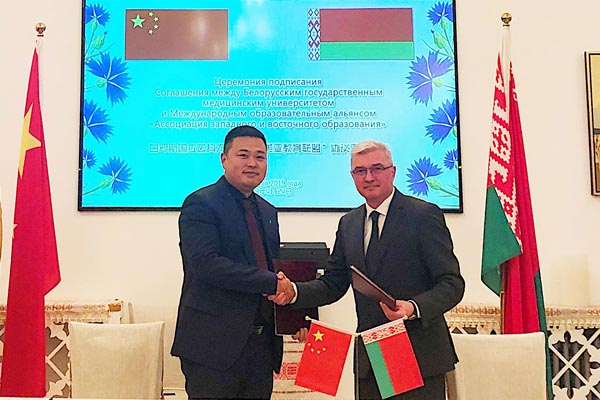 Belarus's health ministry and the Union of Western and Eastern Education (UWEE) signed a memorandum of understanding in Beijing Wednesday to further enhance medical and healthcare cooperation between the two countries.
Valery Malashko, Belarusian health minister, said that 2019 is the Year of Education between China and Belarus, which is essential for the two countries' work developing international talent.
He said he hopes the agreement will deliver more higher education exchanges in the medical and pharmaceutical industries, as well as promote the development of traditional Chinese medicine (TCM) in Belarus.
Belarusian universities offer top-class medical education in Europe, especially in dentistry, according to the minister. He said he hopes Belarus will make more contributions to training international medical personnel in countries involved in the Belt and Road Initiative in future.
According to the memorandum, UWEE will help facilitate exchanges between Chinese and Belarusian universities, research institutes and pharmaceutical companies.
The two sides will also deepen cooperation in TCM, working together to train more local TCM talent.
Under the agreement's framework, a BRI-themed international medical forum will be held in the Belarusian capital of Minsk later this year, which is expected to gather scholars, experts and entrepreneurs in medicine and healthcare from around the world.
Most Popular