Driving innovation to meet demand
Share - WeChat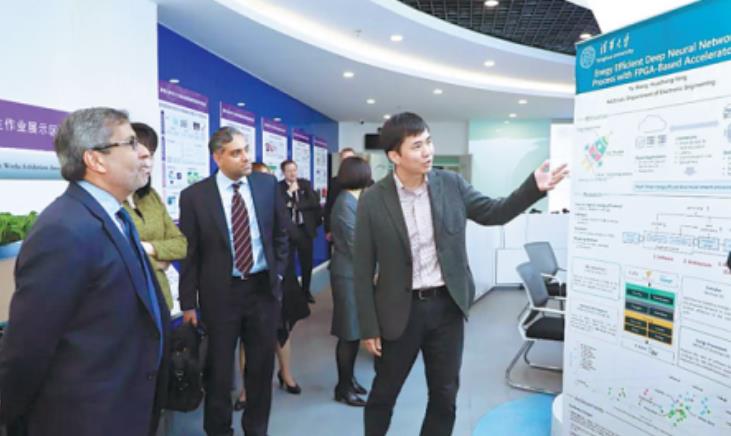 US-based semiconductor giant Micron is striving to expand presence in China
Micron Technology Inc, the US-headquartered semiconductor giant, is moving forward to advance its capabilities in China, its CEO Sanjay Mehrotra said, in a bid to gain a stronger foothold in the market and meet rising demand in the coming years.
As the fourth-largest semiconductor company in the world, Micron offers a wide array of memory and storage products and solutions. Mehrotra said the long-term trend of rising demand for memory and storage is exciting, and will make possible revolutionary technologies such as artificial intelligence, 5G and autonomous driving.
Micron has a long history and strong presence in China, the largest market for semiconductors. It operates a world-class integrated circuit packaging, testing, and memory module production facility in Xi'an, capital of Northwest China's Shaanxi province, and has invested in three customer labs, where, Mehrotra said, the company can drive innovation to the market.
In a recent interview with China Daily, Mehrotra elaborated on the factors behind his positive outlook for the company's business in China, and shared his views on the industry's future trends and the China-US trade talks.
How has the ongoing supply side reform changed the nation's economic development and your company's business in China?
Supply side structural reform relates to high-quality and high-efficiency development. These are the trends of industry 4.0, making manufacturing efficient and shaping the world of the future. In the process, the reform helps enhance the talent base, improves people's lives and advances sustainable environmental and equitable growth. So these are definitely good initiatives.
Micron is a key enabler of some of these objectives. Boasting a rich history of 40 years, Micron is a global leader in memory and storage semiconductor products. The company has in the past four decades invested many billions of dollars in research and development.
Our focus on memory and storage is key to industry 4.0 and high-quality manufacturing, which features the trends of technologies of the future such as artificial intelligence, 5G, the internet of things and cloud computing.
Micron's memory and storage products are at the heart of industry 4.0 trends, because data lives in the products that Micron makes. This is how we are connected to the trends of high-quality manufacturing that the supply side reform is driving. Because high-quality manufacturing is going to be based on data driven technologies and solutions of the future, which will need Micron's memory and storage technologies.
What's your view of the Foreign Investment Law? How can the law help better protect the interests and rights of foreign firms?
I'm encouraged by the Foreign Investment Law, which is set to take effect in January. It really opens market access, and provides a fair and level playing field for global companies. It aims to treat foreign companies the same as local companies, offer them a healthy business environment and protect their intellectual property rights.
We look forward to successful implementation and enforcement of the law. It is up to the central government, as well as provincial governments, to make sure that the law is implemented appropriately.
What measures should be taken if the country wants to further open up to the outside world?
China is on the right track in many aspects, like opening-up and intellectual property rights protection. These are absolutely the right things to move on.
And I think it's important that the plans are executed so that the world can truly enjoy the benefits of open market access and a transparent, fair and level playing field. These initiatives are already on track in China, and I certainly hope that they will be successful in the future.
What experience can you share with other foreign companies for their development in the Chinese market?
Micron's priority is to continue working with our customers so that we understand the trends of the future and our products are aligned with their technology road map. Driving innovation to successful commercialization is our key focus.
It's important for Micron to attract top talent from around the globe. Because ultimately it is the top talent that really helps a company to execute successfully on the innovation agenda. We are pleased with the team that we have across the globe, including in China.
We not only focus on the best and most optimal business results, but also strive to give back to the communities where we operate. In China, for example, Micron has invested in Xi'an, where we have more than 3,000 employees. We are working with local schools helping children with their education.
Micron believes it's important to be part of the places we do business as we build a company for the future - focusing on innovative technology products and customers, as well as communities and society.
What challenges does the US-China trade issue pose for China? How has it affected Micron?
I'm hopeful that China and the US will resolve tensions and come to a resolution allowing the two countries and the global economy to move forward in a prosperous way for all.
Our production in China continues to be strong, because the production in China is mainly used to supply local clients, as well as clients elsewhere in the world. Micron has a diverse and strong global manufacturing footprint in China and in other parts of the world.
What are your plans to further develop in the Chinese market over the next three to five years?
Micron has established operations on the Chinese mainland for more than 10 years. We are proud of the manufacturing plant in Xi'an.
Micron has invested heavily in that plant to expand our capabilities to manufacture DRAM (dynamic random access memory) modules as well as to enhance assembly and test capabilities.
Micron has also invested heavily in R&D in the Chinese market. We have a large R&D center in Shanghai where excellent engineers are working on all aspects of Micron's product portfolio from DRAM to flash solutions. We have also invested in our sites in Shenzhen and Beijing.
What I'm most excited about is that we have invested recently in three customer labs. In these labs, we are really driving innovation in China with our leading customers in various markets. Customers can work with our engineers, scientists, and architects to design innovative solutions for the future.
These are the kind of investments that we are making in China, which align with China's agenda related to innovation as well as high-quality manufacturing.
Some reports have predicted that the global semiconductor industry is at the beginning of a downward cycle. What competitive advantages do you have in China and where is the most demand for your products?
In the long term, there will be a need for more memory and more storage, in terms of gigabytes that are used in either through DRAM or in flash solutions.
The future is about the technologies that are driven by fast connection of devices, such as cloud computing applications, smartphone devices, notebook computers, autonomous driving as well as IoT devices. Micron's technologies and solutions will be at the heart of these trends, which will shape the future of the world where lives will be enriched based on data driven solutions.
We think the long-term trends of growth are exciting, although there have been some downturns in the sector this year.