Now, green electricity spurs clean development
Share - WeChat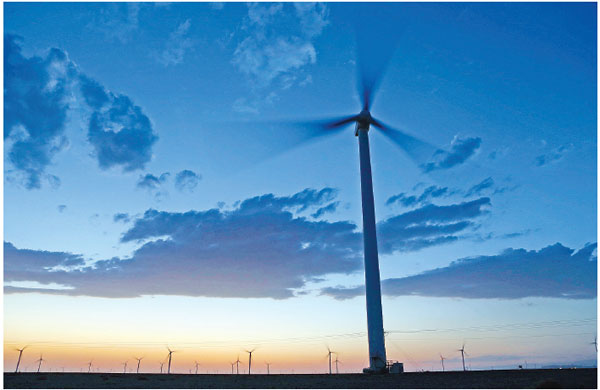 If you were walking or driving along the coast of East China's provinces such as Jiangsu, Fujian and Guangdong, you'll likely notice rows of white turbines offshore.
These are wind farms, a scene straight out of Europe, the leader in offshore wind energy. Only, they bear testimony to the rapid technological development of offshore wind-based energy in China.
As waves lap at the seemingly floating towers, electricity is generated by harnessing powerful winds that rotate the giant blades of these fans installed on sea.
With 11 coastal provinces, China has abundant offshore resources: a coastline of 18,000 km, and more than 3 million square km of sea area.
Factors like falling production costs brought about by the technological improvements in the past 10 years, are encouraging the construction of offshore wind farms.
In the not too distant future, the cost of building offshore wind farms will likely match that of their onshore counterparts.
There are other factors to consider here. Consumption of electricity has always limited the development of clean energy in the country.
For example, the development of onshore wind farms, which are usually constructed far from the power consumption cluster in the east, has been slow in the past few years as the segment matured.
The installed capacity of onshore wind farms in 2017 reached a five-year low of 1,160 MW, according to the Chinese Wind Energy Association.
Given offshore wind farms' proximity to coastal city load centers in China, their steady development could mean they could potentially contribute more than half of the clean energy consumed in China in the future.
The offshore segment offers an opportunity to the coastal regions to further reduce their over-reliance on imported coal-fired electricity that not only causes emissions but is expensive and inflexible.
In addition, the offshore wind farms, unlike their onshore counterparts, do not require land resources, while their utilization hours are 20 percent to 70 percent higher.
Small wonder, China is witnessing cutting-edge R&D of offshore wind turbines. Domestic firms such as Goldwind and Dongfang Electric already have capabilities to produce high-capacity machine units that adapt to the country's complex coastal marine environment and don't rely on imports anymore.
They have laid a solid foundation for the commercial development of the country's offshore wind power sector.
Economy of scale now marks the renewable energy sector. Many provinces have laid out a blueprint for the offshore wind power development for the next few years.
For instance, Jiangsu province has approved 24 offshore wind power projects with a total capacity of 6.7 GW. China aims to build seven large-scale wind power generation bases in Gansu, Xinjiang, Hebei, Jilin, Inner Mongolia and Jiangsu in 2020, to boost clean energy consumption.
Experts think the government may plan for the needed grid-connection arrangements to keep pace with the acceleration in the offshore wind sector's development.
What may spur good news next is that turbine costs are continuously falling. The country is gradually catching up in the fields of oceanographic engineering, long distance power transmission and facility maintenance.
It is highly likely that the turbines might continue spinning offshore without feeding off any government subsidies. Such a scenario would help countries to move to a more reliable, cheaper and cleaner energy economy.