Dairy firms eye growing appetite for cheese
Share - WeChat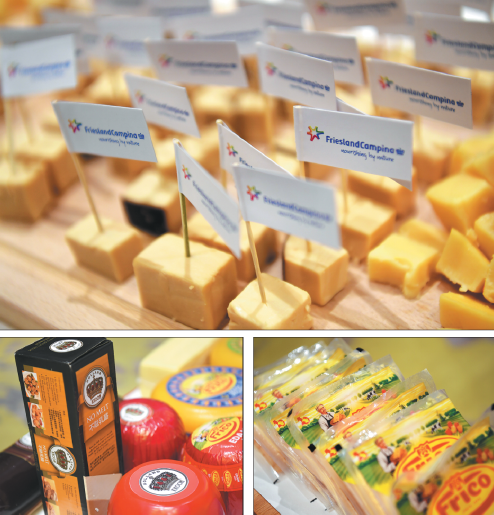 Sales expected to boom as Chinese eating habits evolve due to increasing popularity of Western food
Cheese is set to become a new growth point of the dairy sector in China, prompted by the increasing popularity of Western food and some innovative combinations such as cheese hotpot and milk tea with cheese on top.
In major first-tier cities, the dairy market is undergoing some structural changes as sales of high-end pure milk continue to expand, and sales of yogurt and cheese surge, industry experts said.
Currently, annual per capita consumption of cheese in China is only 0.1 kilogram, far below 2.4 kg in Japan, 2.8 kg in South Korea, 15 kg in the United States and 18.6 kg in Europe where France, Germany and the Netherlands take the top three spots, according to the China Dairy Industry Association.
"Dairy consumption in smaller cities and rural areas in China is far from the level it could be. Consumption of milk and other dairy products like cheese and butter will keep growing and help to boost total dairy consumption," said Zhang Liebing, an associate professor at China Agricultural University.
The annual per capita consumption of dairy products in China has reached 36 kg now, much higher than the 6 kg recorded two decades ago, but the volume is still less than half that of Asia and less than a third of the world average, the dairy association said. Meanwhile, to produce 1 kg of cheese, it requires about 10 kg of milk. The cost of milk in China is about double that in Europe and the US, and the cost of producing cheese is even higher, making the cheese products available in supermarkets in China relatively expensive.
"The number of Chinese people who like eating cheese will rise, due to the growth in popularity of Western food like pizza, spaghetti, cheesecake and sandwiches in China. The volume of imported cheese has been growing significantly, showing an increasing demand and appetite from consumers," said Song Kungang, honorary chairman of the dairy association.
Last year, China imported 108,300 metric tons of cheese, which is nearly three times higher than that in 2011. China imported 6,200 tons of cheese from New Zealand in 2018, a 25.9 percent increase year-on-year, according to the General Administration of Customs.
Meanwhile, domestic dairy companies produced about 40,000 tons of cheese last year, figures from the dairy association show.
Currently, China only allows imports of large packages of cheese or smaller cheese already cut by foreign manufacturers, but does not allow domestic dealers to cut imported large packages of cheese for sale for food safety reasons.