Total value of medical imports decreases
Share - WeChat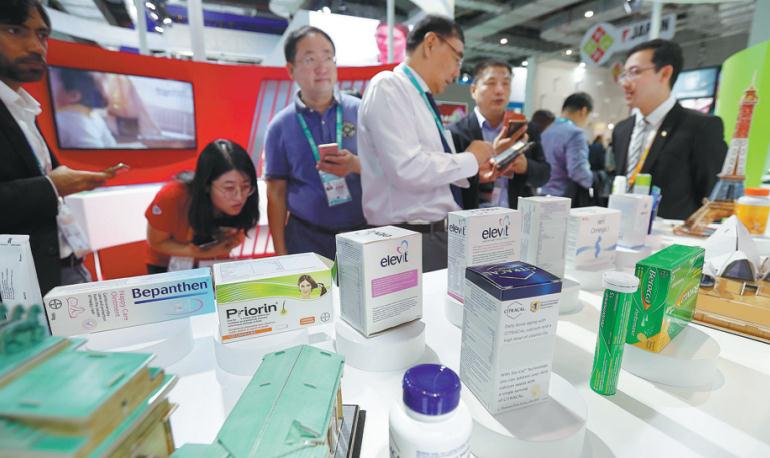 Domestic demand remains robust while prices drop due to intensified competition among pharmaceutical firms
The value of medical and healthcare products China imported last year decreased for the first time in "many years" to about $50.43 billion, down by 9.75 percent year-on-year, according to a report released by the China Chamber of Commerce for Import and Export of Medicine and Health Products.
Business insiders said the cause of the decrease is mainly the lower average price of imported medicine due to intensified competition among pharmaceutical companies, rather than changes in import volume.
They also predicted prices are likely to continue to fall in the next few years, while demand will remain robust, and thus the value of medical and healthcare imports will likely be stable or increase slightly in the future.
According to the report released last month, the import volume of medical and healthcare products increased 9.52 percent year-on-year last year, while the average import price dropped by 17.6 percent year-on-year, resulting in a lower total import value.
Among the imports last year, the decrease in value of Western medicine is the main cause of the total import value decline, especially as the import value of Western medicine and biochemical medicine decreased sharply, the report said.
The value of Western medicine, which often takes up the largest value and volume shares among all medical and healthcare products China imports, plunged 24.05 percent year-on-year in 2018 to about $13.03 billion.
The biochemical medicine import value decreased even more sharply to around $4.75 billion, down by 41.21 percent.
"China's demand for imported medical and healthcare products has remained steady in recent years with a tendency toward growth," said Wang Maochun, vice-president of the chamber. "The decline in import value was mainly due to the price drop rather than a volume decrease."
The volume of Western medicine China imported last year increased 1.75 percent year-on-year, while the volume of biochemical medicine dwindled 7.67 percent compared to that in 2017, according to the report.
Wang said the measures the Chinese government has adopted to increase the affordability and accessibility of medicine, such as the pilot drug group-buying program and the generic drug evaluation method, have intensified competition among pharmaceutical companies, which eventually helps cut prices.
In 2018, the prices of 17 titles of anti-cancer drugs were significantly lowered after they made it into the national reimbursement drug list.
The report said the average price of imported Western medicine formulations fell 25.36 percent year-on-year in 2018, and the average price of biochemical medicines slumped 36.32 percent compared to the previous year.
Wang predicted imported medicine prices will likely continue to decline or remain at current levels in the future.
If the multinational pharmaceutical companies, especially overseas firms that produce original drugs, want to maintain their market share in China - the world's second-largest pharmaceutical market after the United States - their medicine prices must remain at a relatively low level, he said.
Shi Lichen, founder of medical consultancy Beijing Dingchen Consultancy, also predicted that imported medicine prices will likely continue dropping "over a long period".
"China has huge market potential for imported medicine, and the demand is growing fast for generic drugs, but pharmaceutical market competition is becoming increasingly fierce," he said.
That is because Chinese pharmaceutical companies have been building up their research and development capacity over the years, and their product competence is growing, and also because China is reviewing and approving drugs faster so there will be more competitors both from China and abroad, he explained.
Shi said competition in the generic drugs segment will be intense, considering the reimbursement provided by medical insurance programs in China for generic drugs is much more generous than in other countries, such as the US.