In China for China and the world
Share - WeChat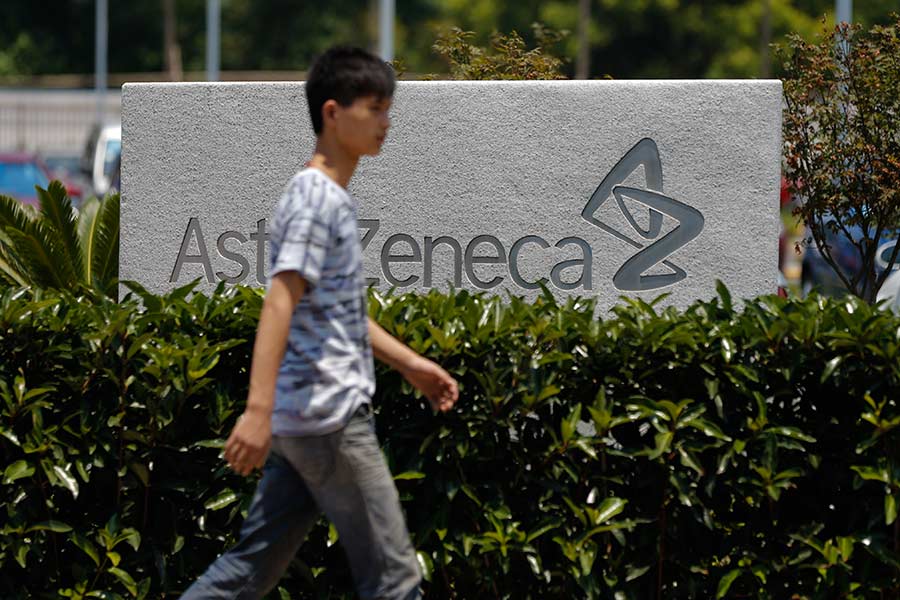 AstraZeneca regards nation as not just a sales market, but increasingly a major innovation hub
Global biopharmaceutical giant AstraZeneca PLC entered the Chinese mainland in 1993 and now has more than 10,000 employees across the country. AstraZeneca China has invested more than $1 billion in China and achieved sales of nearly $3.8 billion in 2018.
In an interview with China Daily, its chairman Leif Johansson talked about the company's development strategy in China, his views about the Chinese market, and how the Belt and Road Initiative benefits companies like AstraZeneca.
What do you think of your company's performance in the Chinese market?
I'm pleased that we have been in the Chinese mainland for 25 years. We have made big investments, and we have seen good growth and outcomes from those investments.
We have introduced new medicines, and we are seeing China become more like the rest of the world in relation to pharmaceuticals with accelerated approval processes, innovation and intellectual property rights protection. All of those are good things when it comes to being part of the pharmaceutical business.
China is now our second-largest market by sales. Chairmen are seldom satisfied, but I am very pleased with the development in China.
How have globalization and China's reform and opening-up benefited your business?
For my whole life I have worked in global companies such as Volvo, Erisson, and AstraZeneca. I think that it is good for the world that we are getting closer. There will be more trade, more respect and understanding of different countries and different cultures. I think it genuinely facilitates peaceful cooperation and development of the world.
It has been unusually good for China to open up and reform ... I think China is taking its rightful place in the world economy. I would say globalization in the main is a good thing and something we should try to hold on to. I am particularly interested in peaceful cooperation between countries.
We have benefited significantly from China's reform and openingup. Till now, AstraZeneca has brought about 30 innovative drugs to China. We have invested more than $1 billion in China and established a unique local, end-to-end approach for the whole pharmaceutical value chain, from discovery to clinical development and manufacturing of innovative medicines.
In 2017, we opened the China Commercial Innovation Center in Wuxi, Jiangsu province. This center is the first open strategy platform initiated by a pharmaceutical company for truly patient-centric solutions that incorporate digital technology to improve access to healthcare. The center has already led to eight fully-integrated solutions to address some of China's most prevalent diseases and conditions.
What's the role of the Chinese market in your global strategy? What plans do you have to further tap the business potential in China?
AstraZeneca is increasing investments in China. We remain committed to our "patient-centric" philosophy, with a strong focus on multiple therapy areas where there is the most urgent demand from Chinese patients such as respiratory, cardiovascular, renal and digestive diseases, metabolic disorders and oncology.
China is more than a market for us. It is increasingly a major innovation hub. Partnership and innovation underpin our strategy of "In China for China" and "In China for the World".
AstraZeneca takes the initiative to put forward and implement the "patient-centric" China commercial innovation strategy. It aims to bring together a wide range of cross-sector stakeholders to find answers to the most pressing issues facing the healthcare sphere. This requires a collaborative environment that is capable of fostering innovation. We have over 100 partners already doing this, including some of the biggest technology players in China and the world today.
What business opportunities do you see from the Belt and Road Initiative?
I see the Belt and Road Initiative allowing China to become a more important part of the world economy, and as such, I think that's a good thing.
I think the Chinese government's idea is clearly good. I think it is natural to see China become a part of the world economy. I think each economy participating in the Belt and Road Initiative needs to make sure that this is a win-win situation.
We are participating in more than 100 countries and regions. We have no direct involvement in the Belt and Road Initiative in different countries with the exception, of course, that we are genuinely promoting the science that we do in China out into the world market.
The innovation model of Astra-Zeneca's smart nebulization room initiated in China has been promoted in and benefited the Belt and Road economies such as Vietnam and Malaysia with more than 550 nebulization rooms being implemented.
We are actually just signing with the Chinese company Luye Pharma Group for a mild step in a drug that we will be promoting. I think that's a good example of how to take knowledge we can find in China and then promote it and internationalize it.
Do you plan to increase investment or expand your presence in the Chinese market this year?
Looking forward, AstraZeneca will seize opportunities, lead the way in a spirit of openness and innovation, further improve our innovative discovery capabilities in China, and continue to promote collaboration with cross-field partners concerning holistic disease management solutions.
While supporting the promotion of Chinese innovation to the world, we will bring more innovative drugs as well as initiate innovative projects, and thus better serve patients in China or even around the globe.
How does your company work together with local partners? Are there any cultural or other differences that you need to pay special attention to?
Globally, AstraZeneca places open innovation at the heart of our development strategy. In China, we are working closely with our local partners to address unmet medical needs. And we keep exploring wider cooperation between the government and enterprises, supporting more new policies, and contribute to the "Healthy China 2030" initiative.
You know I have spent my working life in global businesses. I came to this country in the early 1980s. I have learned to appreciate different cultures and how to work with different cultures, and I found it stimulating. When I look at people and try to cooperate with them and try to get them to cooperate, I see them as individuals, and see how they as individuals really contribute to what AstraZeneca is doing.
I try not to think too much about whether it is a Chinese individual or a French or Swedish person. From my point of view that's the most productive way to run global companies. Of course, we have a good example - Leon Wang now sits on the executive committee of the group, responsible for the whole international division, which is great. We have seven different nationalities out of 14 group members there.
You have rich career experience in different industries from automobiles and electronics to pharmaceuticals. What's your secret of being a company leader in varying industries?
Curiosity is the keyword. I've been excited to find out new things, and I found it stimulating to learn about new industries. So, curiosity and the fact that I have not been afraid of change.
I've made many mistakes, but I also have a bad professional memory. I try to put mistakes aside, learn from them, and concentrate on what I can do now.
When was the first time you visited China, and what changes have you seen in the country over the years?
I first came to China in the 1980s and it has been fantastic to witness the amazing development the country has undergone since my first visit.
What has impressed me most in the past few years is how China has elevated healthcare to a national strategic priority, both for its potential to address unmet medical needs as well as the sector's capacity to drive economic growth. As AstraZeneca continues to innovate in China, we aim to support leading healthcare initiatives such as "Healthy China 2030" and support the government's "big health" vision for holistic, patient-centric healthcare.
Moreover, the investment environment in China has been increasingly open, and the business environment in China is improving as well. These changes provide multinational companies with vast space for their development in China.
What are your hobbies? How do you spend your free time?
I have been fortunate enough to see much of the world during my long career. And I still enjoy traveling, to meet new friends and to learn about other cultures and new ways of addressing various challenges.
I like to spend time with my family. During the winter, I try to go to the mountains when I have some time off. I also enjoy reading.