City clusters need coordinated approaches
Share - WeChat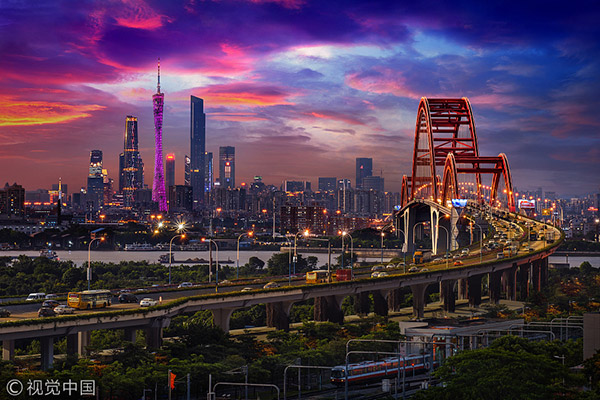 City clusters, an important conduit for high-quality development, need more implementation, rather than master plans, said experts.
The switch from building cities to city clusters are the natural and inevitable progress of industrialization and urbanization, and city clusters are key to high quality development, they said at a recent forum.
"China's regional leaders have long become aware that city clusters will play a vital role in regional and even the whole country's development," said Han Yongwen, vice-president of China Center for International Economic Exchanges. "According to the 13th Five-Year Plan (2016-20), the country is planning to set up 19 city clusters, accounting for 22 percent of the country's total size, 54 percent of the national population and 75 percent of the national GDP."
Merlin Swire, chairman of John Swire & Sons (HK) Ltd, a conglomerate that owns multiple commercial properties on the Chinese mainland, said the sheer size and speed of China's urbanization is "quite unprecedented in human history, but the fruits of urbanization are not evenly distributed across China."
"The Greater Bay Area, Beijing-Tianjin-Hebei region, and the Yangtze River Delta region occupy just 4 percent of land territory and are inhabited by 20 percent of the population, yet contribute 38 percent to the national GDP," he said. "With the ongoing transfer of industrial activity from coastal areas to inland areas, new city clusters are coming up. The rise of the Chengdu-Chongqing Economic Zone in recent years is particularly commendable."
Experts also shared their thoughts on the ongoing development of city clusters in China.
"The country has been making master plans in areas such as GBA, Beijing-Tianjin-Hebei and Yangtze River Delta, but the key to the plan is implementation," said Han. "To ensure the implementation, the core lies in economy, especially industry."
As the building of city clusters needs support from local industry, he suggested the government make specific guidelines and regulations in accordance with each city's unique resources and merits, in order to further develop and optimize the industry.
Zhou Tiegen, Party secretary of Xuzhou city in Jiangsu province, said the biggest obstacle in the integrated development of city clusters was administrative barriers.
He said cities in the same cluster were usually located in different provinces, and the profits and benefits cannot be shared together. "The current development and performance evaluation model does not support integrated regional development," he said.
"To promote integrated development and remove administrative barriers, the key is to promote socioeconomic development," Zhou said. Convenient transport resources, building of industrial clusters and social welfare infrastructure such as medical resources and environmental protection are the keys for the same, he said.
Swire also suggested that integration through coordinated planning was necessary to further drive China's high-quality development.