Progress seen after Sino-US negotiations
Share - WeChat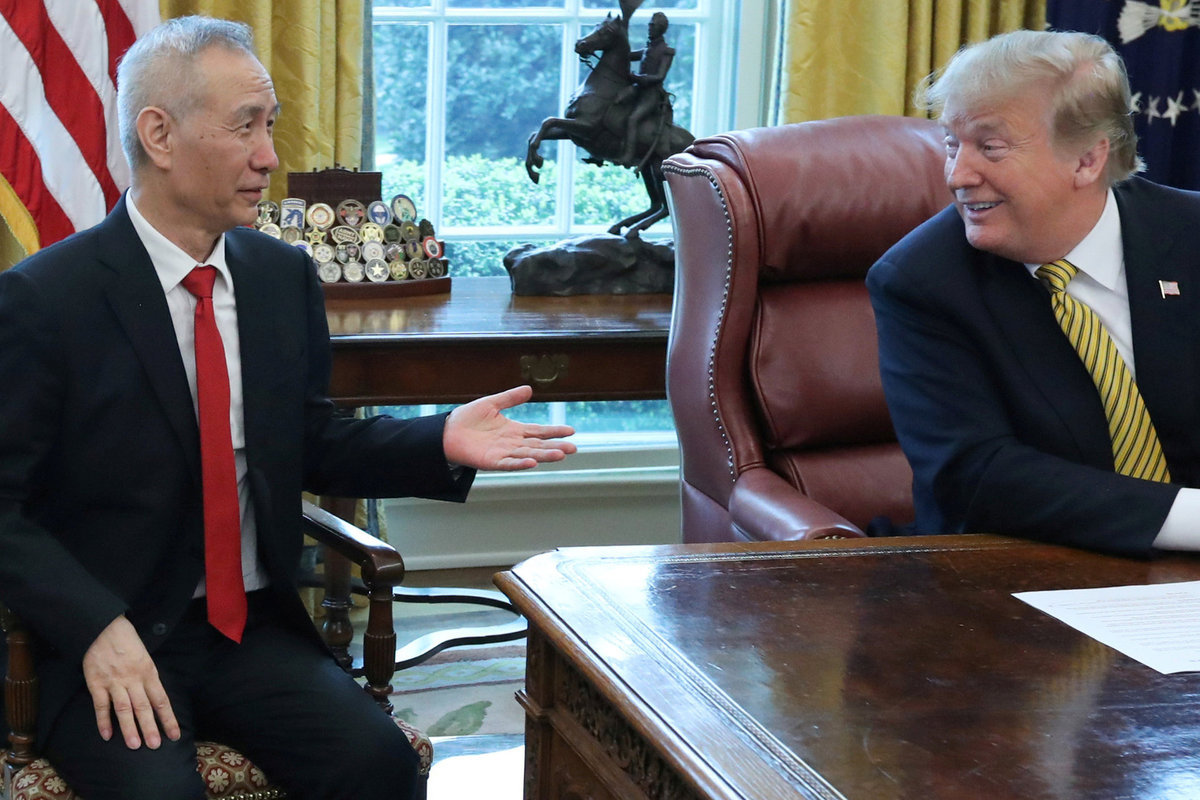 Beijing, Washington end ninth round of trade talks, shore up confidence
China and the United States decided to continue their consultations regarding outstanding issues after they wrapped up their ninth round of high-level trade talks in Washington.
Experts and business leaders said China and the US are natural economic partners, and they hoped the two countries can come to a positive resolution.
The latest economic and trade talks ran from Wednesday to Friday.
The two sides discussed technology transfers, protection of intellectual property rights, non-tariff measures, the service sector, agriculture, trade imbalances and enforcement mechanisms, and they made progress in new areas, Xinhua News Agency reported on Saturday.
Vice-Premier Liu He, also a member of the Political Bureau of the Communist Party of China Central Committee and chief in the Chinese delegation within the China-US Comprehensive Economic Dialogue, met with US Trade Representative Robert Lighthizer and Treasury Secretary Steven Mnuchin during the talks.
China and the US have been expediting their economic and trade consultations with the goal of implementing consensuses reached by the countries' leaders in December.
Wei Jianguo, vice-president of the China Center for International Economic Exchanges, said it is urgent for China and the US to maintain closer contact to resolve their trade disputes.
He underscored the need for the two countries to align their interests, saying that would "benefit the consumers and companies of both sides and ensure world economic stability".
He added that China and the US complement each other economically and have potential to cooperate in many sectors.
Craig Allen, president of the US-China Business Council, said China and the US are "very compatible economies" and need each other's innovation.
"The potential is vast if we are able to work out an appropriate framework," Allen said.
"That is exactly what our negotiators are talking about, and we are hopeful that they can reach a firm and long-term, stable conclusion," Allen added.
A recent report from global law firm Linklaters showed that inbound mergers and acquisitions in China hit a record high in 2018 of $56 billion (23 percent higher than 2017), with more than half of this related to the financial and real estate sectors.
US investors were, despite the continuing US-China trade tensions, estimated to be responsible for 34 percent of this investment, the report said.
Trade tensions are considered a key factor in determining the nature of inbound investment. Charles Jacobs, Linklaters' global senior partner and chairman, said he hopes that the world's two largest economies can break their deadlock, which will be in both countries' interests.
Sanjay Mehrotra, CEO of Micron Technology Inc, the US semiconductor giant, said he is hopeful that China and the US will resolve tensions and come to a resolution allowing the two countries and the global economy to move forward in a prosperous way for all.
"Our production in China continues to be very strong because it is used mainly to supply local clients, as well as clients around the world," Mehrotra said.
James Collins, CEO of Corteva Agriscience, the agriculture division of US-based DowDuPont, said the company was "not so much affected" in the short term by China-US trade tensions.
Collins hopes the two countries can come to a positive resolution, which can benefit farmers in both countries and the rest of the world.
He said the company will add employees, research and field development resources to consolidate its position in the China market over the coming years.