Green treat in store for horticulture fans in Beijing
Share - WeChat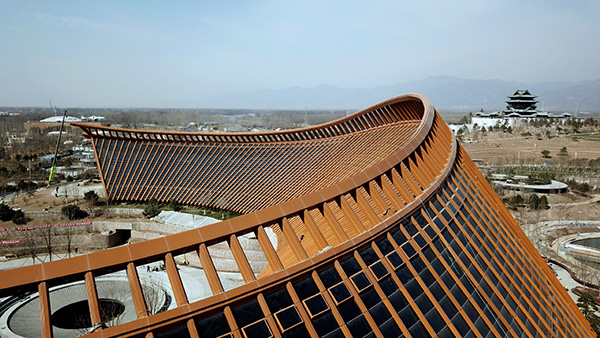 As the International Horticultural Exhibition approaches, visitors are in for a green treat.
Li Shumei, a Beijing resident who works for the China Youth Travel Service and has been involved with the exhibition since 2015, says she is quite confident that everything will be in good order when the exhibition opens to the public on April 29.
"We've been preparing since last year, and everything is of a high standard," says Li, who mainly works on improving the visitor experience relating to seating, drinking water and toilet facilities at the exhibition venue.
The exhibition will be held 74 kilometers from the center of Beijing.
"It (the exhibition space) used to be an empty space," she says.
But now, modern facilities, flowers and trees have taken up the space.
The exhibition will be held in Beijing's Yanqing district and promises a diverse and immersive horticulture experience for the public.
Li, who has been part of at least a dozen large-scale horticulture events across the country, says she is particularly impressed by the Beijing exhibition.
"The pavilion layout, decorations, and garden design and originality are all beyond compare," she says.
The exhibition, which will run through October, covers an area of 503 hectares. And it will have four major themes - international, China, life experience and horticultural technology.
Approximately 110 countries and organizations have registered to participate.
One of Li's favorite areas at the exhibition is the China Pavilion, which covers an area of 15,000 square meters. There, visitors can see China's ecological culture, the latest gardening developments and floral arrangements.
Currently, more than 3,000 people from the travel agency have moved into the exhibition area for the final preparations.