Stan Barer: Smoothing the stormy seas for trade
Share - WeChat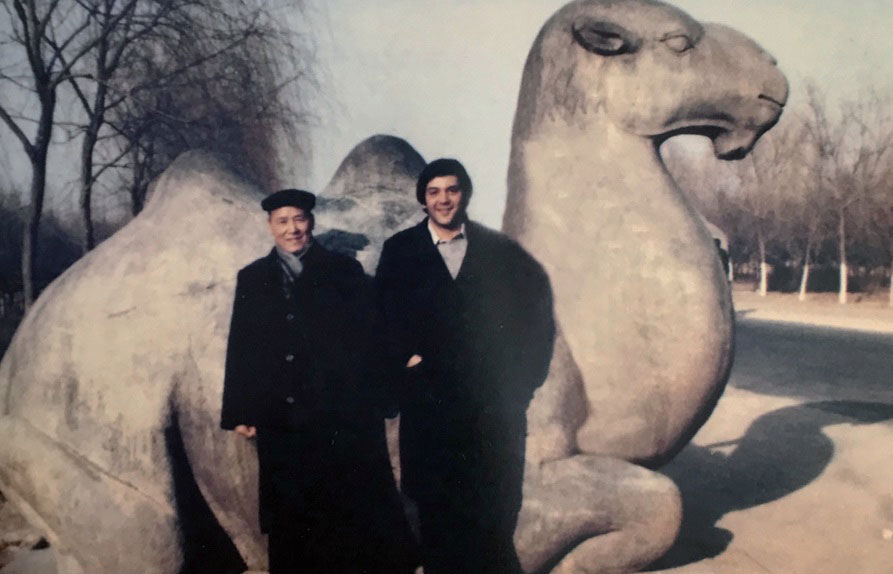 April 18, 1979 marked a milestone in the history of Sino-US relations. It was the day that a Chinese vessel called on a US port for the first time in 30 years.
It was also a big day for Seattle lawyer Stanley Barer, who had traveled between the two countries, overcome numerous obstacles, lobbied the White House and Congress and got the two countries to open up shipping and resume trade.
When the vessel Liu Lin Hai first docked at the Port of Seattle, Captain Bei Hanting saw Barer among the welcoming committee and walked directly to him. The two embraced and smiled.
It took the vessel two weeks to cross the Pacific, but the negotiations to make the trip a reality took four years.
The negotiation plan, called "a brain child of Barer" by leading advocate of normalized relations and trade with China, US Senator Warren G. Magnuson (1905-1989), was a breakthrough in traditional interpretations of American laws.
During the late 1960s, Barer started working in the senator's office on Capitol Hill as an administrative assistant. Magnuson had led a congressional trade delegation to Beijing in 1972.
"You cannot work 10 years in the office of Warren Magnuson and not be a believer in the importance of China," Barer said. "His conviction about peaceful trade with China had quite an impact on me."
Since 1975, when Barer visited Beijing for the first time on business, he has visited China more than 20 times.
After 1949, about $197 million in American assets were frozen in China and $80 million in Chinese assets were frozen in the US.
Although the relationship between China and the US had improved since then US President Richard M. Nixon's 1972 visit to China, no Chinese vessels called on US ports because they could have been seized by claimants.
Barer did the research and found that under the 1976 Sovereign Immunity Act, shipping and aviation services were exempt from attachment.
The Carter administration agreed that his interpretation of the law was correct and decided that a private shipping agreement with China would be in the best interest of the United States.
With letters of support from top officials, Barer headed to Beijing in 1979.
"I went to China the same day Chinese Deputy Premier Deng Xiaoping visited Seattle." Barer said.
After four days of discussions, a private trade agreement was struck between the US-based Lykes Brothers Steamship Company and COSCO (China Ocean Shipping Company).
One month before the Liu Lin Hai entered the port of Seattle, The Letitia Lykes, the first US vessel to call on a China port in years, docked at Shanghai on March 19.
The Liu Lin Hai was back in Puget Sound less than six months later in 1979 and left with a load of US corn. Port of Seattle officials went to China and formalized a "friendship port" agreement with Shanghai.
Soon after, four Port of Shanghai managers spent a three-month training internship in Seattle, and returned to develop China's first container terminal in Shanghai.
US-China trade soared from $4.8 billion in 1980 (already four times the 1978 total) to more than $366 billion by the turn of the century.
Since then Barer has been employed as the US region legal adviser of COSCO, leading a group of young Chinese lawyers focused on developing trade and economic development.
"A new era of trade between China and the United States heralded remarkable benefits for both nations," said Barer. "I am hopeful that the future of trade relations between these two nations will be even more fruitful."
Barer also established Garvey Schubert Barer (GSB), one of 11 US law firms officially approved by the Chinese government for representation in transactions with Chinese entities.
He is also founding co-chair of US-China Clean Energy Forum and of the Washington State China Relations Council and on the board of the China General Aviation Development Association.
Barer was honored in 2018 by the Western Returned Scholars Association Entrepreneur Alliance for his contributions to US-China relations over the past 40 years.
"A relationship between nations is like any other human relationship," he said. "Don't argue over things that you will never agree on, just discuss things you do agree on. Spend your time on your common interests."