Instruments of change
Share - WeChat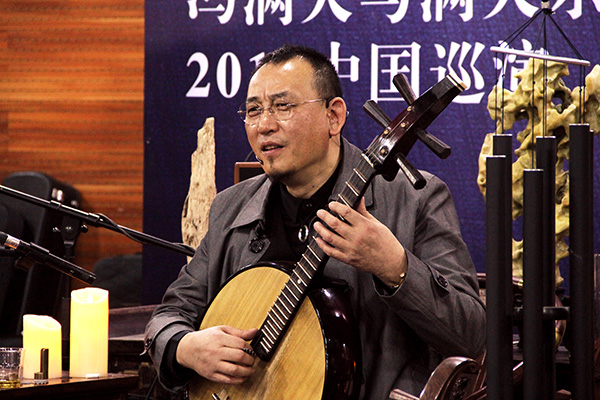 Feng Mantian and his band plan a tour to promote his brand of Chinese music, Chen Nan reports.
In the underground parking lot of a shopping mall near Beijing's central business district is a room with a door tag that reads "Fengjia Hutong". Inside, candles are lit, incense sticks burn and musical instruments of various shapes and sizes, such as the percussion instrument bo and Japanese wind chimes lay on the table.
It is the music studio of Feng Mantian, who is going to display his collection of musical instruments and showcase his musical pieces along with his band members - flute player Ding Xiaokui and percussionist Zhao Bing. Feng himself sings and plays the ruan, an old Chinese plucked-string instrument.
"People say my music is new but actually it's just what I have learned from ancient China," says Feng, 55, whose music is a mix of the ruan and contemporary elements like rock and jazz.
Along with his band, Feng is going to launch a national tour, titled Up and Down the Mountain: Sacred and Secular, which will kick off in Xiamen, Fujian province, on April 28, and last through December, with the musician and his group also visiting Beijing, Shanghai, Suzhou in Jiangsu province and Xi'an in Shaanxi province.
Over 20 folk instruments from the country, and Nepal, Japan and Germany will be used in the show.
In the first half of the show, Feng will perform repertories that include The Wusuli Boat Song, which is based on a folk song from Northeast China; Bringing in the Wine, which is adapted from a poem by Tang Dynasty (618-907) poet Li Bai; and Xin Tian You Rhapsody, which combines popular folk songs from Shaanxi.
In the second half, he will play his original compositions for the ruan, including Dimension, Following Nature and One.
"I'm not known for giving shows with extravagant stage sets or visual effects. I will turn off the lights at the venues for 30 minutes in the second half of the show because I just want people to focus on the sounds of the instruments," says Feng.
Most Popular