What I learned about fresh strawberries in Dandong
When I was visiting in mid-April Dandong, Liaoning province, on the North Korean border, I found large, juicy strawberries for sale by street pedlars for only 15 yuan ($2.25) for a half kilo. That is a real bargain.
That was a lot cheaper than the 45 yuan for a half kilo further north in Changchun, Jilin province. (Note the three different bar codes that this cart has for smartphone payments.)
Why the price difference? It's because they are grown locally.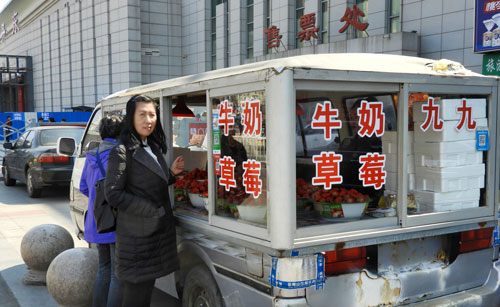 When I was leaving Dandong, I saw this van in front of the train station. The owner was selling fresh strawberries to the passengers.
How can these strawberries be so cheap, yet so big and sweet? The bigger question is this: How can these strawberries be grown locally and be ready for market so early in the year?
After all, Dandong's weather is very much like Toronto's, with very cold winters. Strawberries grown in southern Ontario are not ripe until late June.
On my train trip back to Changchun, as I was eating my strawberries, I looked out the window and saw the reason that strawberries can be harvested so early. They are grown in greenhouses.
I saw hundreds of greenhouses between Dandong and Shenyang.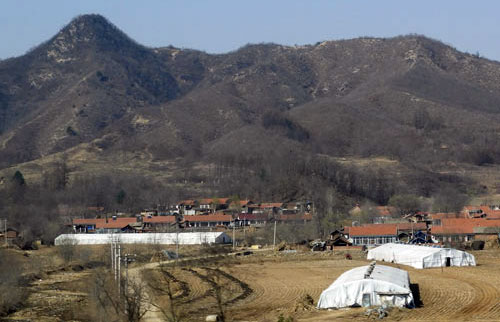 When I returned to Toronto, I asked Nancy, a friend of mine who grew up in this part of Liaoning province, if I was right.
She explained that the farmers used to start growing crops in the greenhouses in February, just after Chinese New Year, and the growing season would end in November. But now, they grow crops all year-round.
So by using greenhouses, the farmers have become far more productive.
This got me thinking. Why don't Ontario strawberry farmers build greenhouses and sell us great-tasting fresh strawberries in the early spring?
Nancy may have had the answer for that too.
The work is very unpleasant as it is very hot and humid in the greenhouses. What's more, the pay is low.
Holland Marshall lives in Toronto, Canada. He worked in China for a year and he now visits China once or twice a year.
The opinions expressed here are those of the writer and don't represent the views of China Daily website.
Most Viewed in 24 Hours
China Views