China-Italy deal a milestone in cooperation
Share - WeChat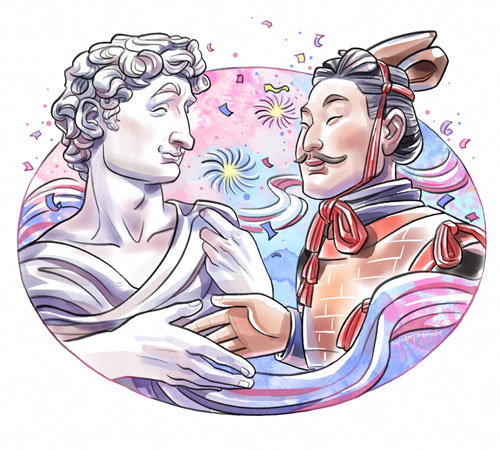 Since the establishment of diplomatic relations between China and Italy in 1970, bilateral relations have developed rapidly bearing fruitful results in various fields. Italy is one of the largest economies in the European Union and an important partner of China in Europe, and the two countries have deepened pragmatic cooperation since establishing a comprehensive strategic partnership in 2004.
President Xi Jinping's state visit to Italy has further deepened the Sino-Italian political and economic relationship with the two countries signing a memorandum of understanding on Saturday to jointly promote the Belt and Road Initiative. Which is a milestone for not only Sino-Italian partnership but also international free trade.
China and Italy complement each other in terms of resource endowment, with trade cooperation being the cornerstone of their relationship. Belt and Road projects have already helped expand the shipping trade in the Mediterranean region, creating unprecedented development opportunities for Italy's major ports.
And now that Beijing and Rome have signed a MoU on the Belt and Road Initiative, the two sides can establish better connectivity in order to promote globalization and free trade. The MoU also suggests that even developed countries have started to accept the BRI as a connectivity and economic development initiative.
The MoU could also be an antidote to the rising wave of unilateralism and trade protectionism in some regions, as more developed economies could now join the BRI.
China is now one of the largest cooperative partners of Italy in terms of imports and exports. As of November 2018, the bilateral trade volume had reached $48.25 billion, more than the total for the whole of 2017, making Italy China's ninth-largest export destination and third-largest source of imports. Given that Italy enjoys many technology and brand advantages, it has become one of the main destinations for Chinese enterprises' overseas investment in recent years, with the scale of investment gradually increasing.
The establishment of the China-Italy Government Committee and dialogue mechanisms such as regular meetings between the Chinese premier and Italian prime minister has provided a solid institutional foundation for cooperation between the two countries. And frequent high-level interactions between the two sides have deepened their economic ties.
But there is still enough room to expand Sino-Italian economic relations. In terms of trade, the industrial structures of China and Italy are highly complementary, and the huge potential for bilateral cooperation in manufacturing, agriculture and innovation has not been fully tapped.
China has a vast market and is the world's second-largest importer of goods and services, and has vowed to further increase its imports. At the first China International Import Expo in Shanghai in November, President Xi said China's imports of goods and services are expected to exceed $30 trillion and $10 trillion, respectively, in the next 15 years. Which means China will continue to expand its domestic market. And since Italy has indicated its intention to deepen economic and trade cooperation with China under the BRI framework, it is likely that economic and trade cooperation will expand in the future.
With better connectivity for economic cooperation among an increasing number of countries, there is a possibility that the world economy will pick up steam, which in turn will help fight the rising wave of unilateralism and protectionism.
Discussions and consultations are under way between Beijing and Rome to extend the Chongqing-Europe train line to Italy. In the near future, the regular China-Europe railway network is expected to inject new vitality into China-Italy economic and trade ties. To ensure that Italy plays a leading role in China-EU cooperation under the BRI framework, the Italian government has set up a special "task force".
Considering that China and Italy can work together to tap third-party markets under the BRI framework, the initiative is expected to become a new growth engine for Sino-Italian cooperation.
To attract more foreign investment to China, the country's top legislature recently passed the Foreign Investment Law, which says China will gradually shorten the negative list for foreign investors to increase inbound foreign investment. This, together with Italy's policy to welcome Chinese investment, is expected to help the two countries take more measures to boost investment cooperation.
Sino-Italian friendly exchanges have a long tradition, and the prospects for deeper bilateral cooperation are bright. This year marks the 15th anniversary of the establishment of the Sino-Italian comprehensive strategic partnership, and in 2020 the two countries will celebrate the 50th anniversary of the establishment of their diplomatic relations.
Therefore, the two sides should synergize their development strategies and tap the potential for further bilateral cooperation. They should also strengthen bilateral macroeconomic policy coordination under the frameworks of G20, World Bank, Asian Development Bank, Asian Infrastructure Investment Bank and other multilateral mechanisms, and help maintain the rule-based multilateral trading system and jointly promote global governance reform apart from deepening Sino-Italian and Sino-EU relations.
The author is a researcher at the International Economics and Finance Institute, Ministry of Finance. The views don't necessarily represent those of China Daily.
Most Viewed in 24 Hours
China Views