Three-country European trip an antidote to unilateralism: China Daily editorial
Share - WeChat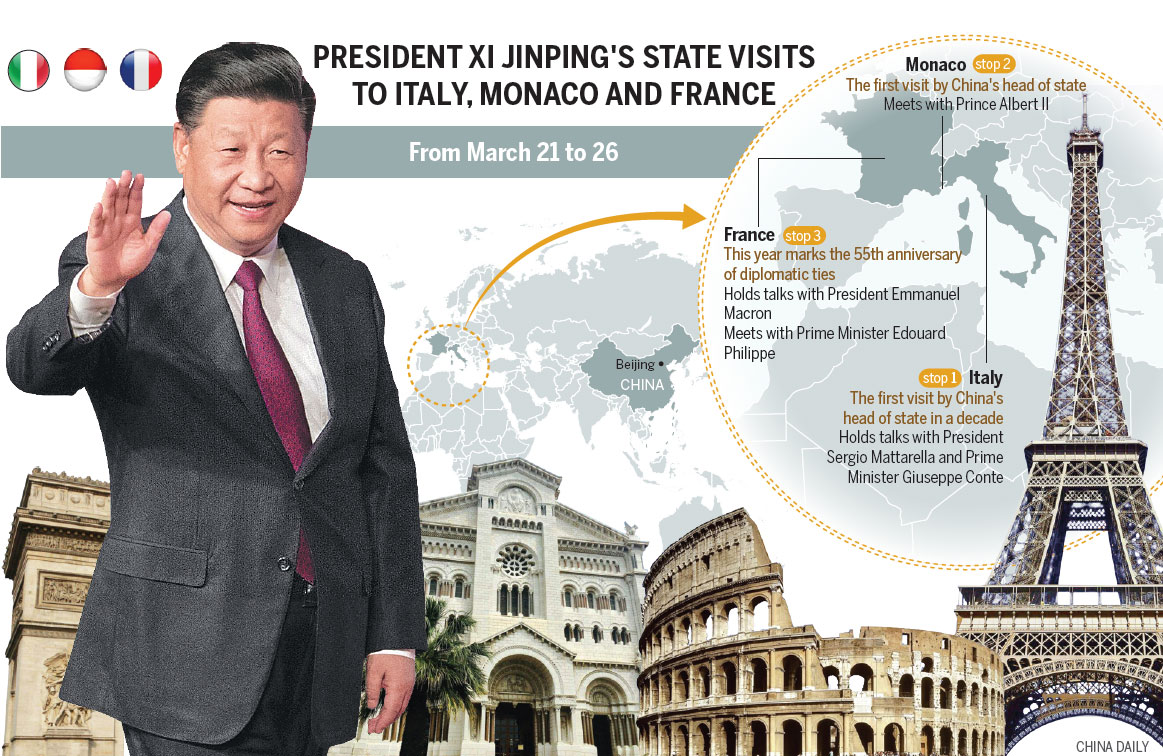 President Xi Jinping began a trip to Europe on Thursday, during which he is paying state visits to Italy, Monaco and France. The trip is expected to promote China's relations with the three countries to a new level and further consolidate reciprocal and strategic cooperation with the European Union.
This year marks the 15th anniversary of the establishment of the comprehensive strategic partnership between China and Italy, and Xi's visit, the first by a Chinese head of state in 10 years, will give fresh impetus to the comprehensive strategic partnership.
Besides signing a number of documents and deals on diplomacy, economics and trade, the two countries are also expected to deepen practical cooperation under the Belt and Road Initiative and boost people-to-people and cultural exchanges.
Xi's visit to Monaco, the first to the principality by a Chinese president, has historic significance as it marks the start of a new era for bilateral relations. The two countries are expected to deepen their political, economic and people-to-people communication and cooperation.
Fruitful results are also expected from Xi's visit to France, with the two countries expected to sign agreements in fields such as energy, communication, agriculture, culture and technology. And his visit is expected to pave the way for more prosperous bilateral ties this year, which marks the 55th anniversary of the establishment of diplomatic ties between the two countries.
China's high-level diplomacy to deepen relations with the three European countries will also help inject fresh vibrancy into China's cooperation with the EU as a whole.
Admittedly, China-EU ties are not all plain sailing, and there have been differences and frictions from time to time. In today's dramatically changing world, it is understandable that leaders of the EU countries may feel the need to recalibrate the bloc's interaction with China so that it better benefits the development and growth of the EU.
But as staunch upholders of free trade and multilateralism, China and the EU can establish more space for cooperation under the Belt and Road framework to promote common prosperity and counter the headwinds of anti-globalization and unilateralism.
There is great potential to be tapped from cooperation in high-tech industries, agriculture, finance, digital economy, e-commerce. And they can also work more closely together to address climate change and improve global governance.
By consolidating their cooperation and standing together, China and the EU can send a strong message to the rest of the world that cooperation and multilateralism are the best choices for the world.
Most Viewed in 24 Hours
China Views