Sanya opens TCM training course for foreigners
Share - WeChat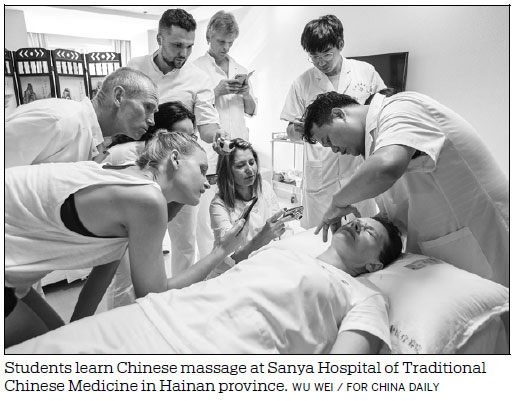 Sanya Hospital of Traditional Chinese Medicine has opened a TCM training course for foreigners, aiming to serve more people overseas and promote TCM culture.
"Since March 4 the first group of seven students from Russian-speaking areas have been studying TCM theory," said Zhang Wei, vice-president of the Sanya hospital, a national demonstration base for medical tourism and a national education base for TCM culture.
During the one-month course, they will learn basic techniques in Chinese massage, cupping and scraping for 20 common chronic diseases.
"Traditional Chinese medicine is very popular in my country. I hope to learn Chinese massage and bring it back to serve more patients," said Sakharava Valiantsina from Belarus. She has been working as a masseuse at a health center in Russia and came to Sanya, on the southern tip of Hainan Island, after learning about the training course.
"In our Russian-speaking areas, Oriental medicine, especially Chinese medicine, is very popular. I am very interested in Chinese massage," Valiantsina was quoted by Hainan Daily as saying.
"One trainee was a sports rehabilitation specialist while the others are hospital staff. All of them are over 30 and have strong interest in traditional Chinese medicine," said Tang Yi, director of the hospital's special-feature treatment department, which is running the training program.
"I like this kind of learning model, which combines theory with practice. Every night, we recite the acupoints and meridians. We massage each other and review the knowledge learned during the day together," said Grezeva Anna, adding that she has learned a lot from the course, which costs 10,000 yuan for each trainee.
Tang said that from Monday to Friday, there are two hours of theoretical lessons and watching videos in the morning, and one and a half hours for practical exercises in the afternoon. The students need to learn Chinese massage, scraping and cupping for 20 common chronic diseases and sports injuries, such as pain and stiffness in the neck, inflamed shoulder joints, and back sprains and strains.
"The training project will first recruit students from Russian-speaking areas where traditional Chinese medicine is better accepted. Through short-term training, we will help them master the basic theory of traditional Chinese medicine and simple manipulation skills so they can offer more treatment options for local patients after returning home," said Zhang, the vice-president.
"The hospital will develop a richer curriculum to train more international Chinese medicine talent from countries participating in the Belt and Road Initiative. Through this project, we hope to enhance the popularity of Chinese traditional culture."
Tang has been impressed by the trainees' seriousness. Preparation for the second training course is underway and may open in May or sometime later, depending on when those interested in the program can get their visas, Tang said.
The hospital received 12,359 foreign visitors last year and brought in revenue of 4.54 million yuan ($667,000) from them alone.
While indulging in the sunshine, golden beaches and the tropical features of Sanya, more overseas tourists are visiting with a special purpose - the perceived benefits of TCM.
Around 70,000 foreigners, mostly from Russian-speaking countries and northern Europe, with some from Canada, the United States, Turkey and Iran, have received high-end tailored TCM therapies in Sanya that eased or cured their illnesses since the healthcare tourism effort began in 2002, the hospital said.
In 2014, Hainan was designated as a State pioneering region for TCM service innovation, and in 2017 the tropical island was projected to grow as a national TCM service trade and healthcare tourism demonstration zone.
Most Popular