Industry rivals seeking alliances to cut costs
Share - WeChat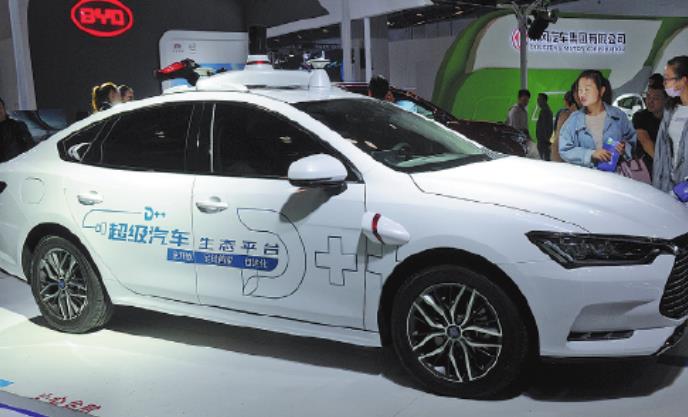 Old-time rivals are turning into friends and partners with the shared goal of slashing costs of expensive electric and autonomous vehicles - and striving for supremacy in the new era that features such technologies.
"In five to 10 years, electric cars with our logo may account for 15 percent to 20 percent of the market, but those sporting core components from our platform is likely to reach half of all," said Li Yunfei, a senior sales executive at China's largest new energy carmaker BYD, at an event last week in Beijing.
The platform, on which models including the Yuan are based, was unveiled last year at the Beijing auto show, where its boss Wang Chuanfu vowed to open the platform to others.
The briefing event last week is another effort to tout its platform to more buyers, after a series of promotional activities last year.
"BYD would like to function as Bosch (a major supplier) in terms of electric vehicles," Li said at the event.
"We would like to share our best technology, to open the industrial chain and share the production capacity. Joining hands with other players, our goal is to offer the best products to customers."
In the view of industry analysts, however, the ostensible lofty goal is probably the least important reason for BYD's urge to share the technology that is said to be the result of more than a decade of efforts.
Yale Zhang, managing director of Shanghai-based consulting firm Automotive Foresight, said: "The primary target may be to cut cost of the platform's development."
He said the move is a win-win for the long list of smaller players in the sector, because it saves them time and money required to develop their own platform.
The desire to share efforts is not limited to China. German carmaker Volkswagen, which is earmarking 30 billion euros in electrification by 2023, has opened its expensive MEB platform, as well. Its first customer is a company called e. Go Mobile AG, established in 2015. Guenther Schuh, CEO of the startup, said: "We are extremely pleased the Volkswagen Group offered us this cooperation. The MEB platform will make us faster, more robust and cost-efficient."
Volkswagen wants more to join in the hope of establishing the MEB "as the standard for e-mobility".
Zhang said in the case of BYD, large Chinese carmakers such as Geely and SAIC, which have been working on their own platforms, are less likely to become its customers, though some may purchase its batteries.
"It would hurt their brand if they use too much technology from a rival basically at the same level," he said.
Neil Wu, an auto analyst at Roland Berger, said BYD's electric car platform and plants may be very appealing to the slew of startups in China.
He said it usually costs several hundred million yuan to develop a model, so it costs even more to develop a scalable platform capable of producing cars of different sizes, which would put great financial pressure on those startups.
"So it will lend BYD an advantage over others if it offers both the technology and the plants," Wu said.
A wider adoption of its platform will help BYD catch up in the field of power batteries as well.
It used to be the largest battery producer in the country before it was overtaken in 2017 by CATL, which shot to stardom within a few years.
"Technically, electric car platforms involve layout of batteries and it is logical to believe that one company's batteries work better with its own platform," Wu said.
Partnerships are emerging in terms of autonomous driving, as well. Honda has invested $2.75 billion in GM's autonomous driving unit Cruise.
Volkswagen is in talks with Ford to cooperate on vans and potentially on autonomous vehicles.
Late last month, BMW and Daimler signed a memorandum of understanding to jointly develop the next generation of autonomous driving technology, which should be market-ready by the middle of the next decade, they said in a statement.