Iran-Iraq deals to help 'bypass' US sanctions
Share - WeChat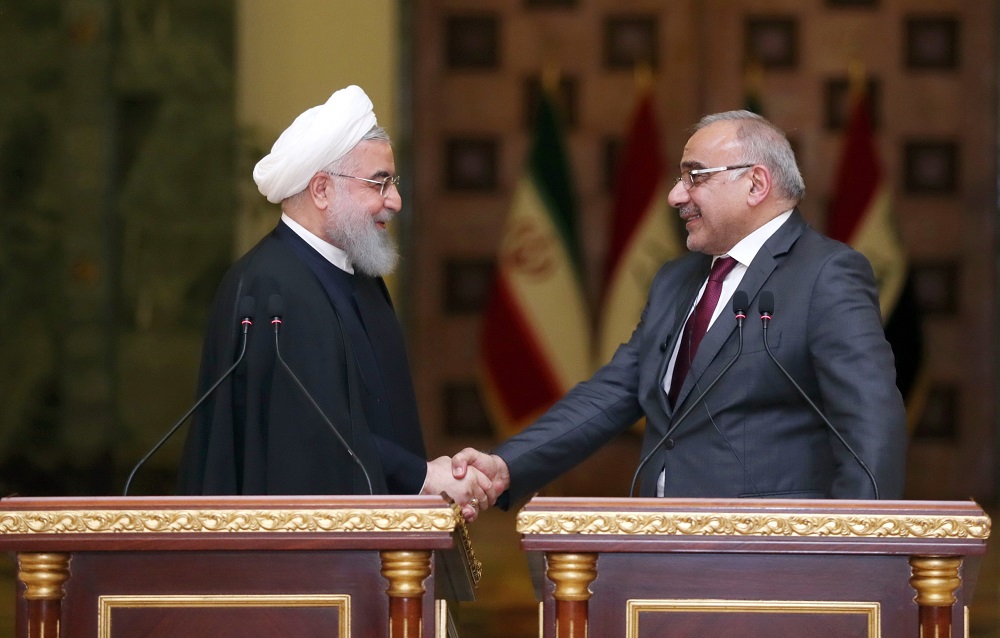 A package of deals signed between Iran and Iraq during Iranian President Hassan Rouhani's "historic" visit to the neighboring country will help Iran bypass United States sanctions and improve its economic ties abroad, according to analysts.
Teheran and Baghdad signed several preliminary trade deals on Monday, as Rouhani began his first visit to Iraq amid efforts to bolster Teheran's influence and expand its commercial links to help offset sanctions imposed by the US.
The memorandums of understanding signed between the two countries covered areas including oil, trade, health and transport, according to a statement from the media office of Iraqi Prime Minister Adel Abdul-Mahdi.
Railways will be built between Iraq's southern city of Basra and the Shalamjah border crossing with Iran, the statement said.
Measures to make it easier for businesspeople to obtain visas were also covered, it said. Travel visas between the two countries will now be free of charge, according to Iranian state news agency IRNA.
At a joint press conference, Abdul-Mahdi hailed Rouhani's "historic" visit as one that will "move forward the relations between Iraq and Iran for the better".
For his part, Rouhani expressed Iran's willingness to develop relations with Iraq, especially in the fight against terrorism.
"From the beginning, we stood by Iraq and provided assistance to Iraq in its war on terror," the Iranian president said.
Rouhani arrived in Baghdad on a three-day official visit on Monday, heading a delegation of officials and businessmen to discuss the promotion of bilateral relations and regional developments.
It was Rouhani's first visit to Iraq since he took office in 2013. It also comes amid the US exerting sanctions on Iran's oil industry and its banking and transport sectors after Washington pulled out from the 2015 nuclear deal last May.
The deal lifted sanctions in return for Iran curbing aspects of its nuclear program. Washington last year withdrew from the deal and said it would reimpose sanctions on Iran as the accord was "too generous and failed to rein in Iran's ballistic missile capabilities and its involvement in regional conflicts in Syria and Yemen".
In a report by The Associated Press, a senior Iranian official accompanying Rouhani said that Iraq was "another channel" for Iran to bypass "unjust sanctions" by the US and this trip "will provide opportunities for Iran's economy".
Wang Jin, a Middle East researcher at Northwest University in China, said the slump in Iran's economy since the US decision to pull out of the nuclear deal has pushed Iran to expand ties with its neighbors.
"In fact, the two neighbors' relations have evolved in the past decade, as Iran has been an important partner to Iraq in terms of politics, economics and the military," Wang said.
Liu Zhongming, director of the Middle East Studies Institute of Shanghai International Studies University, said Iran may see Iraq as a possible route to bypass US sanctions while Iraq relies on Iran for gas imports to feed its power grid. It has asked for extensions to a US waiver to continue importing Iranian gas.
Iran's exports to Iraq last year amounted to nearly $9 billion, according to the IRNA, with Teheran aiming to raise the bilateral trade volume from the current annual level of $13 billion to $20 billion. About 5 million pilgrims also generate about $5 billion a year as Iraqis and Iranians visit Shiite holy sites in the two countries.
Iraqi analyst Ali Fadlallah told media Rouhani's visit seeks to send a message to the US that Iran continues to have influence in the region. The visit also aims at settling the trade and economic relation with Iraq, with Iran wanting as well to be a "partner in building up the infrastructure and the cities that were damaged by the war on terrorism".
Pan Mengqi contributed to this story.