Gender bias diminishing fast in e-commerce delivery sector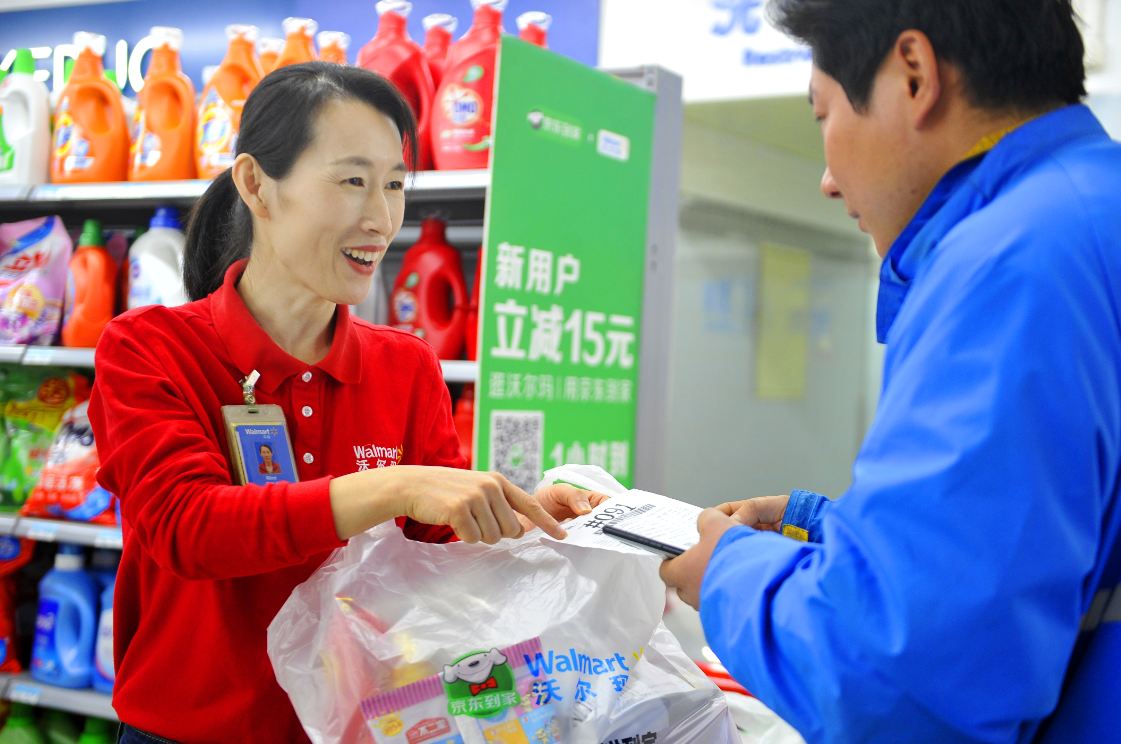 Female employees are playing an important role in China's online grocery and delivery sector, thanks to the ongoing consumption upgrade and accelerated integration of online and offline retail scenarios.
Mao Xiuju, 40, who has been working in US-based retail giant Walmart Inc for 16 years, keeps updating her e-commerce knowledge, as the popularity of online shopping brings about new changes to conventional retailers.
"I joined Walmart in 2003, and was in charge of tobacco and alcohol sales, customer services and also took up several other positions. In October 2016, I was transferred to the e-commerce department of a Walmart store on the Jianguo Road in Beijing."
Dada-JD Daojia, an online grocery delivery firm in China, has partnered with Walmart since 2016 when Walmart invested $50 million as part of its effort to create a seamless online and offline shopping experience. Till the end of June last year, approximately 200 Walmart stores in 30 major Chinese cities had a presence on JD Daojia.
"After I took over the new job, I found it was completely different from what I had imagined. The pace of the job is very fast and the workload is much bigger than before. I also need to communicate with multiple levels of people. Meanwhile, the requirements of customers have also changed a lot."
Mao said being a manager in the e-commerce unit of brick-and-mortar stores, she has to accept and handle customers' orders in a timely manner, arrange for products and coordinate delivery services.
She also needs to check the list of goods to ensure all goods are available, and inspect the product quality every day, as well as deal with customer suggestions and complaints.
"In order to meet the online shopping demands, I require all of my team members to memorize the product names, types and locations in the display area. In the face of large-scale promotional activities such as the Singles Day and '618' online shopping festival, we have to pick out the products very fast to save time."
Mao is among the many female employees, who are involved in the online-to-offline platform. Others like Ye Runfen, 48, joined the on-demand logistics platform Dada in 2015.
"Although my parents don't support my work as they think being a delivery person is not very respectable, I can earn money, have time to take care of my daughters and do physical exercise."
Ye, who lives in Guangzhou, Guangdong province, works for seven or eight hours each day, and earns a salary of more than 7,000 yuan ($1,046) every month.
"I am satisfied with my salary. Even though this sector is male-dominated, the merchants and consumers are considerate with delivery women. They can finish the work as well as men."
Although typhoons hit Guangzhou sometimes, Ye said she would deliver goods no matter how bad the weather was. "The customers need us, so even if the delivery is late, the customer will understand. As long as you work hard and serve your customers well, you will get what you deserve."
"The future of global retail is without boundaries. There will be no separation between online and offline shopping, only greater convenience, quality and selection for consumers," said Liao Jianwen, chief strategy officer of JD.
Online spending has expanded fast in China, with retail sales surging 30.1 percent year-on-year to reach 4.1 trillion yuan in the first half of last year, according to the China E-Commerce Research Center.
So far, JD Daojia has partnered with over 100,000 leading retail stores, providing one-hour delivery services of fresh fruits and vegetables, groceries, flowers, baked goods and pharmaceutical products to the homes of its users in more than 63 cities across China.