Premier financial magazine bullish on Chinese stocks market
Share - WeChat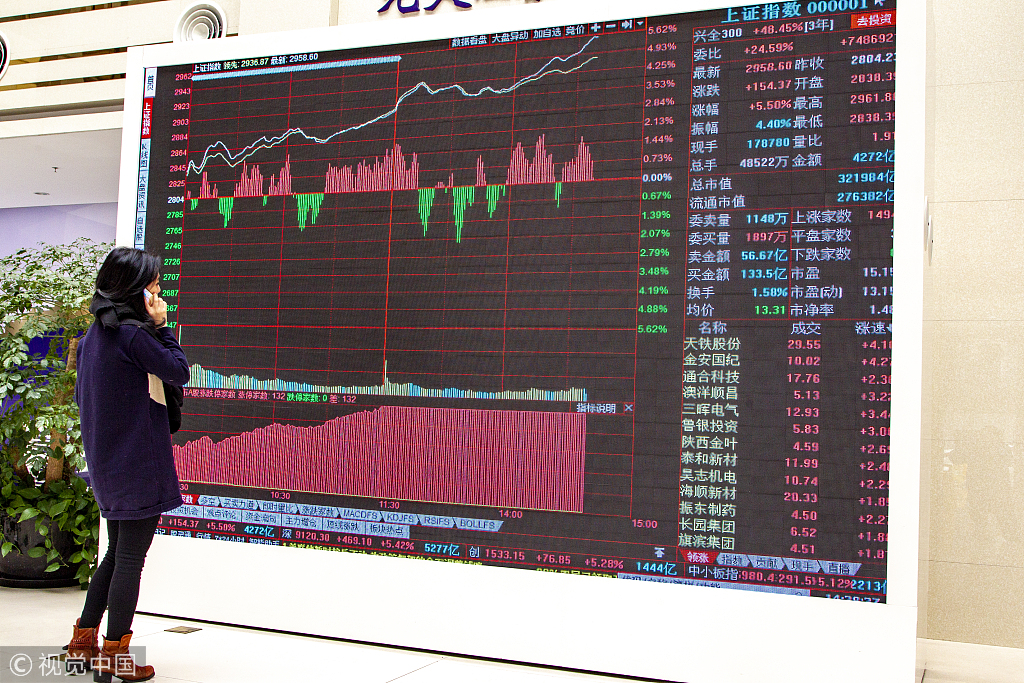 Chinese stocks market surged on Monday with benchmark indices in Shanghai and Shenzhen jumping over 5 percent, making daily turnover break through 1.04 trillion yuan ($155.5 billion), a new record since 2015. The Barron's, a financial weekly published by Dow Jones & Company, said the performance of Chinese stocks is much better than the S&P 500. Global investment management corporation BlackRock also suggested lasting gains of the bull market.
Barron's said the CSI 300 index, which tracks the largest stocks traded in the Shanghai and Shenzhen stock exchanges, rose 6 percent on Monday, with a year-to-date gain of nearly 24 percent, twice the gain in the S&P 500, making the CSI 300 index one of the best performing indices globally in 2019.
The ongoing finance sector reforms and further industry open-up could also help boost the Chinese economy and the stock market, the Barron's report said.
China's financial system has great potential in helping stabilize the economy, a previous China Daily report said, adding that the country will deepen supply-side structural reform in the financial sector and strengthen the sector's ability to serve the real economy.
The country will also push for high-quality development of the sector with a focus on improving financial services and forestalling financial risks.
Opening-up of China's financial factor has sped up, as the country removed foreign ownership caps of banks and financial asset management firms last year.
Richard Turnill, global chief investment strategist of BlackRock, an American global investment management corporation, is also positive on China's stocks market, according to the Barron's report.
Turnill said stronger inflows into Chinese A-shares, and China's efforts to boost credit growth and stimulate its economy are also helpful to a bullish stock market.
However, selectivity of stocks is needed, Turnill said, adding that BlackRock favors brokers and companies related to the domestic consumer that can benefit from the efforts to stimulate growth locally.
Major securities traders in China, such as the Merchants Securities, CITIC Securities, and Founder Securities are all optimistic about China's stocks market this year, according to a report from finance.sina.com.