May pushes back parliamentary Brexit vote again
Share - WeChat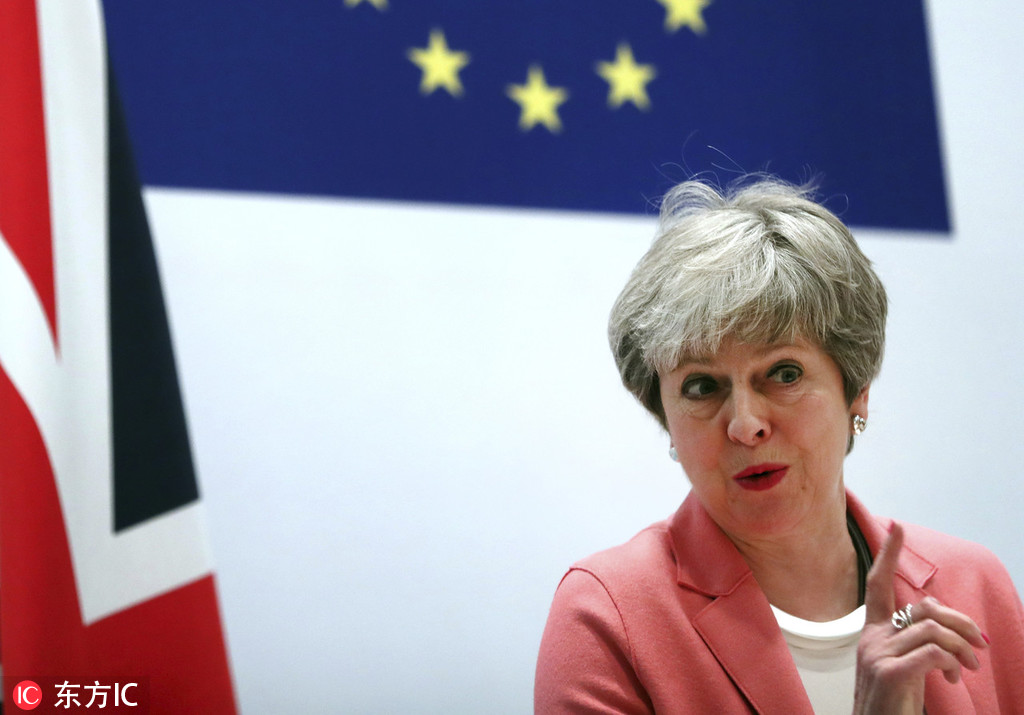 Decision branded "reckless" by leading European official
British Prime Minister Theresa May has pushed back the date for Parliament's next vote on her proposals for the country's departure from the European Union to one of the last dates possible, March 12, provoking despair from business leaders, politicians, and leading EU officials.
The scheduled date for the event known as Brexit is March 29, but May has yet to get parliamentary backing for the withdrawal terms she agreed with leaders of the remaining 27 EU member states last November.
She first postponed a vote in November, only to suffer a crushing loss when it eventually took place, and then tried again in December, delaying the vote until January, when she suffered the heaviest-ever parliamentary defeat by any prime minister, losing by 230 votes.
There is no sign that May's on-going attempts to change her plans are gaining more support –quite the opposite. Last week, three Conservative MPs left the party to join a newly formed Independent Group, and there is widespread speculation that more could follow.
Despite this, May has once again delayed the vote, raising the stakes and also increasing the likelihood of a no-deal Brexit, which would see the United Kingdom leave the EU without any alternative trading arrangements agreed, potentially having a major economic and social impact.
The European Parliament's Brexit chief Guy Verhofstadt called May's decision "close to being one of the most reckless" decisions he had seen in a lifetime in politics, one which "only adds to the crippling uncertainty for businesses on both sides of the channel and for millions of citizens".
One of Britain's leading business groups, the Institute of Directors, said it had "lost faith in the political process" while opposition leader Jeremy Corbyn of the Labour Party said May was "running down the clock" until a time when MPs would be forced "to choose between her bad deal and a disastrous no deal".
The latest delay will only further increase uncertainty for businesses trying to plan how they will operate post-Brexit, given the huge disruption it could entail, as well as causing more misery for ordinary citizens who are uncertain about making such basic decisions as booking flights and holidays.
An alternative to May's deal or No Deal is to delay Brexit, an idea the prime minister has previously refused to contemplate.
Fervent Brexit supporters, who insist Britain leaves on the scheduled date, would be furious at what they would regard as a betrayal, but BBC political editor Laura Kuenssberg says two Cabinet ministers have said they believed some form of delay could be granted this week.
May insists there is still the chance a deal could be agreed in time for Brexit to happen on schedule, but as the prospect of no-deal becomes more realistic, the tone from the Cabinet does seem to be becoming softer.
"The prime minister is listening and is recognizing the fact that we have tried very, very hard in order to secure a deal," Defence Minister Tobias Ellwood told BBC Radio 4's Today program.
When asked if May might announce an extension to the Article 50 withdrawal process upon her return from the EU-Arab League conference in Egypt, he said "You need to wait and hear what she has to say when she gets back.
"That, I don't know. I'm encouraging that to happen because it's not in anybody's interest to see no deal."
May, who survived a challenge to her party leadership at the end of last year, has also made it clear she plans to continue as prime minister after Brexit following rumors that she might quit.
"I was very clear in December with the Conservative Party that my job is not just to deliver Brexit," she said. "There is also a domestic agenda that I am delivering on that reflects what I said …when I first became prime minister. That is why we have been making key decisions such as extra money for the National Health Service and the long-term plan for the NHS."