Shared office segment may see mergers and acquisitions
Share - WeChat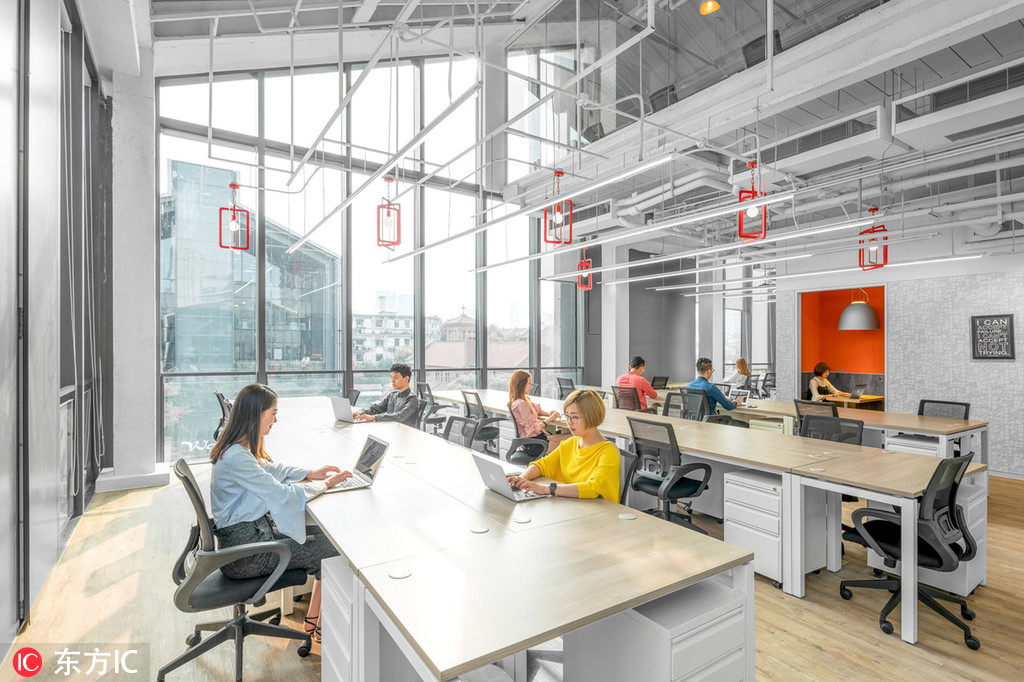 Consolidation, rationalization and expansion to be key themes this year
China's co-working space market will see more mergers and acquisitions this year and the next as more resources and capital flow into top operators, an industry report said.
The top 10 companies occupy 37 percent of the total area of co-working space in China, compared to 75 percent for the top 100 companies, showing a trend of market centralization, according to a recent report released by the China Real Estate Chamber of Commerce and Haozu, an online-to-offline commercial real estate service platform.
In 2018, 40 co-working space brands exited the market, with about 3 percent of them being acquired by others.
Chinese co-working space unicorn Ucommune acquired six brands in 2018, including Hongtai New Space, Wujie Space and Workingdom, according to the report.
Only eight co-working space operators received financing in 2018, all from top groups.
The strength of top operators, in terms of scale and operating models, posed a higher threshold for competition, but the market mechanism of "survival of the fittest" is good for the long-term and healthy development of the market, the report said.
"Consolidation is a natural progress for fast-growing businesses such as co-working spaces. Operators with market advantages will seek every opportunity to expand their market share," said Mi Yang, head of research at consultancy firm JLL North China.
"We expect those top operators to provide better and more innovative services for customers," Mi said.
Agreed Jiang Hao, a Shanghai-based partner of consultancy firm Roland Berger.
"Similar to other industries involved in shared economy, many participants flow into the co-working market to seek fortune in a new and hot segment without deep investigation; so many companies with poor quality were knocked out," he said. "Those that survived proved themselves to be valuable. And the role of brands will become more important."
He said though top operators began to dominate the market, monopoly is less likely to happen, because "the Chinese (shared) office market is too large to cover all of it". And it takes time for small and medium-sized enterprises to become their clients.
According to the report, the area of co-working spaces in first-tier cities of China grew from 2.5 million square meters in 2017 to 3.94 million sq m as of October last year. And the number of desks reached 520,000 at the same time, compared with about 300,000 in 2017.
The idea of co-working won broader awareness and acceptance among tenants from 2017 to 2018, driven by the development of the shared economy, innovation and entrepreneurship, and the rise of the younger labor force, it said.
"A fixed desk is not that necessary in modern times, especially for companies that adopt flexible work schedules," said Jiang. "You may have 300 employees but you only need 100 desks since many of them could be on business trips or work from home."
"We just need to gather from time to time to have a meeting. For most of time, we do our work individually," he said, adding the co-working office space will see a continuous growth in the following two or three years.
Operators can also find opportunities in many city upgrade programs when old factories or retail markets are renovated into new office space to develop innovative and emerging industries, he said.
According to a report from JLL, flexible office, represented by co-working, will contribute about 30 percent of office space nationwide by 2030.
Haozu's report said IT, services, trade, culture and media, and the financial services industry showed strongest demand for co-working spaces.
Kuang Jianfeng, co-founder of Haozu, said the Chinese co-working space industry would emphasize quality of services and efficiency. Companies should learn to provide more personalized and professional services for their targeted customers, he said.