Trump: US not to 'artificially' block Huawei from 5G market
Share - WeChat US President Donald Trump said on Friday that he doesn't seek to "artificially" block any company, including Huawei, from the US 5G market based on excuses or security concerns, and stressed he wanted "fair competition" with China.
Trump tweeted a day before that he wanted 5G, and even 6G, technology in the United States as soon as possible, saying that "I want the United States to win through competition, not by blocking out currently more advanced technologies."
Asked by China Daily what that part of his tweet meant, Trump said, "I'd like to have all companies be able to compete. I don't want to artificially block people out based on excuses or based on security. I don't want to have a security problem."
Asked if China's 5G technology leader Huawei is included in the companies, Trump said, "I'm talking about everybody, really, (Huawei) included."
The US president was talking to reporters at his Oval Office at the White House, as he met with Chinese President Xi Jinping's special envoy, Vice-Premier Liu He, who was leading a Chinese delegation for the seventh round of US-China high-level trade talks in Washington.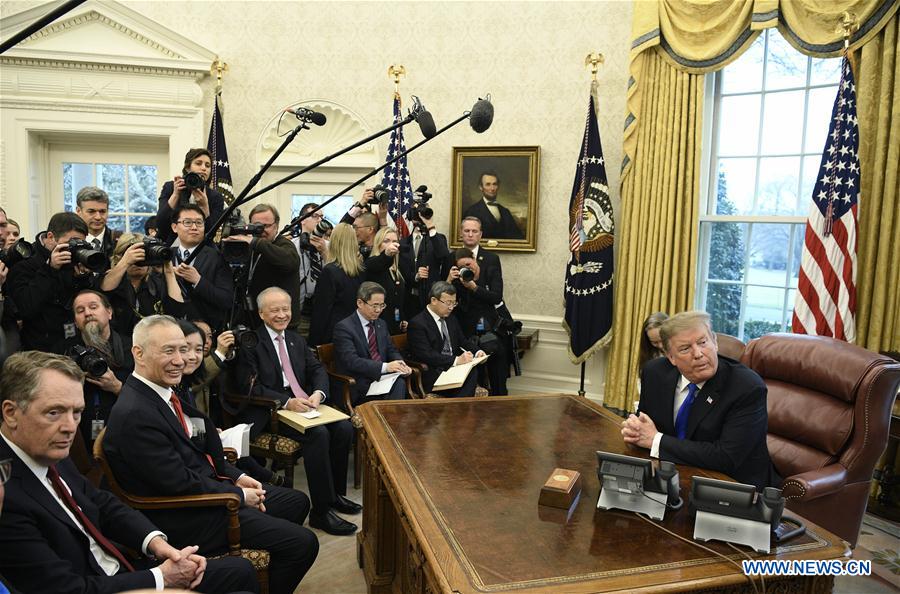 Trump stressed that he doesn't want to use artificial blocking, and that he wants to have "great 5G".
"But I want to have competition with China, fair competition," Trump said. "I don't want to block out anybody if we can help it."
"Now if there's going to be a security reason or something, then we have no choice, but that is one of the things we'll be discussing today," he added.
During Friday afternoon's meeting, Vice-Premier Liu first conveyed Xi's message to Trump. The Chinese president said that the China-US trade talks have made good progress recently and received positive responses in both countries as well as the wider international community.
The latest round of high-level economic and trade talks between the world's top two economies started on Thursday, following meetings in Beijing about a week ago. Originally scheduled for two days, the talks are extended by two days till Sunday.
Trump noted that the US-China relationship has been "very good" and that "great progress" is being made in the past two days of negotiations.