Public awareness can help fight film piracy
Share - WeChat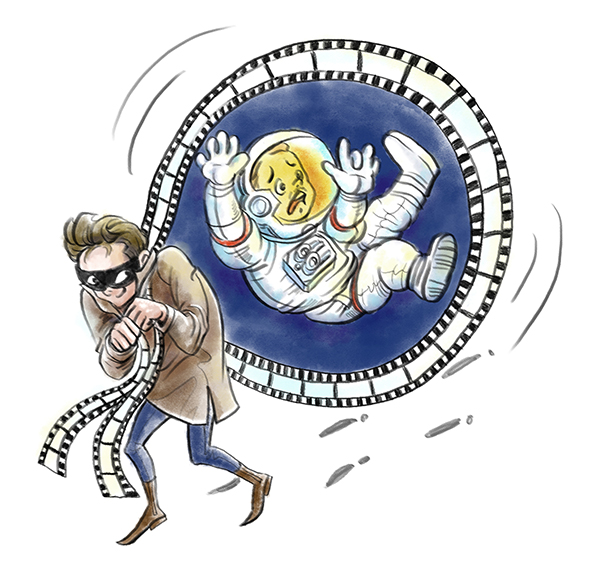 Editor's Note: Some blockbusters including mega Lunar New Year hit The Wandering Earth are being challenged by pirated versions. How to end this menace and protect intellectual property rights, which in turn would support the film and TV industry? Two experts share their views on the issue with China Daily's Yao Yuxin. Excerpts follow:
Cinemas need to cater to more people
Sun Jiashan, a researcher at the Chinese National Academy of Arts
China's box office broke its single-day collection record, making more than 1.43 billion yuan ($210 million) on the first day of the Spring Festival holiday. But all the eight films released during the Lunar New Year are fighting a big threat: pirated versions, many of which cost as low as 1 yuan.
As the average price of a pirated movie is 50 yuan, the pirated versions-which are normally viewed more than 20 million times-are estimated to shave the box office of at least 1 billion yuan.
Despite the Chinese authorities making strenuous efforts to protect IPR and the huge progress China has made in IPR protection, pirated versions of movies are released in the hope of making big profits.
Pirated films released during the Chinese New Year have become a hot topic of discussion and a big concern for the National Copyright Administration of China, with more and more Chinese people becoming aware of the importance of IPR protection.
Many believe that expensive ticket prices have intensified film piracy, which in 2018 increased 14.5 percent year-on-year.
A marked change in the Chinese movie industry since its ticket sales broke the 10 billion yuan mark in 2010 is the share of ticket sales in first-tier cities, which has been dropping while those in third-and fourth-tier cities continue to grow and currently contribute to more than half of the box office revenues.
Going to the cinema is the only source of entertainment during a holiday for many people in smaller cities and towns. But given the high ticket prices, many people still refrain from going to the cinema and seek out pirated films instead. Therefore, even though the box office revenues during this Spring Festival holiday has increased because of higher ticket prices, the average attendance in cinemas dropped 22 percent compared with that of last year.
Too many cinemas in homogeneous competition have significantly lowered the attendance, leading to higher operating costs for cinemas. In big cities, where people are less price sensitive, low attendance rates prompt cinemas to control costs-for example on lighting to save millions of yuan on electricity tariff-which greatly compromises cinemagoers' experience and restricts the development of the Chinese movie industry.
As a result, some cinema chains have gone bankrupt. The market does have the final say.
Since the Spring Festival holiday is a peak season for Chinese cinemas, it is necessary to ensure the cinemas provide the best viewer experience for attracting more cinemagoers.
Impose tough penalties on counterfeiters
Zhao Zhanling, a lawyer on intellectual property studies with Beijing Zhilin Law Firm
The NCAC listed all the eight films released during the Spring Festival holiday to protect them against piracy. However, the sales of pirated films show many people are still unaware of the importance of IPR protection.
Actually, the reason why pirated films still make good money is the lenient punishment meted out to those who make and sell pirated films. The penalty imposed on pirated filmmakers is too light to serve as deterrent, which means the cost of breaking the law is too low.
For example, in 2016 a person named Wei Yanghan secretly videotaped films in cinemas to post them online and make huge profits, but he only faced a fine of only 5,000 yuan and a sentence of 10 months of jail. Thus, a stronger copyright protection law and strict enforcement are needed to effectively fight film piracy.
In addition, with the rapid growth of the internet, the main battlefield for piracy has moved from DVDs or books to online links, which sometimes spread even beyond the border making it more difficult for law enforcement.
Thankfully, the government and the people both have realized the importance of IPR protection. The NCAC has launched several campaigns forcing websites to remove illegal videos. Besides, the country also has been working with a Swiss company NexGuard since 2016 to use the technique of watermark to accurately locate within one hour where the pirated films came from, which could effectively combat film piracy.
Most Viewed in 24 Hours
China Views