China-US talks set to resume next week
Share - WeChat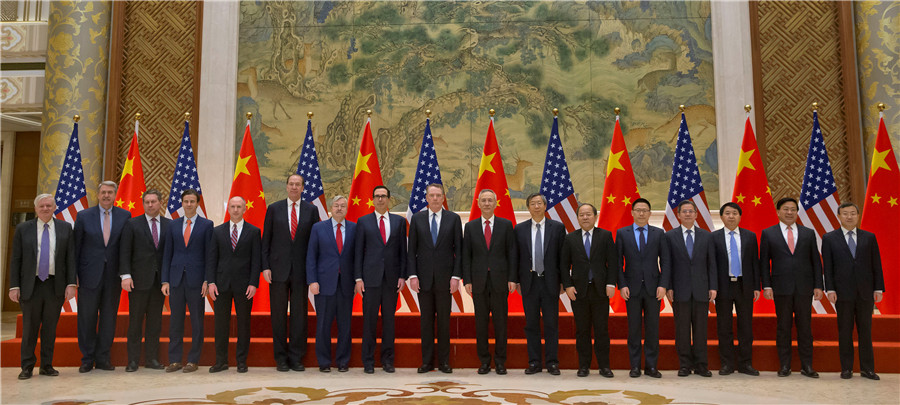 China and the United States will continue economic and trade consultations in Washington next week, after reaching consensus in principle on major issues during their high-level Beijing talks, State media reported.
According to Xinhua News Agency, the two sides had in-depth communication on topics of mutual concern including technological transfers, intellectual property rights protection, nontariff barriers, the service industry, agriculture, the trade balance and an implementation mechanism, as well as on particular issues of concern to China.
Both sides had specific discussions about a memorandum of understanding on bilateral economic and trade issues, Xinhua reported. The two sides said they will step up their work within the time limit for consultations set by both heads of state, and strive for consensus.
Vice-Premier Liu He, US Trade Representative Robert Lighthizer and US Treasury Secretary Steven Mnuchin headed the talks.
After tit-for-tat exchanges of hefty import tariffs, China and the US agreed in December to halt new tariffs for 90 days to allow for talks. Since then, the world's two largest economies have conducted intense negotiations on a wide array of topics, such as trade and structural issues.
Wei Jianguo, vice-president of the China Center for International Economic Exchanges, said China and the US have maintained close contacts in recent months, which reflects their positive desire to solve genuine problems and foster cooperation.
Wei, a former vice-minister of commerce, underlined the importance of conducting rule-based negotiations and seeking win-win solutions.
Diao Daming, associate professor at Renmin University of China's School of International Studies, said the world's two largest economies can deliver positive results in future trade talks to allay global concerns.
He said it's important to keep a historical perspective on predicting the outlook of China-US bilateral relations, saying that the two economies became deeply integrated over the past 40 years despite some headwinds.
"In the next four decades, China and the US can further promote mutual understanding while properly handling differences," he said.
January marked the 40th anniversary of the establishment of China-US diplomatic relations. Bilateral trade grew from less than $2.5 billion 40 years ago to more than $630 billion in 2018. Over the same period, two-way investment rose from practically nil to more than $240 billion.
Chinese Ambassador to the US Cui Tiankai said at a recent event that China and the US need to develop even stronger ties in the future despite some differences.
"We need to develop an even stronger relationship on the basis of coordination, cooperation and stability" between the two countries, Cui said.
He said it was important for the two sides to have a much better mutual understanding on each other's intentions and policies and identify common ground to stabilize the relationship.
China's exports to the US climbed 1.9 percent year-on-year to 252.11 billion yuan ($37.21 billion) last month, according to official figures. During the period, foreign direct investment from the US into the Chinese mainland recorded a 124.6 percent year-on-year growth.