I walked halfway to China carrying a baby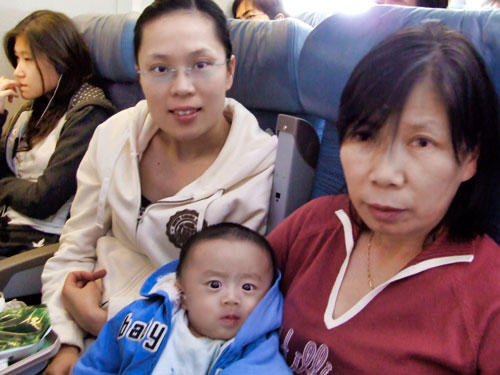 In February 2008, I flew to Beijing, China, on an Air Canada Boeing 777, a huge airplane. The flight took 13 hours.
I got into my aisle seat and after we were airborne I used my computer for a while. Ahead of me to my right, I could hear a baby crying.
I went up to a Chinese woman and her 12-year-old daughter. The woman had in her arms a baby that kept crying. I told the mother that the baby needed to be walked and then she would settle down and sleep. I knew this because I have four grown children.
The woman, who was from North York, said she was too tired as she had been up the whole night before and was exhausted. I offered to walk the baby so she could get some sleep.
As I took the baby in my arms, I asked her for the baby's name and age. I then started slowly walking up to the front of the economy section of the plane where I turned a left over to the other aisle and down that aisle to the kitchen at the end of the plane, and then back up the right aisle again.
The baby immediately fell to sleep. When I got back to the mother's seat, I found her and her daughter fast asleep. I kept walking and walking.
For over six hours I walked slowly up and down the airplane. Since it was a 13-hour flight, I walked halfway to China carrying a baby.
Women would stop me during my long walk, wanting to see the baby. The questions were always the same: "Is it a boy or a girl?" "What's her name?" "How old is she?"
One woman asked me a fourth question: "How many children do you have?" "Four," I said. She looked closely at my wrinkled face and gray hair (I was almost 60) and said: "Well, I hope this is your last one."
She thought I was Mary's father. I just smiled and walked on. Why explain?
When I was at the back of the airplane, a stewardess asked the see the baby and then she asked me the three standard questions. Then she said: "What a lucky girl, being adopted." Again I smiled and walked on.
What a strange thing to say. Sure, a few Canadian couples adopt orphan baby girls from Asian countries and bring them to Canada, but this plane had just left Toronto and was flying toward China. Why would I be bringing an orphan Chinese baby to China?
In both cases, the Canadian women assumed something that was not so. That's OK -- why spoil their impressions with long explanations? It's best to smile and keep on walking.
When the mother woke, I gave Mary back to her. Mary remained sound asleep.
Holland Marshall lives in Toronto, Canada. He worked in China for a year and he now visits China once or twice a year.
The opinions expressed here are those of the writer and don't represent the views of China Daily website.
Most Viewed in 24 Hours
China Views