Payment by phone sees big growth overseas
Share - WeChat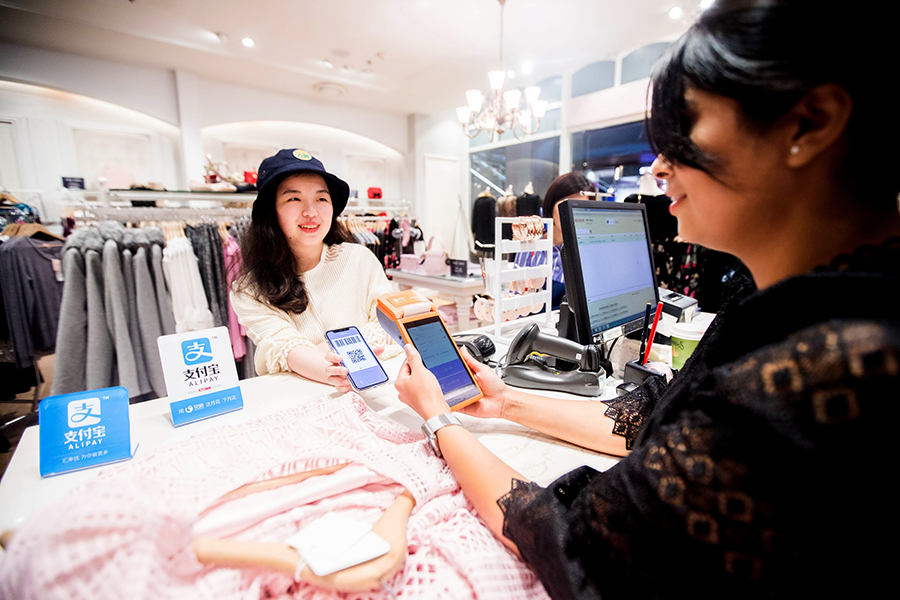 Swiping phones for payment is shaping up to be the new norm for Chinese people shopping overseas, as the adoption of mobile payment becomes more evenly distributed by age and geographical location.
Customers in their 50s saw a 1.3-fold increase in Alipay usage as they traveled overseas during the Spring Festival holiday that concluded on Sunday, according to the country's largest mobile wallet operator.
The age group has recorded the highest growth rate among all demographics tracked by Alipay, as more older people embrace digital payment at home and extend such habits overseas.
Meanwhile, those born in the 1990s, who grew up in relative material abundance and are more "digitally native", formed the backbone of outbound travel this year, data from Tencent's popular messaging app WeChat showed.
They accounted for 31 percent of users who embarked on overseas trips, the biggest proportion, and paid with WeChat's embedded wallet, according to data released on Sunday.
Meanwhile, mobile payment is no longer confined to residents of major Chinese cities such as Beijing and Shanghai. Smaller cities and even townships are capturing the fastest growth, findings from both payment providers showed.
According to Alipay, the quickest expansion rate in per capita overseas spending was logged in Zhoushan, a port city in East China's Zhejiang province, which surged 55 percent year-on-year. It was followed by 50 percent in Weifang, Shandong province, and 44 percent in Lianyungang, Jiangsu province.
In contrast, the growth rate in relatively affluent Beijing, Shanghai and Guangzhou reached 27 percent, 30 percent and 24 percent respectively, although they accounted for the greatest outbound spending by volume.
These trends "really highlight how mobile payment is taking root in China's outbound tourism market", said Chen Jiayi, Alipay's head of business operation on cross-border business.
WeChat also saw a notable surge in the use of mobile payment in lower-tier cities, with over 40 percent transactions made by residents who work in bigger cities but returned to hometowns for the weeklong annual gathering.
France advanced to the top 10 markets where WeChat Pay was mostly adopted for the first time since WeChat started tracking the data in 2015.
A Nielsen survey released in January suggested that 93 percent of Chinese travelers are likely to increase their spending overseas if mobile payment is more widely accepted, which would consequently boost local businesses.
Alipay and WeChat Pay accounted for almost 94 percent of the country's third-party payment market, according to consultancy iResearch. The duo are gaining market share by making ambitious forays overseas where mobile payment is yet to mature.
Among the latest developments, Tencent is looking to work with more smart solutions and service providers this year to make the app function run as smoothly in foreign markets as it does in China, by incorporating a variety of tools developed by third-party providers, said Fan Wei, overseas business director of WeChat Pay.