Choice between Chinese and Western values
Share - WeChat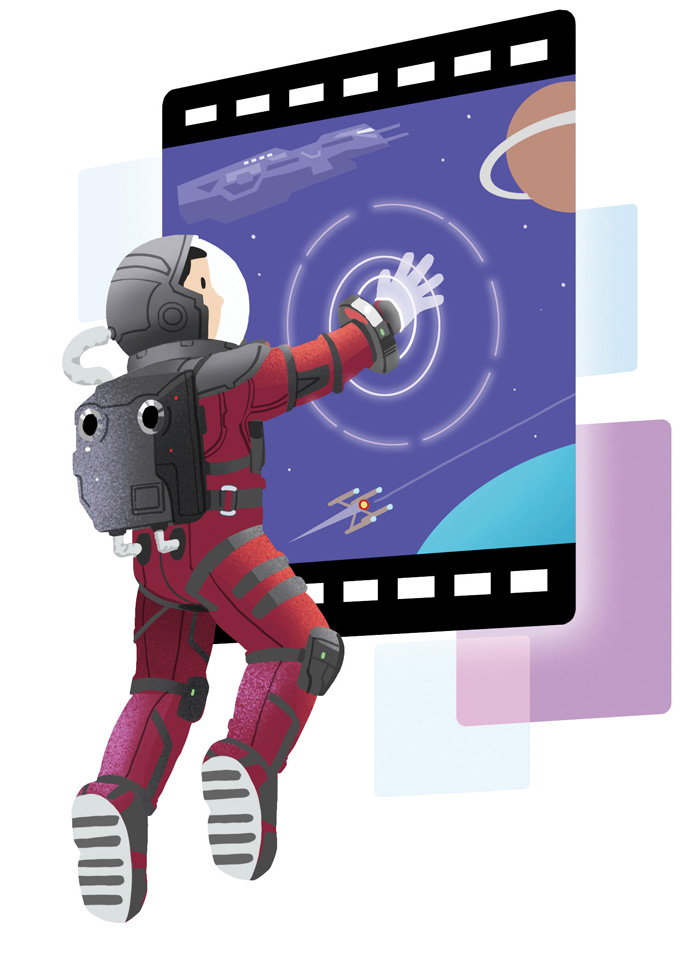 Editor's Note: China's first big-budget science fiction thriller The Wandering Earth, is based on a novel of the same name by Hugo Award winner Liu Cixin. It was released during the Spring Festival holiday and has become the biggest box office grosser this year, earning more than 2 billion yuan (about $297 million) as of Sunday. Two experts share their views on the Chinese sci-fi movie and the differences between Chinese and Western social and political values with China Daily's Yao Yuxin. Excerpts follow:
Toward a community with a shared destiny
The Wandering Earth has left audiences at both home and abroad awe-struck.
The few sci-fi films that had previously been made in China were lacking in content and technique, but The Wandering Earth is a mature, high-level production.
Despite many people celebrating the film's success, however, some are wary of its impact.
The content of the movie has prompted many to question its core message: In a desperate, rather hopeless, situation, should we sacrifice some individuals' lives to save the lives of others?
Judging by Western values which accord the highest priority to every single human life, this is a highly controversial question-a dispute between teleological ethics, morality that derives duty or a moral obligation from what is good or desirable as an end to be achieved and deontological ethics, which proposes that the morality of an action should be based on whether that action itself is right or wrong according to a set of rules, instead of being based on the consequences of action.
For instance, which of the two should be saved in a shipwreck: a scientist with critical knowledge to find a cure for AIDS or an ordinary worker? If you choose to save the scientist for the good of humankind as a whole, you are a supporter of teleology.
But if you choose to make a decision by drawing lots, you are a deontology advocator who favors procedural justice.
Since author Liu appears to be an advocator of teleology, his decision has left middle-class and Western audiences and readers perplexed.
In The Wandering Earth, half of the people in the world die because they do not get a chance to live in the underground cities.
Yet in the film's climatic scene, an astronaut sacrifices his life to save the Earth and mankind by crashing the space station into Jupiter, which causes a massive explosion. His action brings to the fore the traditional heroism and kindness of human beings.
Actually, the content of Liu's novel accords with China's history of modern times which signifies the struggles to build a strong and prosperous country. Liu wants to create a classical hero who gains his courage from caring about human destiny.
Zhang Yiwu, a professor of Chinese literature at Peking University
Film reflects China's modern struggles
The box office success of The Wandering Earth is not accidental.
The film raises three vital questions.
First, can and will non-Western countries play an important role in a globally grand narrative and make a significant contribution to it?
Second, does the West really have a monopoly on the narrative structure and right of speech?
And third, can China take the lead in producing creative works?
Such questions are inevitable. Even though there is nothing to suggest the sun will "die" in 100 years, China is facing huge pressure thanks to the challenges brought about by the fast-changing world order.
No one knows if there is hope. That some people have to take the responsibility to make decisions and make sacrifices, and determine what to do is the core of The Wandering Earth.
China has faced many a challenge since the mid-19th century, and has reached where it is today because many Chinese people made the right choices at the right time as well as great sacrifices. Still, the country also paid a price for the wrong decisions made in the past, which should be avoided in the future.
Actually, the idea of those critics who choose to "not" move ahead is partly the result of the political structure and dominant soft power of Western countries.
But the collective political and social spirit of the Chinese people-which is conducive to building a community with a shared future for humankind and which is reflected in the film-has turned The Wandering Earth's audiences into two opposing camps.
By using science fiction as a genre, the film to some extent prompts people to contribute to building a community with a shared future for humankind.
Shen Yi, a researcher at the School of International Relations and Public Affairs, Fudan University
Most Viewed in 24 Hours
China Views