Cruise tourism declines for first time
Share - WeChat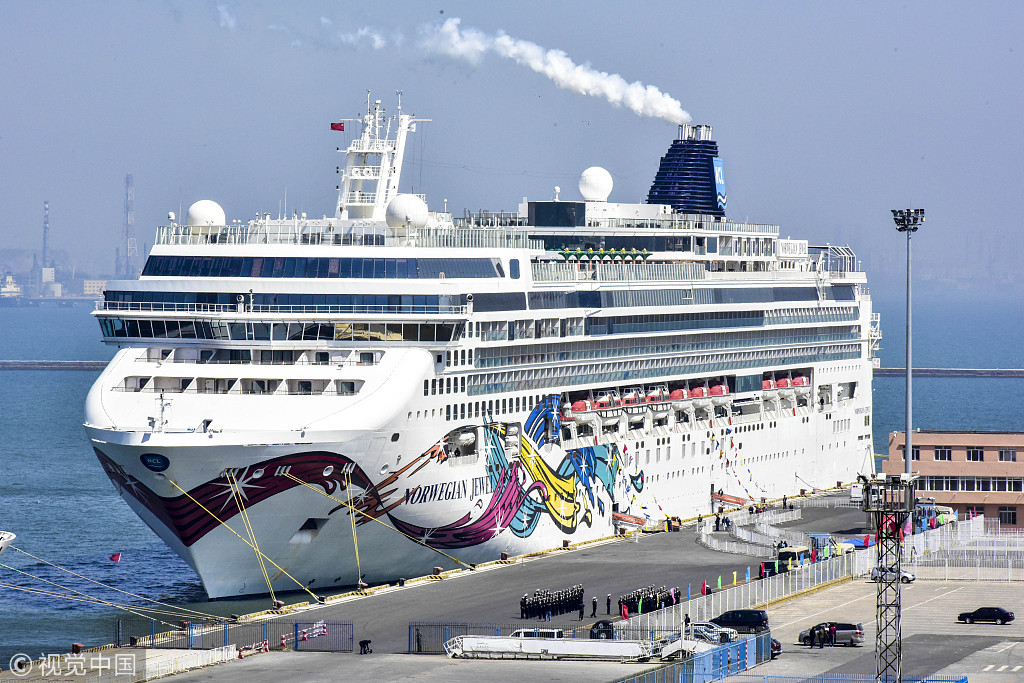 China saw a decline in oceangoing cruise tourism last year, with 13 domestic ports welcoming fewer cruise ships and visits than in the previous year.
The 13 ports saw 969 cruises and 4.9 million visits, falling 17.95 percent and 0.98 percent, respectively, from 2017, according to research by the China Cruise and Yacht Industry Association and the China Ports Organization.
It is the first slump since cruise tourism emerged in China in 2006, the research showed.
Major ports in Shanghai and Tianjin were hit by significant downturns.
Last year, ports in Shanghai, including Shanghai Port International Cruise Terminal and Wusongkou International Cruise Terminal, saw 403 vessels dock, a drop of 21.3 percent, and visits fell by 7.5 percent year-on-year.
The drop was steeper at the cruise port in Tianjin, with oceangoing cruises declining 33.7 percent and visits dropping by 27.4 percent compared with 2017, the research said.
Qi Xin, president of Wuhan Chunqiu International Travel Service, based in Hubei province, said their numbers for cruises and travelers declined sharply in 2018.
Qi said that his company sends travelers to four main ports: Shanghai, Tianjin, Qingdao in Shandong province and Xiamen in Fujian province.
"The slowdown first appeared in June," he said. "The slump can be, I think, mostly attributed to low levels of spending by Chinese travelers, especially seniors who look for cheaper tickets but are unwilling to spend money on the vessel.
"No more than 5 percent of travelers, as far as I know, spend money for onboard entertainment."
Qi said cruise companies typically attract travelers with low-priced tickets, and then try to balance costs by encouraging travelers to enjoy entertainment events on the cruise. For example, the cost of a five-day cruise to Japan dropped to 1,500 yuan ($222) last year from 4,000 yuan.
"The cruise owners have reduced trips to China since both ticket and onboard consumption failed to subsidize their costs," Qi said. "We are in a dilemma because foreign-run cruises are retreating from China due to meager profits" while China does not yet have large numbers of oceangoing cruise ships.
Lvmama, an online travel service provider, said that while its cruise reservations increased last year, growth did slow compared with 2017.
"Cruise tourism is still in its infancy in China, so the related travel offerings are rather lower in price. Besides, cruises departing from China usually head to neighboring countries like Japan, where the ports are not that suitable for cruises to dock because of inadequate facilities," said Zhang Gaowei, Lvmama's director of cruise tourism.
A 31-year-old traveler surnamed Wang from Shanghai said that he won't take a cruise unless he goes with his senior family members.
"I took a cruise to Japan with my mother in August 2016, spending about 3,000 yuan for each ticket," he said. "Cruises, from my perspective, suit senior visitors who can rest for the whole journey. But to us in the younger generations, a cruise is not the first choice."
Cruise tourism developed rapidly in the decade after it appeared in China in 2006, with annual average growth reaching 40 to 50 percent. In 2017, the industry grew at a slower pace for the first time, according to the China Cruise and Yacht Industry Association.