Foxconn changes plans for factory in Wisconsin
Share - WeChat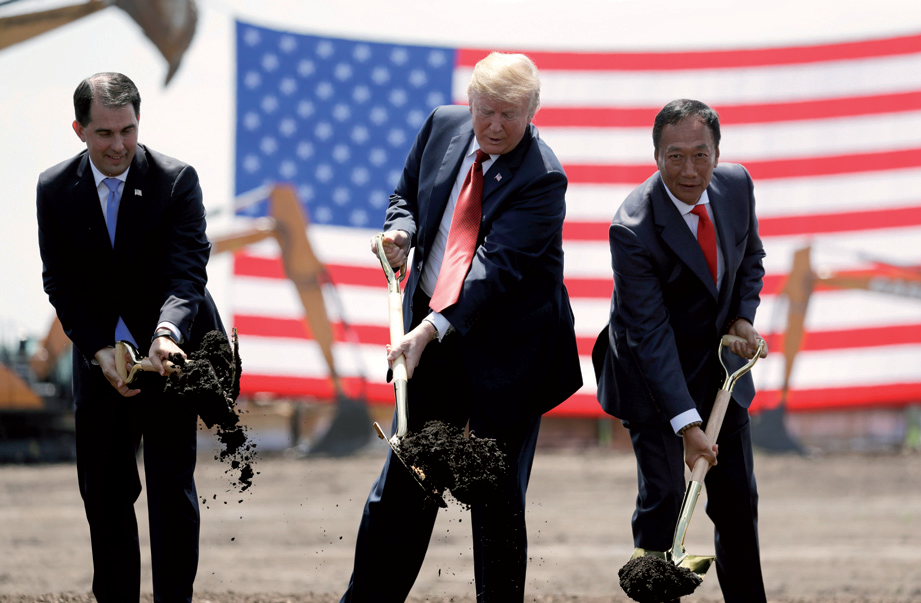 Foxconn Technology Group, the world's largest contract maker of electronics and a major supplier to Apple Inc, raised alarm in Wisconsin on Wednesday when it said it would change the focus of its $10 billion display-making factory there from manufacturing to research, but then said it still was committed to creating 13,000 jobs at the site.
The concern arose earlier Wednesday when Louis Woo, a special assistant to Foxconn Chairman Terry Gou, told Reuters that the company would not be building liquid crystal display (LCD) panel screens at the factory and, instead, would devote the building not to manufacturing, but to producing high-tech applications and solutions for security, smart cities, education, medical and health care, entertainment and sports.
The Taiwan-based company had promised to create 13,000 jobs when the factory planned for Mount Pleasant, about 30 miles south of Milwaukee, was announced in 2017. Foxconn recently said it was set to employ 5,200 workers by the end of 2020. Woo told Reuters that about three-quarters of the jobs created will now be in research and development.
A spokesman for Foxconn released a statement saying that the company was still committed "to our long-term investment in Wisconsin''.
The company said that it remained committed to creating as many as 13,000 jobs in Wisconsin and would "actively consider opportunities" involving flat-screen technology. But it said it also was "examining ways for Wisconsin's knowledge workers to promote research and development".
Foxconn said that the switch to more R&D roles was caused by a change in market conditions beginning in 2017. The company said that "this has necessitated the adjustment of plans for all projects, including Wisconsin''.
A spokeswoman for Wisconsin Governor Tony Evers did not return a request for comment to China Daily, but former governor Scott Walker, who was instrumental in negotiating the original deal with Foxconn tweeted: "Foxconn earns state tax credits based on actual investment and job creation. No jobs/investment? No credits. Period."
In 2017, Walker and President Donald Trump announced the Foxconn project at the White House as "bringing jobs back to the Midwest".
Wisconsin has promised a host of state and local incentives worth $4.5 billion to Foxconn over 15 years for building the 20 million-square-foot plant.
Jonathan Delagrave, executive director of the Racine County Economic Development Corporation, told China Daily in a statement that: "We have seen much of this locally – including Foxconn's investment in more than $100 million in construction contracts that have transformed the project site, the completion of the first 120,000-square-foot building on the campus and the entire 3 million-square-foot pad that will serve as the base for the next phase of construction, which will begin in Spring 2019.
"Contrary to what was reported by Reuters, Foxconn reiterated to us, today, its commitment to building an advanced manufacturing operation in Wisconsin. …We understand that Foxconn must be nimble in responding to market changes to ensure the long-term success of their Wisconsin operations. We fully expect that Foxconn will meet its obligations to the State, County and Village."