Shanxi cuts coal use in push for blue skies
Share - WeChat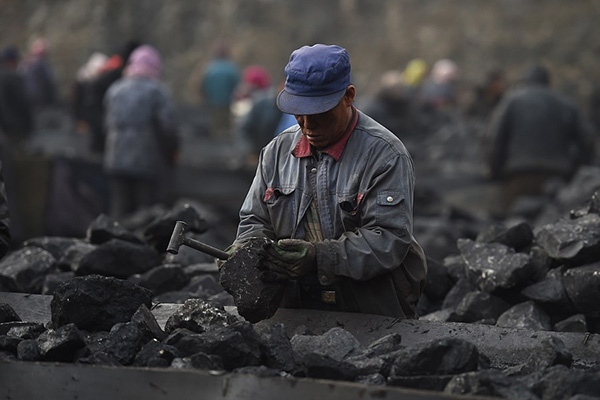 With increasing efforts to curb air pollution, Shanxi province has significantly reduced its coal consumption, and is well on track to shift to new energy-generated electricity for its winter heating.
As one of China's principal coal hubs, Shanxi province is under huge pressure to improve its air quality. In the first three quarters of last year, seven out of the 20 Chinese cities with the worst air quality were in the province.
In August 2018, the provincial authorities issued a three-year plan to tackle air pollution, highlighting measures such as restraining coal, promoting clean energy, and shifting from coal to electricity for heating.
With one fourth of China's proven coal reserves, Shanxi shut down 36 coal mines in 2018, cutting 23.3 million metric tons of production capacity, the provincial authorities said.
According to a plan regarding the reduction and reconstruction of the coal mining industry in the province, coal mines with an annual output of below 600,000 tons will be closed by 2020.
Moreover, according to the State Grid Shanxi Electric Power Co Ltd, more than 100,000 households in the province have shifted from coal to electricity for their heating, after the company implemented 430 related power grid update projects.
Besides, the coal to electricity shift also contributed to local wind and solar power farms having lower idle rates, prompting healthy development of the new energy sector in the province.
According to the company, local installed wind and solar power generating capacities exceeded 19 gigawatts as of the end of 2018, up 30 percent year-on-year. Wind and solar power generation rose 40 percent year-on-year to 30.6 billion kilowatt-hours in 2018.
Meanwhile, 1.12 percent of the installed wind and solar power generating capacities in the northern province were left idle in 2018, down 4.03 percentage points from the previous year.
A staff member of the State Grid Shanxi Electric Power Co Ltd, who asked to stay anonymous, told China Daily that in winter, the Shanxi power grid usually turns to coal-fired electricity rather than renewable-generated electricity, for stability reasons. Thus there are times when renewable energy is available but not used by the grid-known as curtailment.
To encourage people to use cleaner energy, the Shanxi authorities are discounting electricity used for heating, and giving funds to the power grid to make up the difference.
The result is that power grids are more willing to buy what would otherwise be idle renewable energy, the staff member said.
Since October, the power grid has purchased energy five times from renewable energy firms, amounting to more than 279 million kWh of electricity generated from renewables in all, and saved more than 84.75 billion yuan ($12.58 billion) for the government, the staff member added.
"Heating with electricity instead of coal is a very good measure to curb air pollution, but it usually is expensive, while using otherwise-curtailed renewables-based electricity for heating will help reduce such cost," said Lin Boqiang, head of the China Institute for Studies in Energy Policy at Xiamen University.
He said the model is worth promoting to other regions that have similar air pollution problems stemming from coal consumption but are rich in renewable energies, and face curtailment issues, such as to Gansu province which has a large amount of installed wind power capacity.
Xinhua contributed to the story.