Localized lineups capturing Chinese consumers' hearts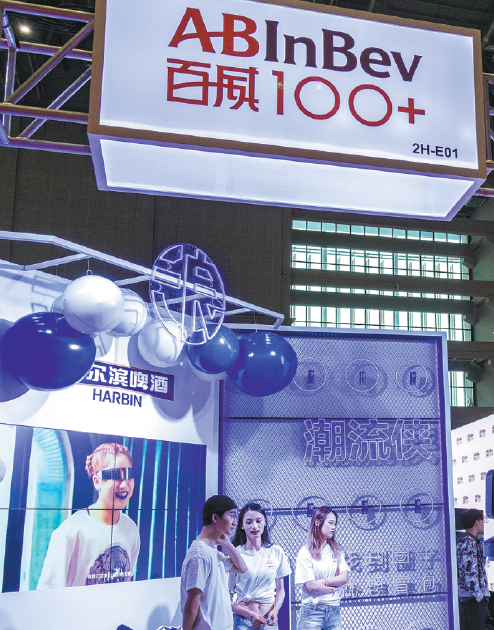 For Johnson and Johnson, that means putting advanced algorithms to work to create two new flavors of its iconic Listerine mouthwash: Rosemary Blossom and Vanilla Breeze.
Data-backed insights into oral hygiene in China coupled with feedback from online customers have driven the United States personal care giant to come up with new flavors and trim the go-to-market time to five months from the usual 12 to 18 months, said Ellie Xie, president of Johnson and Johnson Consumer in China.
"This model gives you a fast reality check on the product you are creating and more time to modify the product based on real consumer behaviors," she said.
Snacks brand Mars released a chili-infused Snickers bar aimed at Chinese consumers' cravings for spicy food. The new product reached its first-year sales target within six months.
The conversion rate, or the percentage of visitors to Mars' Tmall flagship store who completed their transaction, for Spicy Snickers hit 12.7 percent, much higher than the average.
Foreign brands are also launching China-tailored goods on other platforms, such as NetEase Kaola, a site known for selling imported items.
Australia-based Blackmores, which produces vitamin pills and nutrient supplements, entered into an agreement with Kaola to co-create products based on Chinese preferences, and to sell exclusively via its online channel.
"What we can offer is a holistic approach for foreign brands to tap into China, leveraging data to devise a 'one-stop' solution telling them what to sell and how to sell it," said Zhang Lei, CEO of NetEase Kaola, on the sidelines of a major procurement signing ceremony in November.
US cosmetics brand ColourPOP opened its exclusive digital sales channel on Red, an online community featuring product reviews. According to the platform, tens of thousands of product-related comments were uploaded, garnering attention from at least 50,000 avid followers willing to spend and share.
ISDG, a Japanese nutrients food brand, also offered products packages that only serve the Red platform. By launching special social media campaigns to draw user attention, single-day sales multiplied eightfold compared with the yearly average, the platform said.
For Suter at AB InBev, data analytics "can become part of the company's regular innovative cycle, which is faster, less expensive, more accurate and de-risks the product development and innovation cycle".
Brands, especially foreign ones, are waking up to the fact that it is not enough to just pour products into China. The secret to capturing Chinese consumers' attention is to offer them products that are customized, localized, personalized and made exclusively for them, said Jason Yu, general manager of Kantar Worldpanel.
"The Chinese market is moving so fast that there's no time for decisions to travel from the local to regional to global headquarters for approval," Yu said.
"Multinationals need to delegate innovation, marketing, distribution and other decisions to their China teams and change their incentive systems."