Nostalgia drives up online sales of Laozihao items
Share - WeChat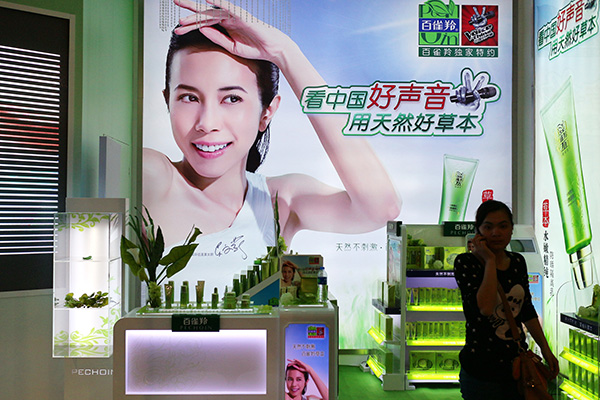 An increasing nostalgia for homegrown Chinese brands is quickly gaining popularity, especially as a new generation of younger and more adventurous shoppers get accustomed to buying online in pursuit of fugu, or retro style offerings.
From stuffed glutinous rice dumplings to natural-scented facial cream wrapped in white porcelain bottles, people spent on average 300 yuan ($44.2) on the so-called Laozihao items, or time-honored brands, last year on Taobao, China's top customer-to-customer online site, parent Alibaba Group said in a report released on Monday.
Those in their 20s and 30s formed the backbone of buying these brands colloquially known as Laozihao, a title officially dedicated to over 1,100 Chinese enterprises by the Ministry of Commerce in 2017 to commemorate their business and cultural heritages that can be dated back to several hundred years.
While their products and services may have passed down through generations and are held in high esteem by the Chinese people, only about 20 to 30 percent of these classical brands are still growing, according to People's Daily, citing famous economist Li Yining.
To keep up with the times, brands are adopting innovative marketing and sales strategies to gain consumers who grew up in an era of surging materialistic abundance and might be put off by the pervasiveness of Western brands.
An increased online presence marks a critical first step. According to Alibaba, over 70 percent of these Laozihao brands have opened virtual stores on Taobao and its sister platform Tmall.
Gourmet is the leading category of all classical brands, representing 40 percent of sales recorded last year. It is followed by handicrafts, alcohol and traditional Chinese medicine.
Avid embracers of the digital trend are largely located across capital cities in North China and along the coastal regions in the East. Beijing, Zhejiang province, Jiangsu province and Shanghai are home to the largest number of classical brands opening virtual stores.
Over 100 traditional Chinese brands have forged a traditional brand alliance on JD, another leading e-commerce platform in the country, to lower distribution costs leveraging the platform's abilities in marketing, logistics and supply chain.
The Beijing-based company has vowed to assist at least one time-honored brand with over 1-billion-yuan sales and 10 brands with more than 100 million yuan over the next three years.
Classical brands, often influential in a certain region, can effectively extend their reach to other geographical areas through e-commerce firms, said Neil Wang, president of Frost and Sullivan China.
"Laozihao is more than a business entity but an avenue carrying Chinese culture," Wang said. "E-commerce sites are shifting from pure-play distribution channels to avenues for digital marketing and brand building."
Brands are devising methods to rid their reputation as a haven for outdated old-timers. Shanghai-based skin care brand Pechoin, for instance, designed limited-edition packaging with internet buzzwords to draw the younger subgroups, and released a longform mobile advertisement that followed an animated Shanghainese woman, elegantly dressed and made up with Pechoin products.
Thanks in part to these efforts, it clocked up over 100 million yuan of sales in the first 30 minutes of Tmall's Singles Day shopping festival last year, according to Alibaba figures.
Using data analytics, classical brands have also relied on big data analysis for product co-creation and customer management. For instance, Bright Food Group has crafted an "Eight Treasure Rice Pudding" with creamy custard stuffing based on consumer insights offered by Freshippo, an online-to-offline supermarket chain.
And by teaming up with Koubei, a local services platform that runs troves of consumer data, Wufangzhai, a provider of traditional cuisine zongzi, is riding the digitalization wave, introducing electronic billboards, quick response code payments and a suite of virtual coupons sent to people's phones based on their likes and locations.
In China's fast-moving consumer goods sector, digitalization, New Retail and targeted product launches are increasingly giving Chinese brands a clear edge over foreign labels, according to a new research by Bain and Co and Kantar Worldpanel.
"Many brands focus on high-traffic online platforms such as Tmall and JD, and are quick to use up-and-coming social commerce and social media platforms," said Jason Yu, managing director of Kantar Worldpanel China.