Responsible environmental practices a key component of Norway-China BRI cooperation
Share - WeChat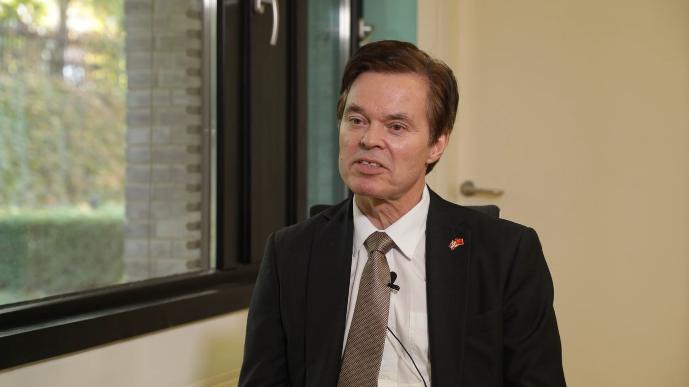 Knut Sorlie, commercial counselor of the Royal Norwegian Embassy, was in Doha back in 2001 when China ascended to the WTO and has since spent a significant portion of his career in China. Having witnessed the evolving relationship of the two countries, he has a great deal to say about the relationship moving forward now that the Belt and Road Initiative (BRI) is underway:
"I think it's a very bold idea, it has some challenges of course; but I think it's long term thinking from the Chinese side."
His concerns about sustainable development and environmental consciousness have been echoed by the Norwegian Minister of Trade and Industry, Monica Maeland, who said that "green shipping is one of our main focuses"; and Sturla Henriksen, CEO of the Norwegian Shipowners' Association, who said that the Norwegian shipping industry "is technologically advanced and sustainable".
Chinese State-owned companies are also becoming increasingly aware, as shown by the detailed declarations of environmental impact released by Sinopec, China Minmetals and CNPC.
"Norway has three world class industries, all of them are related to ocean," explains Sorlie. "The newest industry is oil and gas. We have built up a very advanced supply chain of industries related to oil and gas drilling and these are now very dependent on the international markets and these are also dealing with China."
Offering some numerical perspective and highlighting the importance of technology in the relationship, he adds that, "On average, I think all the rigs that are being built in China are 45 percent filled with Norwegian technology. It could be navigation systems, command-control, IT systems, and life boat propellers and different kind of things."
Ninety percent of Northern Hemisphere international trade passes through the strategically important Arctic region, to which Norway is a gatekeeper. The region is also extremely rich in natural resources, accounting for up to 20 percent of the Earth's reserves.
Norway, which looks south to Europe, west to North America, and east to Asia, began talks with China about a free trade agreement bypassing the European Free Trade Association in 2001.