Maxus to bolster overseas deliveries with Vietnam plant
Share - WeChat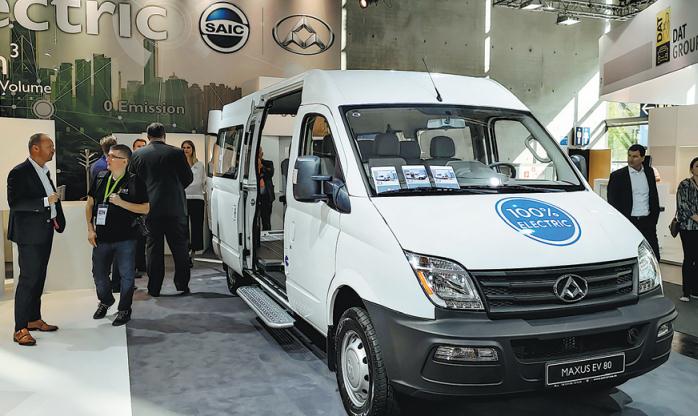 SAIC Maxus Automotive Co is to finish building its first overseas plant this year, as part of the carmaker's efforts to expand its presence in the international market, according to a senior executive at its parent company SAIC Motor Co.
The plant is in Vietnam, as Southeast Asia is one of SAIC Maxus' five major overseas markets, Lan Qingsong, vice-president of SAIC Motor, told China Daily last week.
"We are conducting further talks with partners over there," said Lan, without offering details on the plant's investment and production capacity.
He made the remarks when the company launched its electric EV 30 van in Hainan province, which will be sold globally later this year or early next year.
Though a young company established in 2011, SAIC Maxus has seen its overseas sales surge over the past years, with its products available in 46 countries and regions.
Last year, the company sold 16,295 vehicles outside of China, up 60.3 percent year-on-year. They accounted for 19.4 percent of its total sales of 84,017 units, up 18 percent from the previous year.
It expects overseas sales to reach 30,000 units this year, while the overall sales target stands at 180,000 units.
"Our goal is to scale up the percentage to 30 percent or even 50 percent, which is a must for an international company," said Lan.
Unlike most other Chinese carmakers, SAIC Maxus' overseas sales are mainly in developed countries.
Statistics show that it sold 8,943 vehicles last year in Australia and New Zealand, up 57 percent year-on-year, ranking first among Chinese brands there.
The company is now listing Europe as another major market, adding that its new energy vehicles are welcome there as local carmakers do not offer many choices in that segment.
"We make it in overseas markets because of our quality," said Xu Qiuhua, president of SAIC Maxus.
The Royal Mail Group in the United Kingdom and An Post, a state-owned postal services provider of Ireland, are now among its customers in Europe.
Xu said Italian and Norwegian dealers have expressed their interest in the company's products, believing their models have much potential there. The company expects to add some 30 dealerships into its overseas sales network this year.
In China, SAIC Maxus expects to expand its sales network, with the number of dealerships planned to reach 300 in 2019 from 250 by the end of 2018. "Our hope is to build a network that covers 70 percent of cities in the country," said Lan.
A larger network, coupled with 11 products to hit the market in 2019, will help the company continue the momentum it has enjoyed so far.
SAIC Maxus said it will push forward its 2015 strategy of allowing customers to tailor their vehicles online, which it believes will better meet the demands of young customers.
Besides its Wuxi plant in Jiangsu province, a new plant dedicated to tailor-made models opened late last year in Nanjing, in the same province, and its smartphone application has been updated to enable customers to customize any of SAIC Maxus' models online.
"We are a different company and we offer customers different experiences," said Lan.
The company is enhancing its lineup with another seven models in 2020.
"Our models in the future are all smart ones. Our mid-sized SUV D60, for example, will feature autonomous driving functions on expressways and smart parking functions," said Lan.