Chinese participants to join discussions on wide range of issues
Share - WeChat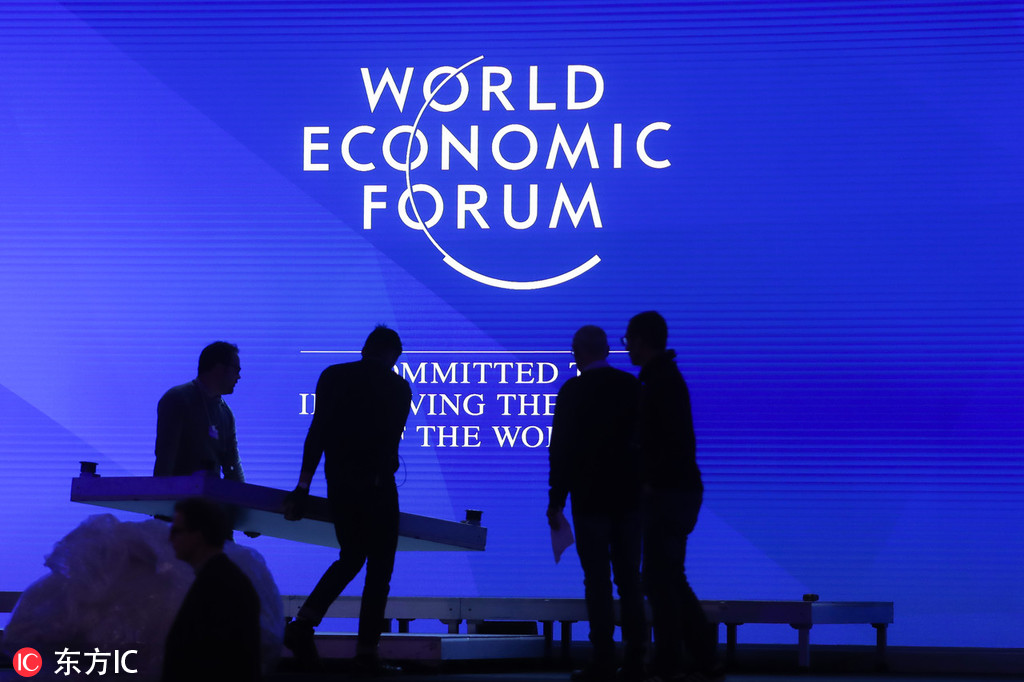 While Vice-President Wang Qishan will be the most senior Chinese official to speak at the annual meeting of the World Economic Forum in Davos, the four-day event will feature many other participants from the country and China-related topics.
A talk on China's economic outlook will include discussions on how emerging domestic and global trends are affecting the country's economic outlook.
Fang Xinghai, vice-chairman of the China Securities Regulatory Commission; Jin Keyu, professor of economics at the London School of Economics; John Zhao, chairman and CEO of Hony Capital; and Timothy Adams, president and CEO of the Institute of International Finance, will take part in the talk.
A panel discussion on advancing China's trillion-dollar Belt and Road Initiative will focus on how business and governments can navigate related political and economic risks and ensure that this highly ambitious infrastructure project succeeds as an engine of development and growth. The discussion will feature Singapore Finance Minister Heng Swee Keat; Azerbaijan President Ilham Aliyev; Wang Yongqing, vice-chairman of the All-China Federation of Industry and Commerce; and Xu Niansha, chairman of Poly Group.
In a talk about learning from China's tech development, panelists will compare notes on the digital transformation of traditional industries, and discuss ways to boost business and policy incentives.
Carrie Lam Cheng Yuet-ngor, chief executive of the Hong Kong special administrative region, will be a panelist discussing the outlook for emerging markets, while Ma Jun, chairman of the China Green Finance Committee, is expected to share his views on climate leadership.
Zhang Jianhua, minister of the National Energy Administration, will join a discussion on the strategic energy outlook, while Justin Lin Yifu, honorary dean of the National School of Development at Peking University, will be a panelist discussing how to advance Africa's growth agenda.
Jack Ma, executive chairman of Alibaba Group Holding, will talk about digitalizing emerging markets, while Alibaba Group CEO Daniel Zhang will join a panel to speak on digital trust and transformation.
Ken Hu, rotating chairman of Huawei Technologies, will speak at a panel on the strategic outlook for the digital economy, while Zhu Ning, professor of the PBC School of Finance at Tsinghua University, will join a talk on building a sustainable crypto-architecture.
Jeffrey Lu Mingfang, CEO of Mengniu Group, and Song Zhiping, chairman of China National Building Materials Group, will be panel members for a discussion entitled Globalization 4.0: China's role in the future of global commerce.
Charles Li Xiaojia, chief executive of Hong Kong Exchanges and Clearing, will join a panel discussing resetting financial governance, while Lee Kai-Fu, chairman and CEO of Sinovation Ventures, will share his views on setting rules for the artificial intelligence race.
Ning Gaoning, chairman of Sinochem Group, will discuss shaping new market architecture, and Fang Xinghai, vice-chairman of the China Securities Regulatory Commission, will join a talk entitled When Global Orders Fail.
Yan Xuetong, dean of the Institute of International Relations at Tsinghua University, will join a discussion on future frontiers for strategic infrastructure, while Zhang Weiwei, dean of the China Institute at Fudan University in Shanghai, will serve as a panelist on the modern history of globalization.