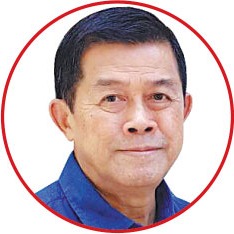 Korn Dabbaransi
Thai politician and social activist
BORN:

Sept 14, 1945

CAREER:

1986-88: Deputy minister of industry, Thailand (government of Prem Tinsulanon)

1988-91: Minister, Office of the Prime Minister (government of Chatichai Choonhavan)

1994-95: Minister, Office of the Prime Minister (government of Chuan Leekpai)

Thai politician and social activist

1996-97: Deputy prime minister (government of Chavalit Yongchaiyudh); Minister of industry

1998-2000: Deputy prime minister (government of Chuan Leekpai); Minister of public health

2002-03: Deputy prime minister (government of Thaksin Shinawatra)

2003-present: President, Thai-Chinese Friendship Association

2004-05: Minister of science and technology (government of Thaksin Shinawatra)

"We respect every country's culture. You have your own opinion and I have mine, but we can share dinner together."

Korn Dabbaransi, president of the Thai-Chinese Friendship Association


Close bond with China inherited from ancestors
Wen Zongduo in Hong Kong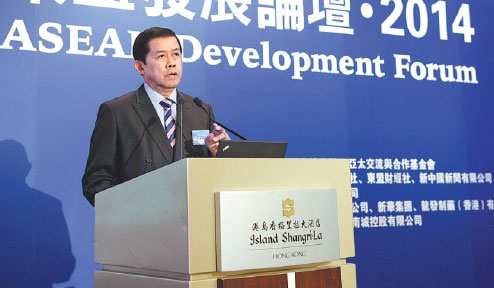 Corruption crackdown
As someone who witnessed firsthand China's economic evolution, Dabbaransi made a few personal observations of the country that other developing nations could learn from.
"Number one on my list is the strong determination of the leaders, especially President Xi Jinping, to crack down on corruption," he said.
"China has adopted a top-down crackdown against corruption and moved to build systematic 'cages' that aim to prevent and punish corruption."
Serving in the Thai cabinet for decades, Dabbaransi understands the subtlety and difficulty of fighting corruption. China's top-down approach has won admiration from around the world and he said it was a "key element behind China's success".
"This kind of message, cracking down on corruption, should be spoken to everyone," he said.
Second, the opening-up 40 years ago was the reason why Chinese economic strength and stability have been sustained. "China has indeed grown," Dabbaransi said.
The discipline of the people is third on his list. In his eyes, the Chinese are among the most disciplined people in the world.
"You have to obey the law," he said. Dabbaransi added that this made China capable of opening to the outside world and going global, because only through common law accepted by all parties could different businesses come together.
"There are bound to be differences in any emerging economy," he said. "You don't have to agree with me, but we must abide by the same rules so that we can live together peacefully."
Another personal observation is the importance of sharing and exchanging ideas.
"There should be no blocks between people to people (exchanges)," he said.
"You have to reach out to other people and they reach out to you. We respect every country's culture. You have your own opinion and I have mine, but we can share dinner together."
Just as representatives of the six Lancang-Mekong countries did at the Kunming expo in November, Dabbaransi said that "we should all be sitting together".
"We share the same river," he said. "We can together draft out common rules in agreement."
While he was Thailand's deputy prime minister, Dabbaransi once took a boat from Jinghong, in the south of China's Yunnan province, to Chiang Mai in Thailand to acquaint himself with the people living along the river.
He said the China-led Belt and Road Initiative in the region is about "one belt, one river", as it is of huge importance to the Lancang-Mekong nations and should be called "a river of friendship and a road to prosperity".
Dabbaransi, a fourth-generation Chinese-Thai, said he inherited the close bond with China from his ancestors.
"The first generation came from Chenghai, in the Chaoshan area in eastern Guangdong province by boat. The second generation, born in Thailand, rose to produce deputy prime minister Phin Choonhavan, and the third generation - prime minister Chatichai Choonhavan."
Dabbaransi, a nephew of Chatichai, was deputy prime minister of Thailand three times.
TCM in Thailand
Among Dabbaransi's many achievements, a significant one that has earned him high praise and admiration in both China and Thailand was the decision to legalize traditional Chinese medicine in Thailand. During the 25th anniversary of China-Thailand diplomatic relations in 2000, Dabbaransi and China's health minister, Zhang Wenkang, co-signed an agreement on TCM-related projects.
"He and I inaugurated TCM in Thailand together," Dabbaransi said. "The first TCM license in Thailand was signed by me. I believe in that."
That policy is still widely cherished today. "The real beneficiaries of this policy are the people," he said.
Health tourism in Thailand has become popular with people around the world, as the country has become a one-stop destination for modern medicine, traditional Chinese medicine and traditional Thai medicine.
Dabbaransi also helped to establish Thailand's Confucius Institute, a nonprofit public education organization, and has continued to make efforts to bring the people of China and Thailand closer together, saying "jong tai e jia shin", which means China and Thailand belong to one community of kith and kin.
He was a keynote speaker at the fourth Yao Traditional Chinese Medicine World Conference in Beijing on Dec 23, on his 146th visit to China in the past 43 years.
One memorable visit to China for Dabbaransi was to Sichuan province, when he visited Lin Bing, who in 2009 became the first giant panda born in Thailand.
Lin Bing's name is a combination of her mother's family name and the name of a major river in northern Thailand, which flows near the zoo where her parents have lived since 2003.
Her name was chosen after a nationwide selection contest in 2009 that attracted some 22 million votes - around 32.8 percent of Thailand's population - Xinhua reported. When Lin Bing was sent to her parents' hometown in Sichuan to find a mate in 2013, her fans even chartered two planes to escort her.
Lin Bing gave birth to twins in 2017. In early August last year, Dabbaransi visited Lin Bing and her two cubs at the Wolong National Nature Reserve as an ambassador for giant pandas. It was one of the happiest moments of his life, Xinhua quoted him as saying.
He is now eagerly anticipating another visit to China. "I look forward to coming to Beijing in October 2019 to say happy birthday to China," he said, adding that he would be "honored and happy" to be in the capital during the 70th anniversary of the founding of the People's Republic of China.