Creative block
Share - WeChat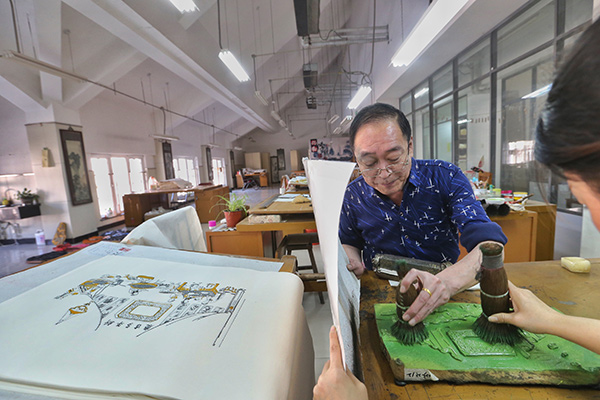 A workshop of artisans in Tianjin is breathing fresh life into a traditional form of Chinese art printing, Wang Kaihao reports.
As the oldest artisan working at the Yangliuqing woodblock prints workshop affiliated to Tianjin Yangliuqing Fine Arts Press, Wang Wenda has been busy preparing for another Spring Festival.
Holding his self-made carving knife, day after day, 75-year-old Wang has been immersed in one of the most renowned Chinese New Year picture brands.
"Oh, it has been almost 60 years," says Wang, who seems to have hardly noticed the flow of time.
The Yangliuqing woodblock print has about 400 years of history, being founded in the late Ming Dynasty (1368-1644). The name, which literally means "willow is green", refers to a small town on the outskirts of Tianjin that is said to be the birthplace of this style of woodblock printing.
In 1958, when the country tried to combine the scattered artisans of the woodblock printing in a bid to save this endangered technique, a new publicly-owned workshop was established in downtown Tianjin. Wang was among the first to join the workshop in 1960.
"I was recruited as painter because I loved painting as a child," he recalls. "However, the carving department lacked people, and I was soon assigned to it."