Keeping pace with China
Share - WeChat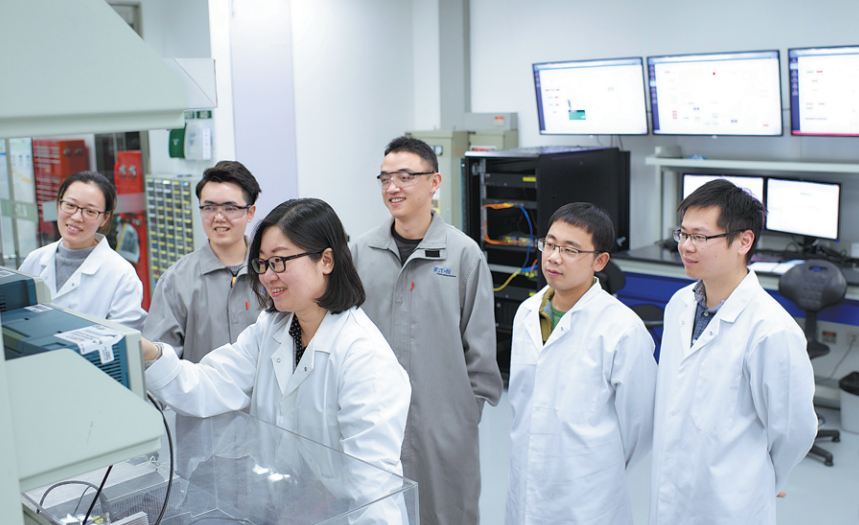 Power management firm Eaton executing comprehensive strategies to elevate production efficiency and capacity
Multinational power management company Eaton Corp PLC started its business on the Chinese mainland in 1993 through a joint venture in Jining, East China's Shandong province.
Over the past 26 years, the company has been rapidly expanding across the country through acquisitions, joint ventures and wholly owned subsidiaries.
Today, the company has manufacturing bases in 29 sites, and six research and development centers across China. Its products span across the vehicle, electrical, hydraulics and aerospace sectors.
"These 40 years of Sino-US diplomatic ties have laid a solid foundation for US companies like Eaton to develop business in China," said Howard Liu, president of electrical sector of Eaton Asia-Pacific region.
In an interview with China Daily, Liu shared his insights about the fast-changing Chinese market and how to keep pace with China.
How do you view the Chinese market?
China is the key to Eaton's global growth strategy and investment in emerging markets.
We see our participation in China first and foremost as an opportunity to support our customers in the fast-growing domestic economy. Second, it is an opportunity to meet the needs of our global customers.
We are confident in our ability to serve our Chinese customers and continue to expand our business both through organic growth and through strategic acquisitions.
China is a miracle. As we know, last year was the 40th anniversary of China's reform and opening-up. The country continues to promote innovation-driven strategy, and to foster new drivers of industrial growth to attract global investments and explore new patterns in the field of foreign trade.
The dynamic economic environment is energizing and empowering us to advance rapidly. I believe it brings enormous opportunities for our company.
In the future, Eaton will actively participate in China's reform and opening-up, by better serving our Chinese customers with our unique values.
What is your company's strategy for localization?
We are committed to recruiting, developing and nurturing local talent. Today, over 99 percent of our employees in China are locally recruited. Eaton has also established vital operations such as HR, IT and marketing in China.
What is your assessment of the Chinese economy, and how will the country's economic transformation affect your investment strategy?
China's economy is transitioning from a high-speed growth stage to a high-quality development phase.
Manufacturing is still the main part of China's national economy. It is key to focus on promoting high-quality economic development.
Ever since we entered the Chinese market, Eaton has proactively supported China's national development strategies, helping to make electric, hydraulic and mechanical power operate more reliably, efficiently, safely and sustainably
Particularly, Eaton has been devoted to the optimization and upgrading of traditional industries in China over the past decades, serving new industrialization, the digital economy and other newly emerging industries.
Inspired by the innovation incentives and the Industry 4.0 trend, Eaton continuously executes new strategies to modernize operational and manufacturing systems in order to elevate production efficiency and capacity.
Meanwhile, Eaton has never hesitated to focus time and resources on developing new innovative products and solutions to assist our customers in resolving all kinds of industrial challenges.
How do you see the opportunities in China?
Eaton pays close attention to China's economic development prospects and its spillover effects. China's ongoing supply-side structural reforms have provided new impetus for economic growth. The country has created tremendous opportunities in the high-end manufacturing market, such as digitalization and artificial intelligence.
China has always been an important market for Eaton. We will continue to invest in digitalization, innovation and talent development, and strive to achieve win-win outcomes for all stakeholders.
What has been your company's biggest achievement in China?
I am proud of leading the business to improve people's lives and the environment with power management technologies that are more reliable, efficient and safe.
We have a strategic, advantaged position in the light vehicle market in China, the largest market in the world. Our joint venture with Shaanxi Fast Gear, the largest transmission manufacturer in China, is solid proof of our achievements in the local vehicle market, as well as a symbol of the prosperous future in China.
Our aerospace products help to control aerial navigation and propulsion systems, as well as fuel management and distribution. Eaton-SAMC, our joint venture with the Commercial Aircraft Corp of China, is a key benchmark of our aerospace business in China.
One big success is the C919 airliner, which leverages Eaton's world-class civil aviation technology, manufacturing capabilities and proven management practices.
In the electrical sector, we also have business units and joint ventures in power distributions helping our growth in China.
How is your relationship with local partners?
In China, we are impressed by the diversity of our local partners. They bring forth different ideas, perspectives and backgrounds.
We are inclusive and we embrace their diversity. This helps us to foster better solutions and approaches for running businesses in China. That benefits our people, investors, customers and communities.
Eaton values this partnership with local partners. We are very keen to put together the partnership with them because we are inclusive and diversified. That is our strength.
We believe that when we value the uniqueness of each person or partner, we can attract and retain top talent, enable higher-performing teams and accelerate the process of becoming an enterprise that can win in all markets.
Eaton's operations in China all adhere to one set of standards for policies such as ethics, human resources and business practices, quality, greenhouse gas emissions, energy and water consumption and waste treatment.
How do you motivate your teams?
Eaton's leadership attributes represent our culture and values. They are what we expect of every Eaton employee and what we believe will help us to continue to lead in our markets: We are ethical; we are passionate; we are accountable; we are efficient; we are transparent; and we learn.