Scrapping scrap, saving earth
Share - WeChat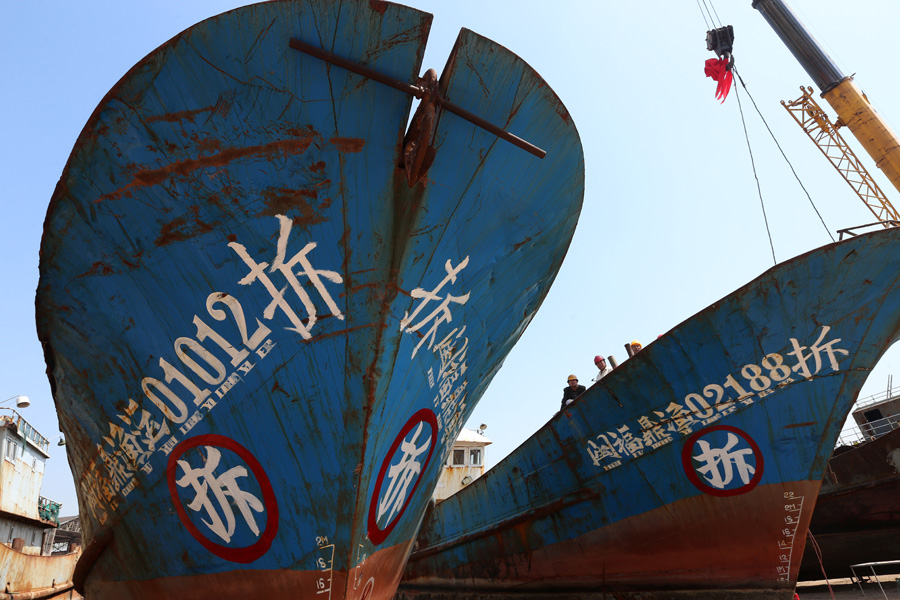 Green ban on hazardous foreign vessels to protect ship-breaking sector, hinterland
Come next week/year, a decades-old marine trade practice in China will draw to a close.
The country's ship-breaking yards, which have been tearing apart the world's retired vessels from both civil and military sectors, and turning them into piles of steel scrap bound for mills for repurposing, will henceforth focus only domestic ships.
China has banned import of aged and hazardous foreign vessels because their dangerous materials can pollute environment during the ship-breaking process.
Many ship-breaking yards and nearby beaches were heavily polluted by heavy metals, oil and other toxic substances in recent history. Pollution spread beyond the yards too.
The new measures were announced in April and will take effect on Dec 31. They cover 32 types of solid waste imports, including ships, auto parts, waste, stainless steel scrap, titanium and wood.
Even though China has made it clear it will no longer receive international vessels for ship recycling on its land, many countries have criticized China's move to protect both its environment in coastal areas and public health, said Xie Dehua, president of the Beijing-based China National Ship Recycling Association.
"China's rejection will only push the global waste recycling technologies to make breakthroughs," he said. "Yet, for some countries that habitually export solid rubbish to China, it is hard to accept this reality."
In the first half of 2018, China dismantled or scrapped 320,000 deadweight tons or DWT of 18 ships, including container vessels and liquefied gas carriers, the association reported.
The first-half DWT figure was down around 70 percent year-on-year. The country's imports of vessels for scrapping also declined by 70 percent.
China's ship-recycling facilities are mainly located in Guangdong province in the south, and Zhejiang, Jiangsu and Shandong provinces in the east. Collectively, they employ around 110,000 workers.
For long, China's ship-breaking industry has supplied raw materials to infrastructure projects in a number of sectors like hydropower, housing, bridge and railway construction, particularly in developing countries. The process starts when scrap-yard owners buy ships from owners.
Ship-recycling yards in Bangladesh, India and Pakistan account for around 80 percent of the global ship-breaking and recycling market, which covers oil tankers, bulk and container ships. China and Turkey account for 15 percent.
About 800 large ships are sold for scrap in Asia each year, according to NGO Shipbreaking Platform, a Brussels-based coalition of environmental, human and labor rights groups.
The group found that only about 5 percent of the annual global shipbreaking volume is from countries other than the five. Germany, Singapore, Greece and South Korea send more ships to Asian beaches for scrapping than other countries. Their ships continued to cause environmental damage in host countries in 2017.
Compared with China, where ships are broken in docks with cranes and machinery, other major ship-breaking countries such as Turkey, India and Bangladesh still rely on manual methods and outdated equipment. Many scrap-bound vessels are still dismantled on beaches.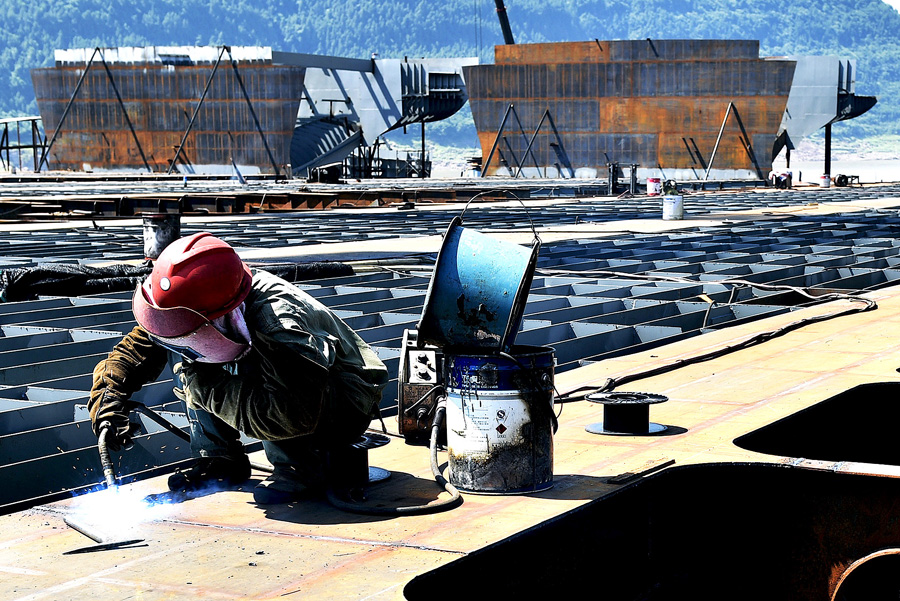 Dong Liwan, a professor specializing in the shipping industry chain at Shanghai Maritime University, said some Western countries now are expecting Southeast Asia to scrap aged ships, before they upgrade their green recycling technologies in the ship-breaking sector.
In addition to seeking new locations overseas to resume their businesses, many Chinese shipbreaking yards have been adopting new technologies to carry out their work, Dong said.
Their work involves higher costs of equipment, materials, storage and workers' protective wear. They are also seeking to diversify. Their sights are on aged offshore engineering platforms that can be scrapped, and urban infrastructure projects.
Dong said the government should encourage steel mills to buy more scrap as raw material from domestic ship-breaking companies as a measure to support low-energy-consuming industries.
Smaller ship-breaking yards need help to seek new growth points in other businesses. Tax cuts or financial help to those purchasing steel-cutting equipment or materials made in an environmentally friendly manner might prove useful, he said.
The China National Ship Recycling Association said that instead of using iron ore to make steel, if companies use scrap from shipbreaking yards, it can reduce gas and water pollution by 86 and 76 percent respectively. Such a practice will also help cut 40 percent of water usage and reduce mining waste by up to 97 percent, it said.
"As an indispensable part of the ship industry chain, the functions of ship-breaking business have been extended from recovering steel materials to cutting emissions, ensuring waterway safety and production operations, as well as shipping safety," said Dong.
His opinion is shared by Yang Jianchen, general manager of Zhoushan Hongying Shipbreaking Co. He said the world's ship-breaking industry is not only under pressure from the aspects of ecosystem and occupational health but also facing the reality of not making profits, squeezed as it is by cheaper steel scrap prices and overcapacity in the steel production sector.
"Many ship-breaking yards in Zhejiang have either closed or passively stocked tons of steel scrap because its demand and pricing rights are totally decided by the buyers. The use of scrap steel by mills had been reduced by 50 percent in 2017," said Yang.
"In the past, scrap consumption normally accounted for 20 percent of crude steel production, which is now less than 10 percent."
He predicted that the room for profit will continue to be squeezed in 2019 by declining steel prices and the high cost of environmentally friendly ship-breaking methods, after China removed the subsidy rules for the demolition of ships at the end of 2017.
Countries such as the United States and many European countries have adopted electric furnaces in steelmaking to deal with scrap of cars, buildings and other steel waste during the early developing stage.
Their steel mills can use this technology and use scrap steel as the main raw material, said Zhang Yongfeng, deputy director of the market research office of the Shanghai International Shipping Institute.
"Though many steel mills in China are still relying on blast furnaces that use iron ore as the main raw material to produce steel products, it would be economical and environmentally friendly to choose electric furnaces. They should upgrade their business operations, and inject growth momentum into the ship-breaking industry," he said.
Since new rules will kick in as early as next week, foreign ships that have been hit by rocks, stranded, sunk or affected by natural disasters or accidents in Chinese territorial waters should receive priority while clearing the navigation lanes, so as to ensure port and shipping safety, said Feng Hao, a researcher at the Institute of Comprehensive Transportation, which is part of the National Development and Reform Commission.
"In addition, ships currently owned by Chinese shipowners but flying the flags of other countries will face the issue of safe and environmentally friendly dismantling after receiving the clearing service," he said.
"The country also needs to deploy more resources and manpower to crack down on smuggling activities done through vessels bound for scrapping."