Latin music, with a twist
Share - WeChat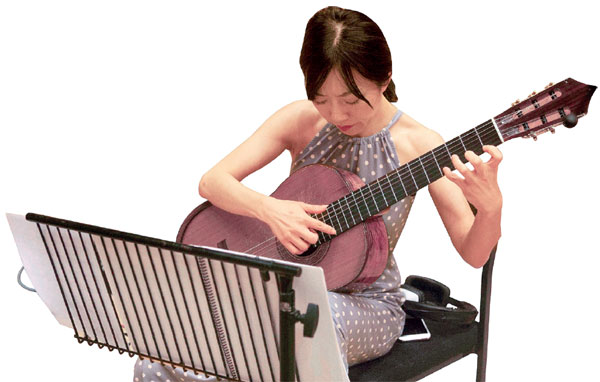 London-based violinist Huang Mengla and classical guitarist Yang Xuefei have collaborated on an album to explore the free, emotional and colorful expression of Latin music.
In 2012, classical guitarist Yang Xuefei and violinist Huang Mengla did their first collaboration at a concert in the National Center for the Performing Arts in Beijing, paying tribute to Italian composer Niccolo Paganini.
The partnership worked out so well that, six years later, Huang decided to approach Yang once more to jointly create an album on Latin music.
"The guitar plays a key role in interpreting Latin music and Yang was the first classical guitarist I could think of then," says Huang.
In August this year, the duo spent two days in London's Angel Studios recording the album, which comprises pieces that are influenced by Spanish and South American music. On Nov 23, the pair arrived in Shanghai to share their latest work, titled Milonga del Angel, which was released under the Deutsche Grammophon label.
"The violin is usually paired with the piano or an orchestra. It's interesting to combine the violin with classical guitar," says Huang, 38, who was enrolled in the Shanghai Conservatory when he was just 8 years old.
"Unlike the traditional repertories I have played before, such as Austrian and German music works, Latin music is free, emotional and colorful. It feels like tasting different food when I'm playing it."
In 2002, Huang took the top prize at the prestigious Paganini International Violin Competition in Italy, where he also won the Renato De Barbieri Memorial award for the best interpretation of Paganini's caprices, and the Mario Ruminelli Memorial award.
Yang chose a mix of original guitar compositions and arrangements, including Spanish composer Manuel de Falla's Danza Espanola No. 1 and Suite populaire espagnole, Argentine composer Astor Piazzolla's Histoire du Tango, Paganini's Sonata Concertata and even some of her own creations.
"The pieces we've recorded for the album display the versatility of both musical instruments and they are beautiful companions to each other," says Yang. "The composers of these pieces are connected musically. For example, the three Spanish-born composers: Isaac Albeniz, Manuel de Falla, and Enrique Granados. Both of Albeniz and Granados were notable influences on the younger Falla. Paganini being from Italy and Piazzolla from Argentina both shared an understanding and love for the Spanish sound."